Tsai details DPP's cross-strait policies
GOING GLOBAL: Tsai Ing-wen said Taiwan would treat China the same way that it treats the US or the EU, and walk 'toward China through the international community'
Democratic Progressive Party (DPP) Chairperson Tsai Ing-wen (蔡英文) yesterday called for a "Taiwan consensus" and the establishment of a mechanism for the nation's policy on China and peaceful exchanges across the Taiwan Strait.
In a press conference to publicize her cross-strait policies, the DPP presidential candidate denied the existence of the so-called "1992 consensus" and said that if she were elected president, the Economic Cooperation Framework Agreement (ECFA) signed with China last year would be reviewed by the legislature and adjusted if necessary.
Tsai said "consensus" and "democratic mechanism" were the crucial elements in Taiwan's engagement with China, adding that it was a lack of transparency under President Ma Ying-jeou (馬英九), who is running for re-election in January, that had steered Taiwan in the "wrong" direction.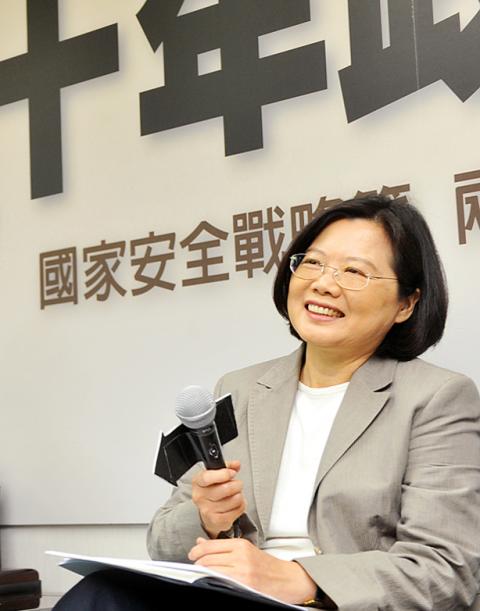 Democratic Progressive Party chairperson and presidential candidate Tsai Ing-wen said Tuesday that if she is elected in January she will strive to maintain peace with China.
Photo: Taipei Times
That was why she has proposed a "Taiwan consensus," which would be achieved by a democratic, non-partisan mechanism so that Taiwan's China policies would be consistent and unaffected by regime change.
To build the consensus, the nation can start with "maintaining the 'status quo,'" which is the most popular approach, despite the different interpretations of the "status quo," she said.
With a consensus, Taiwan would be able to engage in future dialogue with China, she said.
"Regardless of who wins the presidential election, the mechanism should be established," she said.
The term "1992 consensus" did not exist until 2000, she said, adding that even the person who coined it admitted it was an "invention."
Former National Security Council secretary-general Su Chi (蘇起) said in 2006 that he had invented the term before the KMT handed over power to the DPP in 2000. China has said the consensus would be the foundation of cross-strait ties.
A responsible leader and political party with vision should be able to "sit down and discuss [the 1992 consensus] with related parties, rather than carry out his own will and drag the entire country along with him," Tsai said.
The cross-strait situation now is far different from that of 1992, with more exchanges and more complex political dynamics, she said.
"Cross-strait relations should be dealt with in a brand new framework," the DPP leader said, urging both sides of the Strait to abandon conventional thinking.
Tsai said the DPP would handle the ECFA according to international regulations and democratic mechanisms, but she did not rule out putting the agreement to a referendum "if people think it is necessary."
In the presentation, which contained few surprises, Tsai and her team explained their policies on national security and cross-strait economy and trade, both of which are part of the DPP's 10-year policy guidelines released on Monday.
Her national security policy as president would be based on universal values, balanced external relations, mutually beneficial strategic thinking, democratic consensus and a defensive-oriented mechanism to safeguard security, Tsai said.
On the economy and foreign policy, Taiwan would treat China the same way it treats the US, Japan or the EU, she said. This meant Taiwan would be "walking toward China through the international community," she said.
On cross-strait trade relations, Tsai said the nation should seek opportunities to sign free-trade agreements with the US, Japan, India, the EU and ASEAN, adding that Taiwan was likely to engage in regional economic integration by joining the Free Trade Area of the Asia-Pacific through APEC.
Taiwan should maintain its economic independence at all times and make sure it is capable of monitoring Taiwanese investment in China, she said.
Meanwhile, Taiwan Solidarity Union (TSU) Chairman Huang Kun-huei (黃昆輝) said in a press release yesterday that his party — an ally of the DPP — opposes continued implementation of the ECFA, which he said was "a chain that will eventually constrain Taiwan's economy."
"The TSU stands by its firm position that the ECFA should be terminated," Huang said.
Tsai's plan to place the ECFA under an international framework was acceptable and praiseworthy, said Hsu Chung-hsin (許忠信), who is on the TSU's legislator-at-large list, but any agreement that has not been screened and authorized by the legislature should not be implemented in a democratic country such as Taiwan.
Comments will be moderated. Keep comments relevant to the article. Remarks containing abusive and obscene language, personal attacks of any kind or promotion will be removed and the user banned. Final decision will be at the discretion of the Taipei Times.