Official confirms 'carrier killer' is being developed
GAME CHANGER: Reports claim the Dong Feng 21D anti-ship missile has a range of almost 3,000km, nearly twice as long as previously assessed by the US military
People's Liberation Army (PLA) Chief of General Staff Chen Bingde (陳炳德) confirmed earlier this week that China was developing the Dong Feng 21D anti-ship ballistic missile (ASBM), the first Chinese official to publicly state that the missile is in development.
His comments came as the English-language China Daily reported that the DF-21D had a range of 2,700km, well beyond assessments by the Office of Naval Intelligence last year, which put it at about 1,500km.
The missile, which is capable of hitting moving targets at sea and is seen as a potential threat to aircraft carrier battle groups, would represent a powerful deterrent to the US Navy in the Pacific.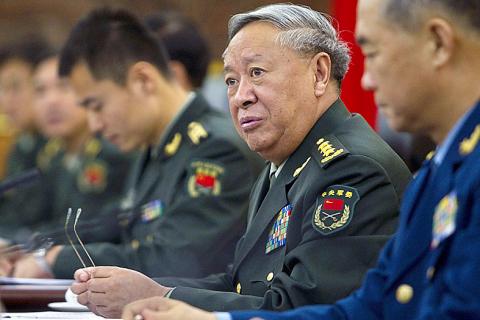 General Chen Bingde speaks during a meeting with US officials at the Bayi Building in Beijing on Monday.
Photo: Reuters
However, Chen said the DF-21D, which can be fired from mobile land-based launchers, was still in the research, development and testing stage, adding that such high-tech devices were difficult to bring to maturity.
"The missile is still undergoing experimental testing and it will be used as a defensive weapon when it is successfully developed, not an offensive one," Chen told reporters.
Its development "requires funding inputs, advanced technology and high-quality talented personnel ... these are all fundamental factors constraining its development," Xinhua news agency quoted Chen as saying, in comments that were ostensibly intended for a domestic audience.
Chen made similar comments during a press conference alongside US Chairman of the Joint Chiefs of Staff Mike Mullen, who is currently visiting China, earlier this week.
Although Chen's references to a technological bottleneck could be seen as counterproductive in terms of presenting the US and other regional powers with a deterrent, Andrew Erickson, associate professor of strategy at the US Naval War College, said the public mention by a top official was a sign that the DF-21D was likely nearing operational capability.
"Chen would likely not be mentioning China's ASBM in public if the PLA were not confident that it was maturing effectively and already had reached the necessary development level to begin to credibly shape regional strategic thinking in Beijing's favor," he wrote on Tuesday.
In an interview with the Asahi Shimbun last year, Admiral Robert Willard, head of the US Pacific Command, said the DF-21D had reached "initial operational capability," but it would need several more years of testing.
According to experts, the US and Chinese may have different interpretations of what is meant by operational.
In March, National Security Bureau Director Tsai Der-sheng (蔡得勝) told the legislature that the anti-ship missile was already deployed.
Although the DF-21D's alleged extended range has yet to be independently confirmed, Rick Fisher, a senior fellow at the International Assessment and Strategy Center in Washington, said advances in fuel and in missile aerodynamics, as well as a reduction in payload, made a 2,700km range "quite plausible."
Earlier this year, the same company that makes the DF-21D announced it would field a 4,000km-range intermediate range ballistic missile by 2015. A 2,700km version of the DF-21D is therefore well within their capabilities, he said.
Asked for comment yesterday, Ministry of National Defense spokesman David Lo (羅紹和) said Taiwan was aware of the progress being made in the development of the DF-21D, but he refused to provide specifics on its range or whether it was already operational.
The missile presents a threat to surface ships in the region and the ministry will develop countermeasures accordingly, he said.
An essential component to China's ability to track and hit moving targets at sea will be the constellation of electronic intelligence (ELINT) satellites — which can relay positioning information to firing bases — it is believed to be in the process of building.
Although Beijing claims that a number of satellites deployed in recent years are for "space scientific experiments," defense analysts believe that China's "scientific" satellites, many of which are developed by firms closely associated with the General Armaments Department, can serve military purposes.
One such satellite, the Shijian-11-03, was launched last Wednesday.
According to Jane's Defence Weekly , ELINT satellites operating in pairs or greater numbers can conduct "time difference of arrival" assessment or geolocation to track targets over large expanses of territory.
Additional reporting by Rich Chang
Comments will be moderated. Keep comments relevant to the article. Remarks containing abusive and obscene language, personal attacks of any kind or promotion will be removed and the user banned. Final decision will be at the discretion of the Taipei Times.