Prosecutors indict Lee for corruption
OLD NEWS? The defense is expected to argue that the prosecutors' evidence was dismissed by the Supreme Court in a 2006 case involving missing diplomatic funds
Former president Lee Teng-hui (李登輝) was indicted yesterday on charges of embezzling state funds, becoming the second democratically elected Taiwanese president to be indicted on corruption charges.
The Supreme Prosecutors' Office Special Investigation Panel (SIP) has accused Lee and a top aide of illegally siphoning US$7.8 million from secret diplomatic funds used by the National Security Bureau (NSB) and laundering the money during his terms in office from 1988 to 2000.
If convicted, the 88-year-old Lee could face at least 10 years in prison, although prosecutors have indicated that they may ask for more lenient sentencing due to his age.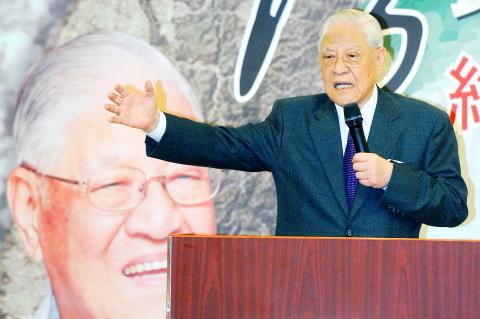 Former president Lee Teng-hui gestures during a speech in Taipei on May 1. Prosecutors indicted Lee yesterday on corruption and money laundering charges.
Photo: Liao Chen-huei, Taipei Times
A representative for the former president said his lawyers had not seen the indictment papers as of yesterday afternoon. However, Lee's political allies were quick to denounce the charges as weak and based on evidence that was dismissed in a prior court case.
"It's certainly unexpected. But as former president, Lee has a deep-rooted belief in the fairness of the judiciary and believes that it will prove him innocent," said Wang Yan-chun (王燕軍), a close aide of the former president who works at the non-profit Taiwan Advocates, which Lee established.
The charges created a political sensation. Lee, the nation's first democratically elected president, is the second former president to be charged with corruption and money laundering after Chen Shui-bian (陳水扁), who was found guilty by the Supreme Court last year.
However, he has not been accused of pocketing government money. The SIP says Lee took excess funds allocated for a diplomatic ally to set up a private think tank where he later became honorary chairman.
A secret 49 million rand (then worth US$10.5 million) donation made in May 1994 to maintain friendly relations with the ruling party of a then-diplomatic ally, reportedly South Africa's African National Congress, is at the heart of the prosecutors' case.
Prosecutors say the donation was provided from a secret NSB fund to cover a shortfall in the Ministry of Foreign Affairs budget. Created from leftover national security budgets, the fund could only be used with the explicit approval of the president.
In a 23-page statement, Lee and aide Liu Tai-ying (劉泰英) are accused of siphoning off US$7.8 million to establish the Taiwan Research Institute when the foreign ministry attempted to return the money between 1998 and 1999.
The think tank used some of the funds — allegedly laundered by the Ruentex Group — to buy luxury offices in downtown Taipei for the two men, which were also built by the conglomerate, prosecutors said. They also allege that Liu pocketed US$440,000.
Liu held financial posts in the Chinese Nationalist Party (KMT) when Lee was party chairman. He was released from prison in April, after being convicted in an unrelated banking scandal and serving three years.
Defense lawyers are expected to argue that key evidence cited by the prosecutors was dismissed by a Supreme Court ruling in 2006 in a case involving former NSB chief accountant Hsu Ping-chiang (徐炳強), who was charged in connection with the missing diplomatic funds.
Lawyer Wellington Koo (顧立雄) will head Lee's defense team. He confirmed that Lee was questioned about the case on May 31, although he said prosecutors failed to provide any substantive evidence during the interview.
"They are offering nothing new, no new evidence, from the Hsu Ping-chiang case," he said.
"The National Security Bureau was the agency that handled the funds and its head accountant has been cleared," Koo said. "I don't see how they can indict a former president on guesses and circumstantial evidence."
Koo said Lee would vigorously fight the charges.
The SIP's indictment charges Lee and Liu with embezzling public funds and money laundering. If convicted on all charges, the two men could face sentences to terms ranging from 10 years to life in prison. Liu has also been charged with being an accomplice to tax evasion and forging official documents.
Lee's legal team said the key to the prosecution's case would be the allegations that Lee and Liu had a close relationship, leading them to become conspirators in rerouting the diplomatic funds. The prosecutors will face a harder time proving that than they believe, Koo said.
In the May 31 interview with prosecutors, Lee denied such a relationship, according to a source close to the former leader. Wang called the two "business acquaintances."
The indictment states that in 1999, Lee instructed the security council's chief accountant, Hsu, to transfer funds that had just been returned from the foreign ministry to Liu, who was then the chairman of the partially state-run China Development Industrial Bank.
The prosecution claims Liu, with Lee's apparent approval, then proceeded to launder the money through Ruentex Group chairman Samuel Yin (尹衍樑) and American Express travelers checks that were exchanged for personal donations to the Taiwan Research Institute made by Yin and several of his company's subsidiaries.
The SIP said information on Yin's involvement had been turned over to the Taipei District Prosecutors Office for further investigation.
Comments will be moderated. Keep comments relevant to the article. Remarks containing abusive and obscene language, personal attacks of any kind or promotion will be removed and the user banned. Final decision will be at the discretion of the Taipei Times.