Google pulls paid apps from Taiwan after being fined
REFUND: The US search giant, which was fined for not providing seven days of free trial, said it was discussing the issue with Taipei City officials
Taiwanese users of Google Inc's Android Market were left in the dark yesterday as the search engine giant removed the paid app section from its online store.
The removal of the paid app section came after the Taipei City Government slapped Google with a NT$1 million (US$34,550) fine for failing to offer Taiwanese consumers a seven-day free-trial mechanism as mandated by law.
"We are suspending paid apps in Taiwan while we continue to discuss this issue with the Taipei City Government," Google Taiwan said in a statement yesterday.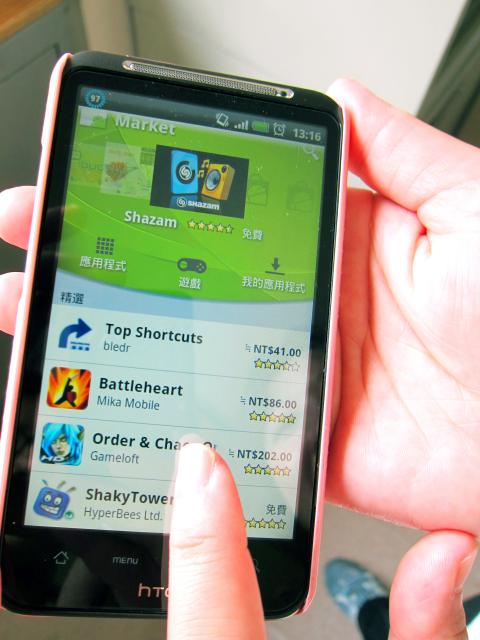 Several apps are displayed on a mobile phone screen yesterday in Taipei.
Photo: Tsai Wei-chi, Taipei Times
15-MINUTE REFUND
"Android Market already provides a 15-minute refund window for all paid apps — which reflects the fact that apps are delivered over-the-air instantly and most users who request a refund [could] do so within minutes of their purchase," the company said in the statement.
This policy helps consumers make educated decisions about the apps they buy, while enabling Taiwanese developers to manage their businesses effectively, the statement read.
The escalation in the row came after negotiation between Google — represented by a lawyer and teleconferencers from its US headquarters — and the city broke down yesterday morning.
'COERCION'
The city government said the suspension was a move to "coerce Taiwanese consumers into giving up their rights" and it demanded Google submit an "improvisation plan" by Friday.
The Mountain View, California-based company will be sending officials to Taipei on Thursday to continue talks with the city government, while city authorities said a second penalty might be imposed depending on the stance taken by the search engine giant.
On Friday, the city government issued Google an ultimatum mandating that it introduce a seven-day free-trial mechanism for its Android Market.
Yeh Ching-yuan (葉慶元), director of the city's Law and Regulation Commission, then said a fine would be levied if the firm still refused to abide by the Consumer Protection Act (消保法).
Users of Apple Inc's iPhones or Android-equipped smartphones can purchase and download application software through Apple's App Store or the Android Market respectively, but neither company offers an extensive free-trial mechanism that allows customers to return the programs or be refunded if they are dissatisfied or if the goods prove to be faulty.
On June 4, the city government gave both companies a 15-day grace period to revise their app sales and service provisions to include a seven-day free-trial mechanism.
While Apple complied with the request, Google did not.
SIGHT UNSEEN
The Consumer Protection Act requires a free-trial period of at least seven days for items purchased over the Web because consumers cannot feel or touch the goods before purchase.
Previously, Web sites have said they were not covered by the law, but last year the government said an agreement was reached with Web site operators such as PChome Online (網路家庭) and -Yahoo-Kimo Inc (雅虎奇摩) that would see them adhere to the free-trial provision.
APP STORES
However, "app stores" were not included in last year's deal.
Yeh said this is because purchasing apps for mobile devices is a trend that has only recently emerged in Taiwan.
The terms of service for the App Store and Android Market both state that the two companies are not liable for apps developed by third parties.
HTC Corp (宏達電), the world's No. 5 smartphone brand, yesterday said it did not expect the row to have "much impact" on the sales of its handsets because users could download free-trial versions of some apps, before finally making a purchase decision.
HTC is the world's largest producer of smartphones running on both Android and Windows operating systems and its first tablet PC — dubbed the HTC Flyer — as well as recent releases of smartphones all run on versions of Android.
Comments will be moderated. Keep comments relevant to the article. Remarks containing abusive and obscene language, personal attacks of any kind or promotion will be removed and the user banned. Final decision will be at the discretion of the Taipei Times.