MOJ seizes assets of Yu Shen owner
HIGH ALERT: A DPP lawmaker said the president should elevate the food scare to a matter of national security and that a unified government response was necessary
Prosecutors yesterday seized bank accounts and property belonging to the owner of a chemical company at the center of a food additive scare, a Ministry of Justice (MOJ) official said.
Ministry of Justice Prosecution Office Deputy Director Lin Jinn-tsun (林錦村) said prosecutors had seized five accounts and three properties belonging to Lai Chun-chieh (賴俊傑), owner of Yu Shen Chemical Co (昱伸香料有限公司) and his wife.
The company is under fire for selling clouding agents — additives that make processed foods and beverages appear more appealing or sophisticated — containing the banned chemical di(2-ethylhexyl) phthalate, or DEHP, to food ingredient makers nationwide.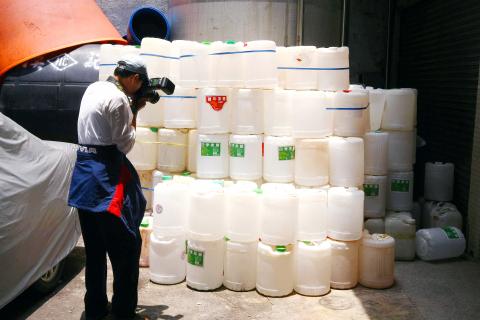 A photographer yesterday takes a picture of a stack of empty containers behind Jin Guoo Wang Food's facilities in Taipei City's Shilin District. The company has attracted media attention because of the city's Department of Health investigation into the use of banned chemicals in clouding agents.
Photo: CNA
"Since the plasticizer scandal, requests by prosecutors to detain three people — one from Yu Shen and two from Pin Han Perfumery Co (賓漢香料公司) — have been approved. Another person has been released on bail, but will be banned from leaving the country," Lin said.
Pin Han was the second company found to have used a banned chemical in its clouding agent.
Prosecutors will continue their investigation to see if Yu Shen has other accounts, and they have begun to seize accounts related to Pin Han.
"To prevent the alleged defendants from hiding their assets, the prosecutors have seized related accounts and real estate," Lin said at a news conference convened by Chinese Nationalist Party (KMT) Legislator George Hsieh (謝國樑).
Earlier in the day, Vice Premier Sean Chen (陳沖) and health officials vowed to adopt stricter regulations to manage the use of clouding agents in consumer products as the food scare that has beset the nation in the past week continues to escalate.
Invited to a meeting of the legislature's Social Welfare and Environmental Hygiene Committee, Chen and Department of Health Minister Chiu Wen-ta (邱文達) were pressed by legislators to adopt stricter measures to prohibit or limit the use of DEHP, and other industrial-use clouding agents in consumer goods.
"Our environment is filled with those chemicals, which permeate our food, drinks, dietary supplements and even medicine and cosmetics," Democratic Progressive Party (DPP) Legislator Tien Chiu-chin (田秋堇) said.
"Rather than taking a long time to send samples of every product that is suspected of containing harmful chemicals for testing, we should instead solve the problem at the root cause and re-evaluate how we manage the use of plasticizer chemicals," she said.
DPP Legislator Gao Jyh-peng (高志鵬) said the time had come for a unified response across government agencies, adding that President Ma Ying-jeou (馬英九) should raise the food scare to a matter of national security.
The DPP said that the health, environmental and consumer protection agencies should be consolidated under Ma or Premier Wu Den-yih (吳敦義).
"It's clear that a national security level is needed," Gao said.
Clouding agents, legal food additives made from gum arabic, palm oil and emulsifier, are commonly used in fruit jelly, yogurt mix powder, juices and other beverages to keep emulsions evenly dispersed and enhance viscosity.
Rebuffing calls from the DPP to turn the food scare into a matter of national security, KMT lawmakers said such a step was not needed at the moment.
"The DPP caucus wants to elevate an issue to a matter of national security at the slightest [controversy]," KMT Legislator Lin Yi-shih (林益世) said. "They want to pin everything on Ma — it's an absolute case of political manipulation."
Adding to fears that more products may have been exposed to contamination, media reported yesterday that food and beverage stalls at the Shilin Night Market in Taipei might also be affected.
ADDITIONAL REPORTING BY VINCENT Y. CHAO
Comments will be moderated. Keep comments relevant to the article. Remarks containing abusive and obscene language, personal attacks of any kind or promotion will be removed and the user banned. Final decision will be at the discretion of the Taipei Times.