Lee calls for Constitution to be scrapped
Former president Lee Teng-hui (李登輝) yesterday said Taiwan should replace the Republic of China (ROC) Constitution with a new constitution that reflects modern realities.
Lee said the ROC Constitution, enacted in China in 1947, is not suitable for Taiwan and should be replaced by a Taiwan basic law and that ultimately a new constitution should be enacted.
Lee made the remarks during an event organized by Taiwan Advocates in Taipei with four academics who were representatives of a student movement in 1991 known as the Wild Lilies (野百合學運).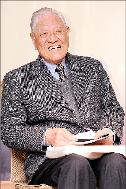 Former president Lee Teng-hui talks to people who took part in the 1990 Wild Lily student movement while attending a forum on democratic reform in Taipei yesterday to mark the movement's 21st anniversary.
Photo: Chang Chia-ming, Taipei Times
Back then, Lee met the student representatives and accepted their four demands, which were that Lee dissolve the now defunct national assembly, abolish the Temporary Provisions Effective During the Period of Communist Rebellion (動員戡亂時期臨時條款), call a state affairs meeting and set a timetable for political and economic reforms.
Four of the representatives met Lee again yesterday and each asked the former president questions about constitutional reform, cross-strait relations and the intricate relationship between the Chinese Nationalist Party (KMT) and business consortiums.
On constitutional reform, Lee said the ROC Constitution was amended six times during his presidency. These amendments, collectively known as the Additional Articles (增修條文), ended the Temporary Provisions Effective During the Period of Communist Rebellion and gave "electors of the free area of the Republic of China" — consisting of Taiwan proper as well as the outlying islands of Penghu, Kinmen and Matsu — the right to vote on constitutional amendments.
"The ROC Constitution is like temporary housing where we have not much choice but to stay there because of Taiwan's special situation," he said.
Lee said how the ROC Constitution should be dealt with hinged on the good faith of future leaders and their belief in the country.
National identification was a key component building a -Taiwan-centered consciousness, he said.
With a Taiwan-centered orientation, many problems such as the economy, the Constitution or cross-strait relations would naturally be resolved, he said.
Thirteen years after Lee made his announcement of the "special state-to-state" theory in 1998, many things have changed, he said.
"Taiwan must be stronger and China must change," he said. "One of the biggest differences between Taiwan and China is that Eastern and Western civilizations co-exist in Taiwan, but this is not the case in China."
On the KMT's much criticized close ties with big businesses, Lee said that back then the KMT was rich, with very substantial party assets.
Therefore, it was natural to play the leading role of an investor. Of course, there were advantages and disadvantages, he said.
Asked whether he would have done things different if he had a second chance, Lee said he saw things differently now.
It was true that the KMT was a profit-making business, but the private sector also benefited significantly from the booming economy, he said.
Comments will be moderated. Keep comments relevant to the article. Remarks containing abusive and obscene language, personal attacks of any kind or promotion will be removed and the user banned. Final decision will be at the discretion of the Taipei Times.