PRC missile could render PAC-3s obsolete
NO DEFENSE? The faster re-entry of a longer-range missile would greatly reduce the effectiveness of PAC-3 missile interceptors acquired from the US, analysts said
A new longer-range ballistic missile allegedly deployed by China and the introduction of multiple warhead capabilities could render obsolete Taiwan's most advanced missile interceptors, analysts said yesterday.
National Security Bureau (NSB) Director Tsai Der-sheng (蔡得勝) told the legislature on Wednesday that China had recently begun deploying Dong Feng-16 (DF-16) ballistic missiles with a range of between 800km and 1,000km, and that some were targeting Taiwan.
One US expert with years of experience monitoring developments in China's missile arsenal told the Taipei Times that while literature on the DF-16 was scarce, the fact that a different designation had been referenced implied that the system was sufficiently different from existing missiles.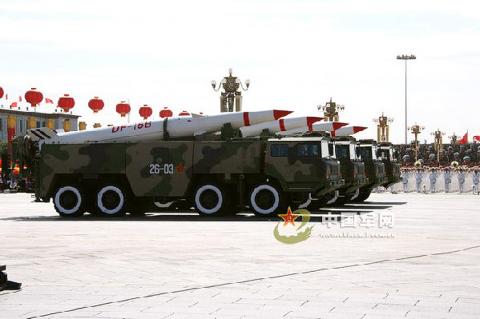 Trucks laden with Dong Feng-15 short-range surface-to-surface missiles are shown on Oct. 1, 2009, in this photo from the China Military Online Web site.
Photo: China Military Online
Another, Rick Fisher, a senior fellow at the International Assessment and Strategy Center in Washington, said chances the DF-16 is the "real deal" were high, adding that the new system would likely incorporate advances in solid rocket fuel, guidance and warhead design. He admitted this was the first time he had seen references to the DF-16 designation.
Alarmingly, the faster re-entry of a longer-range ballistic missile such as the DF-16 would greatly reduce the effectiveness of Taiwan's PAC-3 missile interceptors that were acquired at great cost from the US and which are still in the process of being deployed.
The longer the range of a ballistic missile, the higher it must climb to reach its target and the higher it climbs, the more time it takes for it to fall to the ground, giving gravity more time to accelerate the descent of the warhead at a rate of about 9.8m per second squared.
"All the PAC-3s are not yet in the field, but when they are, they can potentially be defeated by the faster 1,000km DF-16," Fisher said.
In addition, new long-range missiles would give China's leadership the ability to make "peace gestures," such as withdrawing older DF-15s, without any substantial reduction of military pressure on Taiwan, he said.
The removal of some missiles targeting Taiwan has been touted as a potential "goodwill" gesture by Beijing to help President Ma Ying-jeou (馬英九) get re-elected next year.
Ballistic missiles with a range such as that attributed to the DF-16 could be deployed at the Second Artillery's 52 Base in Anhui Province and target Taiwan as well as US bases in the region, such as Okinawa and Guam.
According to a study by the Project 2049 Institute, 52 Base oversees five short-range ballistic missile (SRBM) brigades and as many as three medium-range ballistic missile brigades. It remains unclear whether 52 Base is being equipped with a new brigade for the DF-16 or whether they would replace older SRBMs.
Wendell Minnick, Asia bureau chief for Defense News, was more skeptical on the DF-16 representing a new type of missile, saying it was likely a variant of the existing DF-15, which has a range of about 600km.
"Honestly, I can't see how all the US analysts missed it, if it is 'deployed,'" Minnick said. "I suspect he [Tsai] is saying the DF-15 extended range is the new 'DF-16,' but the lack of details during his testimony annoys me to no end."
"It's possible they [the government] are trying to scare the US into releasing new F-16 fighters and submarines," Minnick said.
During his presentation, Tsai also said that most of China's missiles now had multiple warheads capable of hitting different targets, such as radar sites and planes at airports.
While it is known that the DF-21 "aircraft carrier killer" — which Tsai said was also recently deployed — has multiple warheads, news that smaller missiles in the Chinese arsenal have multiple reentry vehicles (MRVs) would be a worrying development, Fisher said.
"PAC-3s can only handle one incoming missile target, not [several] MRVs," he said, adding that the US had recently canceled a missile defense program intended to give missile interceptors the ability to take out MRVs.
Comments will be moderated. Keep comments relevant to the article. Remarks containing abusive and obscene language, personal attacks of any kind or promotion will be removed and the user banned. Final decision will be at the discretion of the Taipei Times.