Nuclear plant safety issues raised
VIABILITY: After a nuclear scare in Japan, groups in Taiwan have said that the country's vulnerability to tsunamis and earthquakes has been largely ignored
The risk of multiple nuclear meltdowns in Japan triggered by Friday's massive earthquake have highlighted calls for a safety review into Taiwan's four nuclear plants, some closely built to Japanese specifications.
The unfolding crisis at the Fukushima Daiichi Nuclear Power Station has led to a resurgence of questions by lawmakers and environmental groups about the safety of nuclear energy — which generates about 20 percent of the country's electricity.
The Atomic Energy Council (AEC) has pledged a far-reaching evaluation of all three operational plants and the Fourth Nuclear Power Plant in New Taipei City (新北市), also known as the Longmen plant, which was partly designed by Japan's Hitachi and is expected to come online later this year.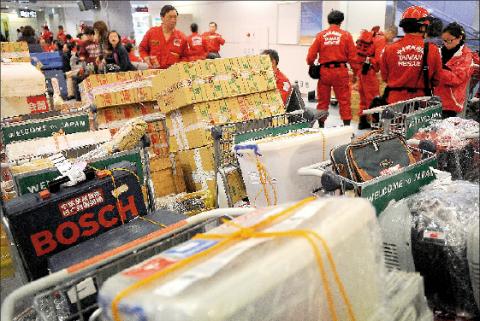 A Taiwanese rescue team waits at Tokyo's Narita Airport in Japan yesterday.
Photo: EPA
The two oldest Taiwanese plants, both less than 30km from Taipei City, were built at about the same time as the 40-year-old Fukushima Daiichi plant and all were based on similar designs, according to nuclear regulatory officials.
While Taiwan's plants each contain one more backup generator — a key part of the cooling system that failed at the Japanese plant on Saturday, critics have long pointed out that they are prone to damage from severe earthquakes.
Taiwanese nuclear plants are built to withstand peak ground accelerations of between 0.3g and 0.4g, far less than the 0.6g required of Japan's earthquake resistance regulations, according to information compiled by environmental groups last year.
VIABILITY
There have been concerns over the viability of nuclear power in Taiwan, which like Japan is densely populated and prone to the effects of tsunamis and earthquakes. Those risks have largely been ignored until Friday, environmental groups say.
The risk of a nuclear meltdown in Japan has called into question the government's assurances over the safety of nuclear power, the Taiwan Environmental Protection Union said in a statement on Saturday.
"It clearly destroys the myth of 'complete safety' when it comes to nuclear energy," it said.
Continued problems with the construction of the Longmen plant, which has been delayed numerous times since construction controversially resumed in 2001, would likely renew public concerns that a similar disaster could take place in Taiwan, the group said.
A much cited report by Lee Chao-shing (李昭興), the dean of science at the National Taiwan Ocean University, last year pointed out that the Longmen plant was situated close to undersea volcanoes, although nuclear regulators insist that it is built on a stable base.
VIGILANCE NEEDED
Democratic Progressive Party (DPP) Legislator Tien Chiu-chin (田秋堇) yesterday said fears of a meltdown in Japan confirmed what many activists had been saying for decades: that a disaster can always take place despite stringent safety efforts.
Japanese regulators reportedly earthquake-tested the damaged Fukushima Daiichi plant with temblors of up to magnitudes of 7.9, significantly lower than Friday's 8.9 quake, but Tien, a long-time critic of nuclear energy, said that the Longmen plant's threshold was much less.
She suggested that the construction of the fourth power plant be stopped, citing a need for more safety studies.
However, at a press conference on Saturday, AEC officials said that Taiwanese plants are safe due to base locations and because of multiple backup measures to ensure cooling, even in the event that power is lost.
TSUNAMI RESISTANT
Taiwan's nuclear plants are designed to withstand a 12m tsunami, AEC Deputy Minister Shieh Der-jhy (謝得志) said. The tsunami that hit eastern Japan on Friday was about 10m high.
Taipower officials responsible for operating the four nuclear power plants also say that the three plants currently in operation are designed to withstand a direct impact of up to a magnitude 7.0 quake. These measures can be revised if necessary, the company said.
Taiwan's nuclear power sector has experienced problems in the past, although there have been no radiation leaks.
The most serious scare was on March 19, 2001, when a two hour-long fire broke out in the Third Nuclear Power Plant in Pingtung County after a transmission failure left two electricity generators out of commission.
Comments will be moderated. Keep comments relevant to the article. Remarks containing abusive and obscene language, personal attacks of any kind or promotion will be removed and the user banned. Final decision will be at the discretion of the Taipei Times.