SOCKGATE: Public cries foul in Games row
SOCKED: Lawmakers and the public alike expressed outrage over Yang Shu-chun's disqualification. Some politicians even set fire to South Korean flags
Staff Reporters, with agencies
Taiwanese sports fans and lawmakers remained emotionally charged yesterday over the disputed disqualification of Taiwanese taekwondo athlete Yang Shu-chun (楊淑君) at the Asian Games in Guangzhou, China, with many accusing China of foul play.
President Ma Ying-jeou's (馬英九) administration, meanwhile, also came under fire for issuing remarks deemed by many as a "weak response" to Yang's disqualification.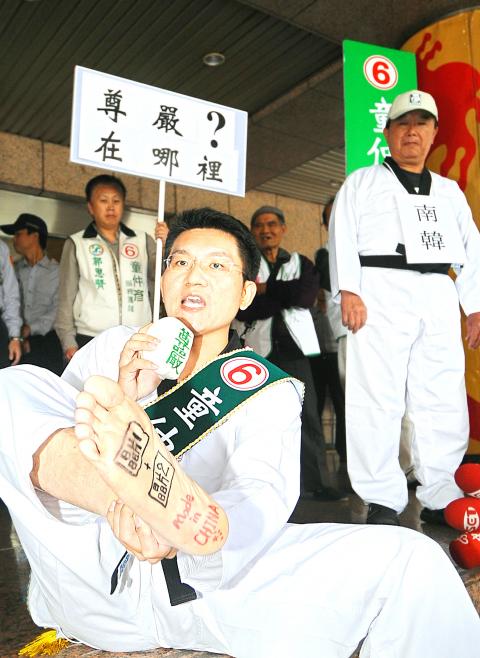 Tung Chung-yen, a Democratic Progressive Party candidate for Taipei city councilor, performs a skit outside the office of the Sports Affairs Council yesterday in protest at its acceptance of the disqualification of Taiwanese athlete Yang Shu-chun from the taekwondo competition at the Asian Games in Guangzhou, China, on Wednesday.
PHOTO: FANG PIN-CHAO, TAIPEI TIMES
Yang, one of the nation's gold medal hopefuls at the Games, had almost defeated Vietnamese Vu Thi Hau in a women's under-49kg bout on Wednesday when Asian Taekwondo Union (ATU) vice president Zhao Lei (趙磊) called into question the electronic sensors in Yang's socks with 12 seconds left in the first round.
Footage of the match showed Yang was caught by surprise when she returned to the ring after a technician had inspected her socks and was abruptly handed a 12-0 loss.
She then broke down in tears when her disqualification was announced. The judges had ruled that her socks carried unauthorized extra electronic sensors behind the heel.
Despite protests from the Taiwanese delegation, insisting the sensors were carefully checked and approved before her match, the World Taekwondo Federation (WTF) remained adamant on its ruling, suggesting that Yang had cheated and that she and her coach would face further sanctions for staging a sit-in protest.
A post-match press conference deepened feelings of rancor, with Taiwanese and Chinese journalists trading barbs as officials refused to translate questions as to whether the decision had been politically motivated. Taiwanese perceptions of foul play in the Yang decision were also fed by media reports that Zhao, from China, was one of its authors. The event was eventually won by China's Wu Jingyu (吳靜鈺), who reportedly considers Zhao one of her mentors.
Yang, red-eyed and sleepless, said little yesterday, but some of her outraged fans were more vocal.
Taiwanese netizens engaged in a barrage of criticism against the WTF ruling, with new groups on Facebook in support of Yang attracting a large number of people.
The controversial disqualification, however, appears to have helped bridge the nation's political divide after leading politicians from both parties angrily decried Wednesday's decision.
Lawmakers from both the Democratic Progressive Party (DPP) and the Chinese Nationalist Party (KMT) pledged support for Yang in separate press conferences held yesterday.
KMT caucus whip Lin Yi-shih (林益世) announced the caucus has launched a signature campaign in support of Yang, adding that the nation must stand up and fight for Yang's rights.
"Every signature symbolizes the gold medal awarded by the Taiwanese public to Yang," Lin said.
Suggestions by games officials that Yang cheated were a "disgrace to everybody around the country," DPP Legislator Pan Men-an (潘孟安) told a separate press conference. "The responsibility should fall on the people that conducted the checks."
DPP lawmakers also delivered a strongly worded message against Sports Affairs Council (SAC) officials who had accompanied Taiwanese athletes to the Games, charging them with "being useless" and said they failed to step up for Yang immediately after the ruling.
"A large number of officials attended the Games," DPP Legislator Chiu Yi-ying (邱議瑩) said. "But all they have done so far is appear at and partake in the ceremonies when our athletes win. When Yang was disqualified, what did they do? Nothing."
DPP Chairperson Tsai Ing-wen (蔡英文) also released a statement online, saying that the entire public stood behind Yang, but also said that the government needed to firmly stand up for Taiwanese interests.
"[This government], especially on sovereignty issues, has always deferred to China and hasn't emphasized our attitudes enough," she said. "As a result, we think that it is regrettable that frontline officials haven't been speaking strongly enough about this incident."
After coming under criticism over its apparent silence on the matter, the Presidential Office late on Wednesday night stepped into the emotional fracas and demanded that the event organizers re-examine Yang's case and offer a better explanation.
Presidential Office Spokesman Lo Chih-chiang (羅智強) said the president was greatly concerned about what happened at the Asian Games and had instructed the Executive Yuan and the SAC to urge the Chinese Taipei Olympic Committee to do its best to defend Yang's rights.
Lo Chih-chiang added that Ma has requested government agencies to express their firm position in that regard and demanded that the organizer conduct a thorough investigation into the matter.
A large part of the criticism against Taiwanese officials was also directed at Sports Affairs Council (SAC) Deputy Minister Chen Hsien-chung (陳顯宗), over a "weak comment" in a press conference on Wednesday after the disqualification was lambasted.
Chen said at the time: "We have to protest against the ruling, but sometimes athletes can only swallow the result [unfair or not] and respect it."
Approached by reporters yesterday, Chen apologized for not making himself clear during Wednesday's press conference.
"What I meant then was that [an athlete] could only then, at that moment, temporarily accept the judges' ruling because [his or her] protest was overruled and that more protests would be to no avail as the judges insist on their ruling," Chen said, adding that his choice of the word "swallow" was a common expression in the sporting world.
Widespread furor against the organizers, including WTF -secretary-general Yang Jin-suk, of South Korea, also mounted yesterday, with a number of city councilor candidates burning South Korean flags and vowing a boycott of South Korean products.
Protesting loudly in front of the SAC headquarters, People First Party (PFP) candidates burned small South Korean flags and smashed imported products on the floor before being stopped by police. Reports also said that the security presence in front of the South Korean representative office in Taipei had increased yesterday.
Another event calling on supporters to show up at Taiwan Taoyuan International Airport when Yang returns on Sunday night has also attracted more than 1,100 attendees.
One of Yang's coaches, Liu Tsung-ta (劉聰達), said tournament officials had excluded them from a technical meeting after the team protested the decision and that the officials had said nothing to them since.
"It was just the referees who attended the meeting. We were excluded," Liu said. "Neither did they ask us to explain. They haven't made any contact with us since. They just disqualified us."
According to Tsai Chih-fan (蔡智帆), manager of the company representing the manufacturer of the electronic taekwondo protection equipment, the electronic socks Yang was wearing were an old model where the sensors were glued to the sock and not the new model where they are sewn on to the sock.
There wasn't much difference between the two types, although new model is superior to the old model, he said. Tsai guaranteed that the socks Yang used were a model from a brand approved by the WTF and that they conformed to specifications.
While Taiwanese government officials threatened to take legal action against the decision, Chen Kuo-yi (陳國儀), secretary-general of the Chinese Taipei Olympic Association, said that certain preconditions must be met before filing for arbitration.
Chen Kuo-yi said from Guangzhou that information about the incident had been chaotic so far and that the Taiwanese team and the ATU have provided conflicting stories. Taiwan will not be able to file arbitration before learning all the details and facts, he said.
China's Taiwan Affairs Office (TAO) yesterday denied the conspiracy theory, saying China did not "deliberately" report the questionable socks to the referees.
Describing the incident as "purely a game," TAO Director Wang Yi (王毅) said the office did not wish to see the episode affect cross-strait ties and "Chinese Taipei's participation" at the Games. Wang added that they already negotiated with "related units" and asked them to "give Taiwan a fair environment to compete."
"From the very beginning, we have been providing Chinese Taipei with the best services possible," he said.
ADDITIONAL REPORTING BY FLORA WANG AND SHIH HSIU-CHUAN
Comments will be moderated. Keep comments relevant to the article. Remarks containing abusive and obscene language, personal attacks of any kind or promotion will be removed and the user banned. Final decision will be at the discretion of the Taipei Times.