Farmers fail to meet president
SNUBBED The president has instructed the premier to negotiate with the Miaoli County Government on how to better manage the expropriation in Dapu
Farmers yesterday ended their overnight protest in front of the Presidential Office against land seizures by the government, but despite their persistence, representatives were not granted a meeting with President Ma Ying-jeou (馬英九).
Thousands of farmers from all over the country and their supporters began their protest on Ketagalan Boulevard in front of the Presidential Office on Saturday evening and stayed there overnight.
About a dozen representatives of the farmers were invited to the Presidential Office yesterday morning, but they did not stay long because they said the president did not even receive them to show that he cared about their cause.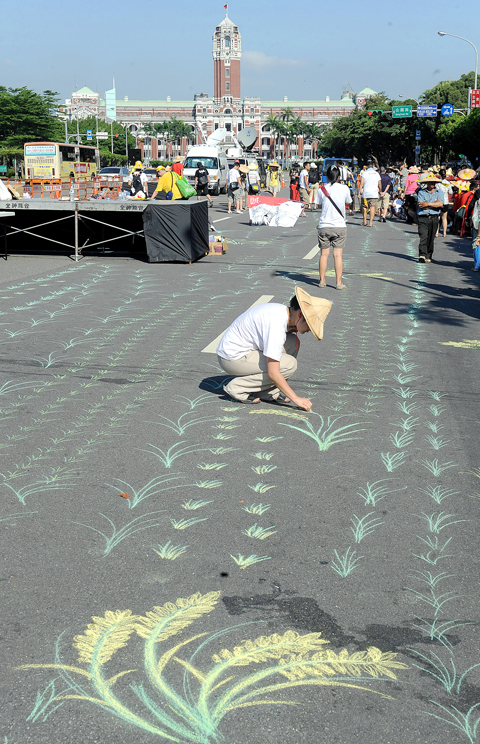 A protester draws rice plants on the street yesterday at the end of an overnight protest against land seizures by the government that began on Saturday evening in front of the Presidential Office in Taipei.
PHOTO: CHANG CHIA-MING, TAIPEI TIMES
"When [Ma] visited farming villages during his presidential campaign, he was given a warm welcome and he received farmers' votes," Taiwan Rural Front spokeswoman Tsai Pei-hui (蔡培慧) said. "Now that the farmers have come knocking on his door to voice their opposition to the government forcibly taking their land, the president refuses to see them."
Tsai said in Western and other developed countries, governments rarely expropriate farmland, and even when they expropriate land, they do so in order to build public facilities, such as schools, roads and hospitals.
"The government should not just take whatever they want without any way for people to voice their opinion," she said.
Yesterday, the demonstrators sowed seeds on Ketagalan Boulevard to show that they are determined to have their farmland returned to them.
"We are all farmers. We are praying to the gods to stop land expropriation," said Liu Ching-chang (劉慶昌), a farmer in Erchongpu (二重埔) in Hsinchu County's Jhudong Township (竹東).
Farmers from Dapu Borough (大埔) in Jhunan Township (竹南) and Wanbao Borough in Houlong Township (後龍), both in Miaoli County, Jhubei City (竹北), Erchongpu in Hsinchu County, Siangsihliao (相思寮) in Changhua County's Erlin Township (二林) and Taipei County's Tucheng (土城) gathered in front of the Presidential Office on Saturday night because all the communities have faced, or may be facing, government expropriation to make way for various development projects.
Although farmers across the country have been fighting land expropriation for years, their campaign did not gain public attention until the Miaoli County Government sent excavators escorted by police to dig up rice paddies in Dapu last month.
Later yesterday, Presidential Office Spokesman Lo Chih-chiang (羅智強) said the president had instructed Premier Wu Dun-yih (吳敦義) to deal with the farmers' grievances.
"Ma attached great importance to the rice paddy incident in Miaoli County's Dapu" when he met with ranking officials on Saturday night, Lo said.
During that meeting, Ma instructed Wu to negotiate with the Miaoli County Government as soon as possible and to better manage the issue, Lo said.
"The most important thing is to take into consideration the feelings of the farmers and work out a [better] solution," Lo quoted Ma as saying.
Additional reporting by Ko Shu-ling and Staff Writer
Comments will be moderated. Keep comments relevant to the article. Remarks containing abusive and obscene language, personal attacks of any kind or promotion will be removed and the user banned. Final decision will be at the discretion of the Taipei Times.