Downpour continues to pummel south
WASHED AWAY In Taitung County, stores were swept up by the Jhihben River and a hotel collapsed into the waters. Guests and staff had already been evacuated
Torrential rains brought by Tropical Storm Morakot, which was downgraded from a typhoon on Saturday, continued to wreak havoc in the south of the country yesterday.
As of 8pm yesterday, the Central Disaster Emergency Operation Center had confirmed seven fatalities, while another 32 were injured and 46 were missing.
A total of 6,301 people had been evacuated from their homes, the center said.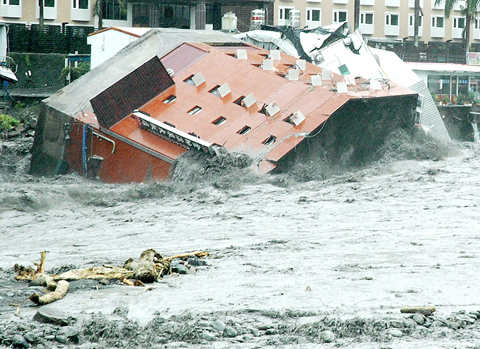 The collapsed Jinshuai Hotel lies in the Jhihben River in Jhihben Township, Taitung County, yesterday.
PHOTO: REUTERS
Though the center of the storm left Taiwan on Saturday, heavy rain from the rim of the system continued to cause major damage.
In eastern Taiwan, the Jinshuai Hotel in Jhihben (知本), Taitung County, collapsed into the Jhihben River just before noon after its foundations were eroded by surging floodwaters.
A report in the Chinese-language Liberty Times (the Taipei Times' sister newspaper) said the management of the hotel had begun evacuating guests on Saturday after roads leading to the town, which is popular for its hot springs, were washed away by the river.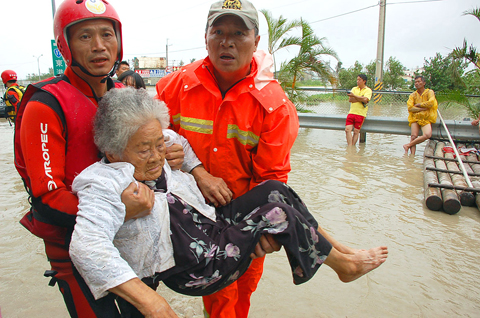 Two rescue workers carry a 90-year-old woman to safety yesterday in Pingtung County.
PHOTO: KUO CHING-HUI, TAIPEI TIMES
Several stores in front of the six-story hotel were also washed away by the swollen river.
Hotel staffers were reportedly safe at another hotel nearby, while 400 visitors were trapped in Jhihben, unable to return home.
Meanwhile, the Central Weather Bureau said the rain belt had moved northward from the south to central regions. The highest accumulated rainfall from Morakot as of yesterday was in Alishan, which had received 2,654mm of rain.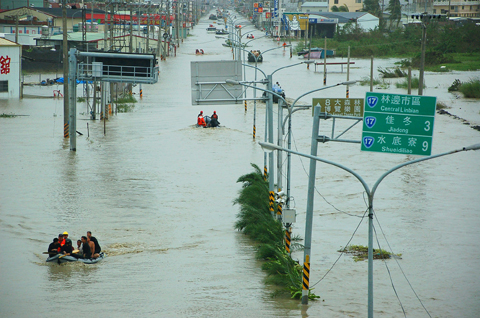 People get around central Linbian Township, Pingtung County, in boats yesterday after torrential rains brought by Typhoon Morakot.
PHOTO: KUO CHING-HUI, TAIPEI TIMES
The weather bureau estimated that mountainous areas in Chiayi County would receive an accumulated 2,900mm of rain, while mountains in Kaohsiung and Pingtung counties would see 2,700mm of rain and Nantou and Tainan counties 2,200mm.
Rainfall on Friday and Saturday alone in Kaohsiung City and County and Pingtung County was around the annual average in those areas. Average annual rainfall in Hengchun (恆春), Pingtung County, for example, is 2,017mm.
Lin Hsiu-wen (林秀雯), deputy director of the weather bureau's forecast center, said that while Taiwan proper would soon be out of the storm's range, southwest seasonal winds would bring more rain to central and southern regions.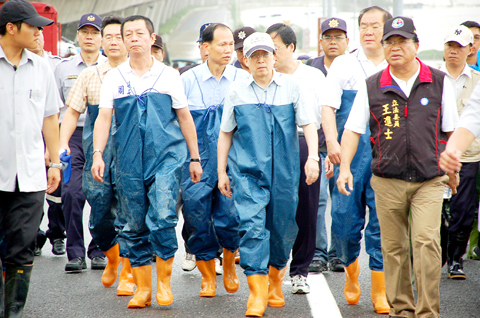 Premier Liu Chao-shiuan, center, and other officials assess the situation in Linbian Township, Pingtung County, yesterday after the area was flooded by the torrential rains brought by Typhoon Morakot.
PHOTO: KUO CHING-HUI, TAIPEI TIMES
"The rain is expected to continue until tomorrow," she said.
Taichung, Kaohsiung, Chiayi and Tainan cities and counties, as well as Pingtung, Changhua, Nantou, Yunlin and Taitung counties canceled school and work for a third consecutive day yesterday because of flooding.
The disaster emergency center said a 78-year-old man was found dead at his home in Hsinhua Township (新化), Tainan County, and a 63-year-old disabled man in Pingtung County's Kaoshu Township (高樹) drowned after becoming trapped in his home.
A 67-year-old woman was also confirmed dead on Saturday.
Cable news channels yesterday reported two more deaths in Tainan County's Yongkang (永康) and Tanei (大內) townships.
In Tainan City and County, running water was disconnected to 280,000 homes because the county's Nanhua Reservoir (南化) had been contaminated as a result of the rains.
Also in Tainan County, the banks of the Tsengwen River (曾文溪) collapsed in several areas, flooding townships including Shanhua (善化), Jente (仁德), Yongkang (永康), Tanei (大內), Guantien (官田), Houbi (後壁) and Beimen (北門).
Flooding in some of the townships was three stories deep.
Morakot's rains have also wreaked havoc on public transportation and infrastructure, with the Ministry of Transportation and Communications reporting 123 damaged sections of road as of 6pm yesterday.
Twenty bridges, including the Dajin (大津) and Liukuei (六龜) bridges on Provincial Highway 27, Shuangyuan Bridge (雙園大橋) on Highway 17, Sinciwei (新旗尾) and Mingtzu bridges (民族) on Highway 21, No. 1 Bridge on Highway 24 and Ciwei Bridge (旗尾橋) on Highway 28, were either damaged or washed away.
Media reported that two cars may have been washed away when the Shuangyuan Bridge, which connects Kaohsiung and Pingtung counties collapsed. Three people were reported missing.
Taiwan Railway Administration (TRA) express trains along the west coast could not go south of Chiayi yesterday because of the floods in Tainan, Kaohsiung and Pingtung counties.
The TRA also suspended services on the South Link (南迴鐵路) because of flooding in Taitung's Taimali Township and Pingtung's Linbian Township (林邊).
TRA trains on the east coast had to stop at Chishang (池上) in Taitung County after the Luyeh River (鹿野溪) broke its banks, preventing them from continuing on to Taitung City.
The Taiwan High Speed Rail Corp (THSRC) also limited the number of trains on the Taipei to Taichung stretch yesterday.
As of yesterday afternoon, agricultural losses were estimated at NT$2.1 billion (US$641 million), with 20,432 hectares of farmland damaged by flooding and strong winds, the Council of Agriculture said.
Six counties — Kaohsiung, Pingtung, Hualien, Taichung, Tainan and Taitung — are qualified for aid according to the Agricultural Natural Disaster Relief Regulations (農業天然災害救助辦法), the council said, adding that farmers in these areas could apply for relief money and low-­interest loans.
The council said NT$894 million in crops had been damaged, with banana crops taking the hardest hit. A total of 2,172 hectares of banana trees were ravaged by the storm.
Approximately NT$44.29 million in poultry perished in the flooding, while losses to the aquaculture sector totaled NT$63.19 million, with 107 hectares of fish farms in Pingtung County's Jiadong (佳冬) and Gaoshu (高樹) townships damaged.
In Tainan's Hsuehchia Township (學甲), thousands of pigs drowned, posing a serious risk of disease, in addition to the economic losses, officials said.
Damage to agricultural facilities amounted to NT$85.53 million and damage to the forestry industry was estimated at NT$8.58 million.
Meanwhile, the council issued "red alerts" yesterday for 452 riverside areas in 11 counties.
The areas, in 206 villages in ­Chiayi, Tainan, Kaohsiung, Pingtung, Taitung, Taichung, Nantou, Yunlin, Taoyuan, Hsinchu and ­Miaoli counties, were on "red alert" because of the risk of soil saturation and landslides.
The council said that once a "red alert" has been issued, the local government is responsible for warning residents and evacuating them if necessary.
The council also issued "yellow alerts" for 328 areas in 129 villages in 12 counties that were at risk from rockslides and mudslides over the next few days.
Also yesterday, Vice Premier Paul Chiu (邱正雄) established a disaster relief command center in Pingtung County, headed by Minister of the Interior Liao Liou-yi (廖了以).
Premier Liu Chao-shiuan (劉兆玄) traveled to the Linbian Interchange, Pingtung and Kaohsiung counties to inspect flooded areas.
Liu said he would stay overnight in southern Taiwan to monitor the disaster relief efforts.
Meanwhile, the Kaohsiung City Government dispatched personnel to assist flood-ravaged Kaohsiung and Pingtung counties.
Kaohsiung Mayor Chen Chu (陳菊) said at a city government meeting that 81 officials, 24 lifeboats and three ambulances were headed to Tungkang (東港), Kanding (崁頂) and Chiatung (佳冬) townships in Pingtung County, and Cishan Township (旗山) in Kaohsiung County as of 10am yesterday, adding that five lifeboats would also be dispatched to Tainan.
The city's Social Affairs Bureau had also arranged for food, drinking water and thousands of towels and sleeping bags to be sent to flood victims, Chen said.
In related developments, ­Kaohsiung County Commissioner Yang Chiu-hsing (楊秋興) returned from Germany at noon yesterday amid criticism of his absence during the storm's onslaught.
Yang, who led a delegation of county government officials to Britain and Germany on Aug. 1, said he tried to return as soon as he heard of the flooding, but was unable to get a ticket for an immediate flight.
KMT Legislator Chiang Lin-chun (江玲君), who represents a constituency in the county, said Yang should have canceled the trip after the weather bureau forecast the typhoon would bring torrential rains.
Meanwhile, the Taipei City Government said yesterday it had sent rescue teams and equipment to flooded regions.
More than 80 rescue staff, 16 rafts, seven fire trucks, three pumps, satellite phones and food were sent to Pingtung County on Saturday and yesterday.
Taipei Mayor Hau Lung-bin (郝龍斌) said the city's Fire Department had dispatched the first rescue team to Pingtung County on Saturday night after receiving a request from the county government.
"We will spare no efforts in helping. More rescue teams will be dispatched if necessary," he said at the city's emergency operation center.
Hau said the city government also sent 23 rescuers, three fire trucks and 10 rafts to Tainan County after he had spoken to Tainan County Commissioner Su Huan-chi (蘇煥智).
The city government also sent a rescue team and rescue equipment to Chiayi County after it contacted the city government and offered assistance, he said.
Hau said the city government contacted the Kaohsiung County Government and was prepared to offer any necessary assistance.
Fire Depatment Commissioner Hsiung Kuang-hua (熊光華) said the rescue work was expected to continue for two or three days.
Meanwhile, Democratic Progressive Party spokesman Cheng Wen-tsang (鄭文燦) said yesterday that the party had launched a disaster relief campaign.
"All campaign activities [for the year-end local government elections] have been suspended and our volunteers will join disaster relief efforts," Cheng told a news conference in Taipei.
He also said the Kaohsiung City Government had created an emergency response center to accept donations of necessities such as water, food, medicine and flashlights for flood victims across the south.
Those who wish to donate items can contact the center at (07) 337-3375 or deliver items to Kaohsiung City Hall at No. 2, Sihwei 3rd Rd, Lingya District, Kaohsiung City.
DPP Chairperson Tsai Ing-wen (蔡英文) donated NT$1 million to the relief efforts.
Cheng said the central government reacted too slowly.
"It's unimaginable that the central government does not have updated information about the disaster — some local government heads had to issue calls for help through the media," Cheng said. "Certainly helping the victims is the priority at the moment. The Ministry of the Interior and the Ministry of National Defense will have to shoulder the political responsibility afterwards."
ADDITIONAL REPORTING BY MO YAN-CHIH, LOA IOK-SIN AND CNA
Also See: morakot strikes
Also See: EDITORIAL: Typhoon highlights old inefficiencies
Also See: Typhoon won't hurt recovery: analysts
Comments will be moderated. Keep comments relevant to the article. Remarks containing abusive and obscene language, personal attacks of any kind or promotion will be removed and the user banned. Final decision will be at the discretion of the Taipei Times.