Typhoon day declared across Taiwan
MORAKOT ON THE MOVE The storm is expected to cover the Taiwan area entirely by early today and the weather bureau said it could gain in strength
The Central Weather Bureau (CWB) issued a land warning yesterday morning for Typhoon Morakot, and warned residents in the north and northeast that the storm was packing powerful winds and torrential rain.
At press time, all local governments had declared a typhoon day for today except the Kinmen and Lienchiang county governments, which said work and classes will continue as usual.
At 9:15pm, the center of the typhoon was located 350km off the coast of Ilan. It was moving northwesterly at 20kph, packing winds up to 144kph and had a radius of 250km.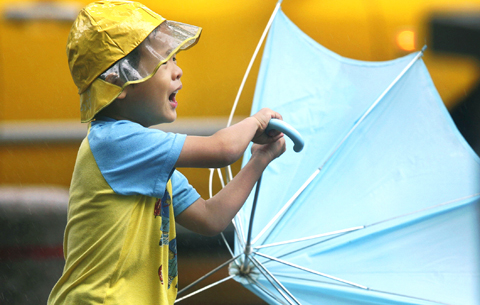 A boy struggles with his umbrella in winds ahead of Typhoon Morakot yesterday in Taipei.
PHOTO: WALLY SANTANA, AP
If Morakot maintains its course and continues to gain strength, the system would cover Taiwan proper in its entirety early today, meteorologists said.
Residents in mountainous areas in northern and eastern Taiwan should be alert for landslides and people should stay away from the coastline, the bureau said.
Morakot has the potential to become a stronger typhoon, said Chen Yi-liang (陳怡良), division chief at the bureau's forecast center.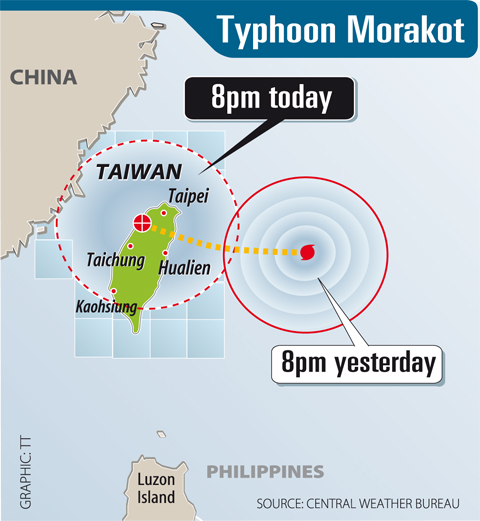 The approach of Morakot brought heavy rain to northern regions yesterday, including Taipei County and Hsinchu County.
More than 130mm of rain fell in mountainous areas in these counties, the bureau said, adding that more rain was expected as the typhoon moved closer to the east coast.
Domestic airlines canceled around 20 flights to outlying islands yesterday, while some shipping firms canceled services to Makung (馬公), Matsu, Liouciou (琉球) and Green Island (綠島).
Travelers were advised to check with their airlines about possible flight schedule changes today.
All 18 forest recreational areas will be closed today, including Hohuanshan (合歡山), Taipingshan (太平山), Aowanda (奧萬大) and Kenting (墾丁).
Freeway toll stations in any area that has declared a typhoon day will stop collecting tolls starting at 12am for 24 hours.
Meanwhile, the Central Personnel Administration (CPA) said yesterday it would take legal action against the creators of a fake CPA Web site that announced the suspension of work and classes today several hours before the official announcement was made shortly after 4pm.
The fake Web site had been up for at least three hours by then, claiming that local governments in north, east and central Taiwan had declared today a Typhoon Day at 1:12pm.
The CPA said it reported the incident to the police. It reminded the public that the decision to declare a typhoon day was up to local governments, not the CPA.
In related news, the Council of Agriculture said that 377.46 tonnes of emergency stocks of rice and vegetables have been distributed to 18 cities and counties to meet possible food shortages.
The public should not panic about potential shortages because the nation's second harvest was recently collected.
ADDITIONAL REPORTING BY SHIH HSIU-CHUAN, MEGGIE LU AND AGENCIES
Comments will be moderated. Keep comments relevant to the article. Remarks containing abusive and obscene language, personal attacks of any kind or promotion will be removed and the user banned. Final decision will be at the discretion of the Taipei Times.