COMMUNITY COMPASS: German Cultural Center chief leaves a legacy
ART COLLECTION Jurgen Gerbig has left the center richer than he found it, artistically speaking, thanks to his policy of having artists donate a work after their exhibitions
Jurgen Gerbig was clearing out his desk at Taipei's German Cultural Center when I finally caught up with him on May 28. Over the previous 10 days he'd been in Warsaw and Beijing, but now he finally had to come to terms with quitting a job he's had since 2002, directing what anywhere else would be called the Goethe Institute, but what in Taiwan had to adjust to Chinese sensibilities.
Nowhere else in Taiwan can free wine have been dispensed so liberally at arts events that were free-of-charge and open to all.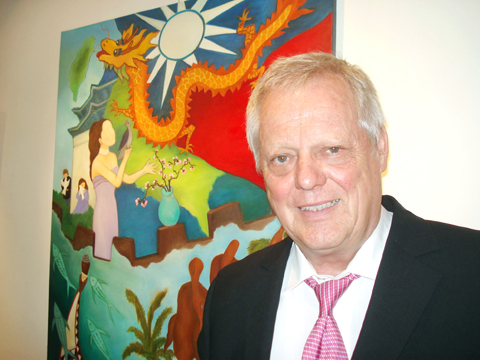 Jurgen Gerbig, former director of the German Cultural Institute, Taipei, stands in front of the painting Hoffen auf ein besseres und Schoneres Morgen by Chen Tsuo-chi in a photograph taken last month.
PHOTO COURTESY OF THE GERMAN CULTURAL CENTER, TAIPEI
Gerbig was ideally suited to be the host of such largesse — his warmth and openness shone out, and indeed these same qualities came to characterize the events themselves.
"Last week there was a farewell party for me here," he said, "and it ended with all the musicians present jamming together, mixing every possible style. But, as if that wasn't enough, they went on to announce that our center wasn't only open to everyone — it represented the very principle of open-mindedness itself! I couldn't possibly have had a more welcome farewell compliment."
As he led me around the center's premises, Gerbig pointed out items of the art collection, currently on display in a special exhibition. All had been donated by the artists, he said, and there were around 50 of them. It had been his policy to charge nothing for the exhibition space and to take no commission on sales. Instead, he asked each exhibitor to give one work to the center.
"And there they all are," he said — not, I thought, without a tinge of sadness in his voice. "They are my legacy."
Gerbig's Chinese experience didn't start with his appointment to Beijing, whose Goethe Institute he helped set up, as one of a team of three, in 1988. Prior to that he'd been teaching German in Shanghai's Tongji University to students from all over China, preparing them to go to Germany to study for doctorates. Many later returned to Germany to take up senior positions there as cogs in the field of Sino-German economic cooperation.
Even so, it was initially hard work for Gerbig to get his Taipei posting. He'd already worked in Shanghai, Beijing and Hong Kong and was due to be rotated to some other part of the globe.
But he insisted he needed to know about "the other China" to have a complete picture of the Mandarin-speaking world. And it's an indication of his standing in his employers' eyes that he was eventually transferred to Taipei.
But when he arrived, he said, he felt he was starting all over again.
"I still remember how, early in my stay, I received an invitation from the then-director of the Cultural Affairs Committee, Madame Tchen Yu-chiou (陳郁秀) to attend a puppet show. I thought 'Oh no, not again!' I'd seen at least a dozen on the mainland, but out of courtesy I went. And I was so impressed! I'd never seen puppetry of such a high artistic level," he said.
And not only were Taiwan's artists themselves top-notch — they also knew a lot about the German arts scene, and approached the center with specific ideas on who to invite and which projects to consider, he said.
A number of factors had helped along the way.
When he arrived in 2002, Gerbig was told the building the German Cultural Center had occupied for close to 20 years was beyond repair, but this proved a blessing in disguise as he was able to establish a new image, with a transparent reception area and a multi-purpose performance venue, lots of glass, warm colors and open spaces.
He also launched a user-friendly Web site and a new logo.
"We were fortunate to find sponsors who helped — Mercedes when it was still called DaimlerChrysler, which financed our new Web site and leased us a SmartforTwo which I drove for more than a year with our new logo splashed all over it and underneath 'We are Smart!'" he said.
"Later there were Opel and Continental Engineering, who supported us in organizing nationwide green projects," he said.
There were inevitably a few irritants. One of the artists the center exhibited obviously had problems with certain individuals, who called day and night threatening to break in and remove the objects on display as security for outstanding debts, even though most of these were large stone sculptures. The heaviest was a 6 tonne piece at the entrance to the building, which had to be lifted into place by a special crane. The threats died away after staff members explained what the callers' proposed scheme would actually involve.
"Again, early on I had a run-in with the press," Gerbig said, "over a grossly distorted article which claimed I'd said the areas around the train station and the airport looked like Palestine! Not only had I never said that, but I'd also never met the journalist who wrote it. The ensuing war of words was never unambiguously terminated — there was only a half-hearted comment in the newspaper, far short of a correction. Ever since I've been rather wary of the press — with notable exceptions, of course."
But Gerbig has nothing but praise for Taiwan's artists, as well as the official bodies who've proved so helpful over the years. And it's a singular tribute to Taiwan that, along with his Shanghainese wife, he'll continue to live here, in Tianmu (天母), after his retirement and will no doubt remain a familiar face at local arts events.
Comments will be moderated. Keep comments relevant to the article. Remarks containing abusive and obscene language, personal attacks of any kind or promotion will be removed and the user banned. Final decision will be at the discretion of the Taipei Times.