Ma defends his administration
PRAGMATISM URGED Ma Ying-jeou doesn't think he has made any mistakes in cross-strait policy. He said that the DPP should take a 'rational' approach
President Ma Ying-jeou (馬英九) challenged the Democratic Progressive Party (DPP) yesterday to produce concrete evidence that he has jeopardized Taiwan's sovereignty and urged them to be practical and flexible.
"I would like to ask the DPP where it wants to take the country in cross-strait relations," he said. "If they want to go back to the eight years before we came to power, it is impossible ... It is clear what would happen. You cannot accomplish anything nor can you go anywhere."
Ma said his cross-strait policy has gained local and international recognition and he didn't think he had made any mistakes.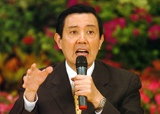 President Ma Ying-jeou addresses reporters at a press conference in Taipei yesterday to mark the first anniversary of his inauguration. Ma said the tough days of the economic downturn would last a while longer, but predicted the situation would improve markedly in the second half of this year.
PHOTO: CHIEN JUNG-FONG, TAIPEI TIMES
"If sovereignty was lost, I can get it back," he said. "But nobody can tell me exactly what was lost."
Ma made the remarks during a news conference to mark the first anniversary of his inauguration on May 20 last year.
Ma said he welcomed the opposition's criticism, but said it must be rational and practical. He said there was room for improvement in his policies, but he hoped DPP Chairperson Tsai Ing-wen (蔡英文) would agree to talk instead of insisting on a debate, because it would only benefit both parties if they could reach a consensus.
Ma said the Republic of China (ROC) Constitution is a "one China" Constitution, and before both sides of the Taiwan Strait could talk about unification or independence, he would suggest "mutual non-denial" of each other's existence.
Although critics complained that school textbooks are vague about Taiwan's sovereignty, Ma said it should be made clear to the public that the sovereignty of the ROC belongs to the people.
"Taiwan is the ROC," he said. "We should clear this up from a historical and constitutional viewpoint. The public must not be confused into thinking Taiwan's sovereignty is undefined. We should never let anyone distort history for political reasons."
Ma said the nine agreements and a joint statement his administration signed with Beijing are conductive to Taiwan's development and none have hurt Taiwan or echoed China's political overtures.
His administration's definition of cross-strait relations was not new, he said, because former president Lee Teng-hui (李登輝) introduced the idea that Taiwan and China are two regions under the framework of the ROC Constitution and former president Chen Shui-bian (陳水扁) did not alter that stance.
"I would like to ask the opposition if they would have agreed to participate in the World Health Assembly [WHA] meeting this year under the same circumstances if they were in power," he said. "I would like to know whether it would be rational to reject or even withdraw from the event simply because the WHA did not call us Taiwan."
Saying the answer to his questions were clear, Ma urged the public to cherish the opportunity to participate in the WHA. His government would like to participate under the name ROC or Taiwan, but it was not feasible at the moment.
"The former DPP administration tried but failed. During the process, they also sabotaged the country's relationship with its allies," he said.
Taiwan had joined the WTO in 2002 under the name "Chinese Taipei" and if the DPP didn't like the name it should have opposed it in 2002, Ma said.
"We are practical and flexible. That is how we win the respect and sympathy of the international community," he said. "Aggression leads to nothing and earns us the name of troublemaker."
Ma said he called Department of Health Minister Yeh Ching-chuan (葉金川) on Monday to give him his support.
Ma said he could "fully understand" Yeh's anger because he was a person who loved Taiwan, but had been accused of selling out.
Two Taiwanese students heckled Yeh in Geneva, where he is attending the WHA.
DPP Spokesman Cheng Wen-tsang (鄭文燦) told the Taipei Times that the DPP regrets that the president does not understand that he has hurt the country.
Ma's acceptance of the "one China" principle, which the DPP has always rejected, violates Taiwan's sovereignty, Cheng said.
Comments by Ma aimed at pleasing China had also jeopardized Taiwan's sovereignty, Cheng said, citing Ma's acceptance of the so-called "1992 consensus" — under which there is one China, with each side having its own interpretation — before first round of cross-strait talks.
He also cited Ma's saying that relations between Taiwan and China were not country to country, but region to region before the second round of talks and his remarks in support of Chinese President Hu Jintao's (胡錦濤) Dec. 31 speech to mark the 30th anniversary of Beijing's "open letter to Taiwanese compatriots."
Hu said both sides could only have exchanges under the "one China" principle.
Even Taiwan's attendance at the WHA came at a cost, Cheng said, because the WHO Web site refers to Taiwan as "China (Province of Taiwan)," which is another affront to national sovereignty.
The DPP spokesman said the party hoped Ma would respond to issues raised by the DPP's rally on Sunday before discussing a meeting with Tsai.
"The most serious problem with Ma and his government is that they do not care about the country's sovereignty and status, and so they could not feel the public's anger at the rally," Cheng said.
Ma wants to talk with Tsai now to show that he listened to the complaints raised on Sunday, but Tsai wants a public debate with Ma on significant national policies, not a meeting that would have the effect of endorsing his failed policies, Cheng said.
Meanwhile, the Chinese Nationalist Party (KMT) caucus vowed yesterday to help advance the administration's policies.
KMT caucus deputy secretary-general Yang Chiung-ying (楊瓊瓔) said KMT lawmakers believed the government needed to do more to show what it is doing for Taiwan during the global economic downturn even though Ma's approval ratings have been climbing.
ADDITIONAL REPORTING BY RICH CHANG AND FLORA WANG
Comments will be moderated. Keep comments relevant to the article. Remarks containing abusive and obscene language, personal attacks of any kind or promotion will be removed and the user banned. Final decision will be at the discretion of the Taipei Times.