Clashes, car chases dog Kuo's return
FRIENDS IN LOW PLACES With help from the head of the Bamboo Union gang, the discredited GIO official's exit from the airport turned into a death-defying car chase
Disgraced former Toronto-based Government Information Office (GIO) official Kuo Kuan-ying (郭冠英) returned to Taiwan yesterday amid clashes between supporters meeting him at the airport and dozens of protesters led by members of the Democratic Progressive Party (DPP).
Chang An-le (張安樂), the fugitive former leader of the Bamboo Union gang in China, said in a telephone interview that he had asked people to pick Kuo up at the airport "for his safety" as "I have known [Kuo] for years."
Kuo was stripped of his civil servant status last Monday in the wake of a controversy over online articles he wrote under the pen name Fan Lan-chin (范蘭欽) smearing Taiwan and Taiwanese.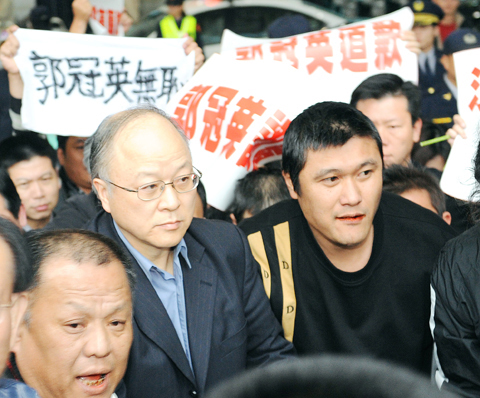 Former Toronto-based diplomat Kuo Kuan-ying, second left, is jostled by people holding banners calling him ''shameless" and demanding that he apologize as he arrives at Taiwan Taoyuan International Airport yesterday following revelations that he posted offensive comments about Taiwan and Taiwanese on the Internet.
PHOTO: YAO KAI-SHIOU, TAIPEI TIMES
The GIO had ordered Kuo to report to the office by today to complete paperwork, hand over his diplomatic passport and GIO identity card before leaving office.
"I don't know where the GIO is. I need to check the map. What kind of institution is that place? Let me find out what [the GIO] is. If there is any relevance between me and [the GIO], definitely I will go there. People should never forget their origins after all," Kuo told reporters.
Kuo said he was saddened that his Paris-based colleague Pan Shun-yun (潘舜昀) was reprimanded by the a GIO for lending Kuo his name for an opinion piece published in the Chinese-language United Daily News defending Kuo.
"Although [Pan] signed his name, it was my article," Kuo said.
Asked whether he worried that his return would cause ethnic disturbances, Kuo said: "[The ethnic problem] is not something that can be resolved by my offering an apology. I am not the cause of [the ethnic problem.] It's here already. There is no way that [the ethnic problem] can be resolved," Kuo said.
Appearing impatient when a reporter asked him why he made such remarks if he loved the country, Kuo said: "You ask me questions. I can ask you: 'What the hell are you?'"
As Kuo walked toward the lobby, he was confronted by a group of DPP supporters including Taipei City Councilor Wang Hsiao-wei (王孝維), Chang Chia-ling (張嘉玲) and Chien Shu-pei (簡舒培). The latter two have expressed an interest in running in city council elections later this year.
"Kuo Kuan-ying apologize, Kuo Kuan-ying apologize," the crowd shouted, while others said: "I am a taibazi ["Taiwanese redneck,"台巴子]," referring to a term Kuo used in one of his articles to describe Taiwanese.
Flanked by about 20 men wearing black, Kuo did not respond, but some of his supporters shouted back: "What nonsense are you talking about. Why should [Kuo] apologize?"
A fierce melee then broke out between DPP supporters and Kuo's escorts, with Wang later claiming that Kuo's escorts beat up several DPP supporters and reporters.
Kuo was pushed into a waiting vehicle, prompting a high-speed car chase by several reporters' vehicles on the freeway from Taoyuan to Taipei and then along streets in Taipei City.
The chase ended when Kuo got out of the car and walked onto Minquan Bridge in Neihu, with photographers in hot pursuit. Kuo then jumped into a waiting taxi, which sped away.
DANGEROUS MANEUVERS
Kuo's driver performed a number of dangerous maneuvers while driving at high speed to try to lose chasing cars. At one point, he drove the wrong way down streets, running red lights and hitting an ETTV cable channel vehicle while making a high-speed turn near Wuxing Street.
An employee at the China Unification Promotion Party (CUPP), established by Chang An-le, said the party had arranged for different cars to carry Kuo during the chase, including two taxis belonging to the Grand Chinese Taxi Association, a chapter of the party.
On one occasion during the chase, Kuo walked into 〝Zhongxiao-Fuxing MRT station, where he was confronted by Chang Chia-ling and her supporters, with several passengers cheering for Kuo.
Meanwhile, the GIO said last night that Kuo had reported to the office between 3pm and 4pm and completed the paperwork relating to his dismissal.
Chinese Nationalist Party (KMT) Legislator Wu Yu-sheng (吳育昇) urged Kuo to stop making remarks that could incite ethnic conflict.
"Taiwan is really unfortunate to have a figure like Kuo Kuan-ying," KMT Legislator Chiu Yi (邱毅) said, calling Kuo "arrogant" and "ignorant."
But KMT Legislator Shuai Hua-ming (帥化民) said Kuo was a product of politicians' manipulation of ethnic issues.
"If the manipulation continues, there will be numerous Kuo Kuan-yings and numerous [former Ministry of Education secretary-general] Chuang Kuo-jungs (莊國榮) [who created an uproar with remarks last year relating to President Ma Ying-jeou's (馬英九) father]," Shuai said.
At a separate setting, Chao Tien-lin (趙天麟), director of the DPP Department of Youth Development, said Kuo never showed remorse for what he did.
He said the black-clad men's violent actions against reporters and protesters may have broken the law, adding that the DPP had asked the police to investigate.
ETHNIC INTEGRATION
DPP caucus whip Lee Chun-yee (李俊毅) said the government should swiftly offer a policy on ethnic integration to avoid similar incidents from happening again.
"A public servant cultivated by this country turned out to be a person who hurt the nation seriously. The government should review its civil servant system as some public servants might be confused about national identity," Lee said.
DPP Legislator Kao Jyh-peng (高志鵬) said Kuo might have been in contempt of authority under the Criminal Code for saying: "What the hell is the GIO? What is the GIO?" during an interview with TVBS prior to his departure from Toronto.
Meanwhile, the Presidential Office yesterday defended Ma's handling of the controversy, saying he was not weak, but rather had abided by the rule of presumption of innocence.
BURDEN OF GUILT
Presidential Office Spokesman Wang Yu-chi (王郁琦) said some people have criticized Ma for being weak because he waited 14 days before coming out to denounce Kuo, but the president had a legitimate reason for doing so.
When the news broke, Wang said there was no concrete evidence proving that Kuo was Fan.
"As the president, how could he not know a person should be presumed innocent before he is proven guilty? How could he not wait until the truth was uncovered?" he asked.
Wang said credibility and correct judgment were essential to Ma, especially when it concerned human rights.
"Once the president gets into the habit of being too strong, he or she might be criticized for ignoring human rights or behaving like a dictator," Wang said. "We are still haunted by the horrors of the White Terror, are we not?"
"At least our president attaches more importance to protecting human rights than cultivating an image of strength," he said. "Affirming human rights might seem weak, but in reality it's extremely strong."
ADDITIONAL REPORTING BY FLORA WANG AND RICH CHANG
Comments will be moderated. Keep comments relevant to the article. Remarks containing abusive and obscene language, personal attacks of any kind or promotion will be removed and the user banned. Final decision will be at the discretion of the Taipei Times.