Plane crashes in Montana and Tokyo kill 16
FATAL FLIGHTS The wreckage of a FedEx cargo plane at Narita burned for hours after yesterday morning's crash, forcing the cancelation of dozens of flights
A small plane carrying a group of people from California to Montana crashed into a cemetery not far from the airport in Butte and burst into flames, killing seven adults and seven children on Sunday, while a FedEx cargo plane smashed into a runway and burst into a ball of fire while attempting to land at Tokyo's Narita Airport yesterday, killing the American pilot and copilot.
Investigators believe wind shear, or a sudden gust of wind, may have been a factor in the Tokyo crash, but the US National Transportation Safety Board gave no explanation for the Montana crash during a press conference on Sunday night. .
"There was nothing left of it," said Steve Guidoni of Butte, who saw the crash on Sunday. "It just went straight into the ground. I went over there to try to help. I thought maybe I would pull someone out of the fire."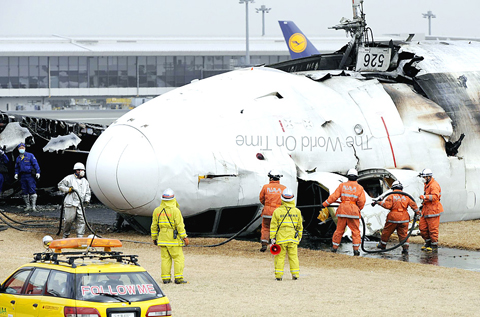 Firefighters work near a FedEx cargo plane yesterday after it crashed on landing at Narita International Airport in Narita, Japan.
PHOTO: EPA
Guidoni said he saw luggage and seat cushions lying around, but no bodies. He said the biggest piece of the plane was the size of a kitchen table.
"You wouldn't even know a plane was there," he said.
The single engine turboprop crashed and burned at Holy Cross Cemetery, 152m short of Bert Mooney Airport in Butte, Federal Aviation Administration (FAA) spokesman Mike Fergus said.
The plane was believed to be taking its occupants on a ski trip.
A California newspaper, the Napa Valley Register, reported on its Web site late on Sunday that a family of five from St Helena, California, including three preschoolers, was among the victims.
The aircraft had departed from Oroville, California, and the pilot had filed a flight plan showing a destination of Bozeman, about 137km southeast of Butte. But the pilot canceled his flight plan at some point and headed for Butte, Fergus said.
The flight originated at Brown Field Municipal airport in San Diego on Saturday evening and flew to Redlands, California, said Rachel Laing, a San Diego city spokeswoman.
The plane left on Sunday morning for Vacaville, California, Flight Aware said. From there it flew to Oroville and then to Butte.
Meanwhile, in Tokyo, questions were also being raised about the safety of the MD-11, a wide-body airliner built by McDonnell Douglas and based on the DC-10, being used by FedEx.
The flight from FedEx's hub in Guangzhou appeared to bounce after its initial touch down, and then skipped along Narita's main runway.
Comments will be moderated. Keep comments relevant to the article. Remarks containing abusive and obscene language, personal attacks of any kind or promotion will be removed and the user banned. Final decision will be at the discretion of the Taipei Times.