Ma promises to seek truth of 228
RESPONSIBILITY The president said Chiang Kai-shek was responsible as a leader for the bloody crackdown, but that he should not be judged by a single event
President Ma Ying-jeou (馬英九) yesterday attended an exhibition commemorating a 228 Incident victim, promising to work toward uncovering the truth behind the killings and provide compensation to survivors and the families of those murdered.
Ma lauded Chien Chi (簡吉), who fought against the Chinese Nationalist Party (KMT) government during the 228 Incident in 1947 for his love and dedication to Taiwan.
Chien was sentenced to death in 1950 during the White Terror.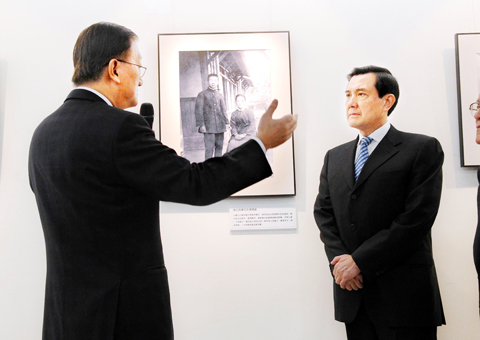 First International Telecom founder Chien Ming-jen, left, talks to President Ma Ying-jeou at a memorial exhibit for his father, Chien Chi, in Taipei yesterday. Chien Chi was executed in 1950 during the White Terror.
PHOTO: CNA
The exhibition on Chien's life reflected the history of the 228 Incident and the White Terror, Ma said, and the government should acknowledge past wrongs and educate youth people and future generations through such exhibits.
Ma said he attended a memorial service for 228 and White Terror victims four years ago as KMT chairman and had bowed three times in apology for the KMT government's mistakes.
"I apologized to the victims and their families because there were many injustices," he said at the National Sun Yat-sen Memorial Hall exhibit.
Ma, who has worked toward reconciliation between his party and 228 victims since serving as Taipei mayor, on Sunday promised to continue funding the 228 Memorial Foundation with an annual budget of NT$300 million (US$9.2 million) and draft regulations for the establishment of a national 228 memorial park.
While meeting members of the Taiwan 228 Association, Ma acknowledged that dictator Chiang Kai-shek (蔣介石) had been responsible as the country's leader for the bloody crackdown on civilians, but added that a political figure's merits should not be judged by a single event.
"Of course [Chiang] was responsible ... He was the national leader, and he should bear responsibility for what happened. I've never denied that," he said.
Ma is scheduled to attend a series of events this week in commemoration of the 228 Incident, including the opening of an exhibit at Taipei 228 Memorial Park and a forum held by the Academia Sinica today, as well as a 228 Memorial Foundation ceremony in Kaohsiung on Saturday.
In response to Ma's comments, Democratic Progressive Party (DPP) Legislator Gao Jyh-peng (高志鵬) asked why Ma had reopened Chiang's mausoleum at Tzuhu (慈湖), restored the honor guard and proposed changing the name of National Taiwan Democracy Memorial Hall back to Chiang Kai-shek Memorial Hall if he believed Chiang was responsible for the 228 Incident.
KMT caucus secretary-general Yang Chiung-ying (楊瓊瓔) praised Ma for acknowledging Chiang's responsibility.
"The government back then should surely be considered responsible. That's why we enacted the Act for Handling of and Compensation for the 228 Incident [二二八事件處理及補償條例]" in 1995, Yang said.
KMT Legislator Lo Shu-lei (羅淑蕾) said the facts of the incident should be released so future generations can pass their own judgment on Chiang.
"There is nothing to hide. History is all about facts," Lo said.
KMT Legislator Shuai Hua-ming (帥化民) said Ma had failed to make clear whether he thought Chiang was merely "generally" responsible for the incident or was a murderer of Taiwanese.
"Back then, Chiang considered Taiwan a base for him [to retake China]. It would have been impossible for him to massacre [people] at such a base," Shuai said.
If Chiang is to be considered responsible for any negative events, Shuai said, it could be for allowing his subordinates to impose excessively strict measures on the populace during the White Terror.
Additional reporting by Flora Wang and Rich Chang
Comments will be moderated. Keep comments relevant to the article. Remarks containing abusive and obscene language, personal attacks of any kind or promotion will be removed and the user banned. Final decision will be at the discretion of the Taipei Times.