President promises better times ahead
NEW YEAR, NEW TAIWAN: Ma Ying-jeou said the last year had brought many things, including a boost to Taiwan's global image and confidence in the judiciary
President Ma Ying-jeou (馬英九) vowed yesterday to lead the country through the global economic recession, saying he was confident the joint efforts of the government and people would eventually succeed.
"I am here to guarantee you that the administration will do its best to create better economic conditions," he said. "The bitter winter will pass and the spring will come. I promise I will not let you down."
Ma made the remarks in his televised recorded Lunar New Year's Eve address. He made the speech in Mandarin, Hoklo (also known as Taiwanese) and Hakka.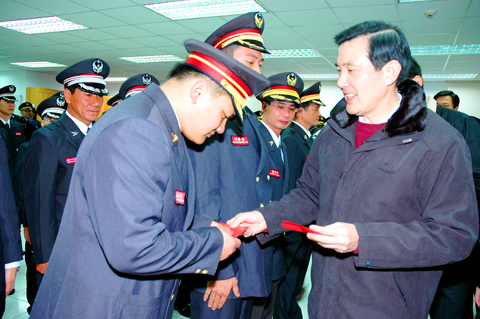 President Ma ying-jeou presents "hong bao" to police officers yesterday during a visit to Rueifang Police Station in Taipei County.
PHOTO: CNA
Acknowledging the impact of the worldwide economic downturn, Ma said he realized many people had "complicated feelings" on this year's New Year's Eve.
He said Taiwan has experienced a lot over the past year, including the legislative and presidential elections, which were held without a hitch and the country's democratization, which was hailed by the international community as a "beacon of democracy" for Asia and the world.
Cross-strait tension had also eased, he said, adding that direct cross-strait transportation links were launched, the country's international profile had been raised to a higher level and the public again had confidence in the judiciary.
"However, Taiwan is also experiencing a 'once-in-a-century' financial storm and economic recession. Many people lost their jobs for the very first time," he said.
The economic slowdown has indeed delivered a blow to the country, he said, but the public should not lose faith because "Taiwan is, after all, our home."
As long as Taiwanese unite and work together, he said, he was confident the country would weather such economic adversity.
Ma spent the last day of the Year of the Rat yesterday visiting people from all walks of life to thank them for their efforts over the past year. They included firefighters, senior citizens, coast guards and police officers. He also visited various temples to pray for a prosperous Year of the Ox.
Ma began at 8:30am by visiting a tailor in Rueifang Township (瑞芳) in Taipei County before ringing the Lotus Bell at the Dharma Drum Mountain Buddhist temple in Jinshan Township at 10:40pm.
Ma visited three other temples yesterday and was scheduled to visit 10 more today to mark Lunar New Year's Day. He will also visit former president Lee Teng-hui (李登輝) for the second time since he took office last May. Lee has been outspoken in his criticism of Ma's China-friendly economic policy, cross-strait policy and Japan policy.
Ma will visit five more temples tomorrow and also distribute red envelopes at Ma Village (馬家庄) in Miaoli County's Tongsiao Township (通宵).
Ma Village's residents are mostly surnamed Ma, but none of the Hong Kong-born president's ancestors or relatives have ever lived there.
No public engagements have been arranged for Ma and Vice President Vincent Siew (蕭萬長) on Wednesday, Thursday and Sunday.
On Friday, Ma will visit the Lin Family Gardens in Banciao (板橋), Taipei County, and attend Yo-yo Ma's (馬友友) Lunar New Year concert at the National Concert Hall in the evening, while Siew will travel to Hualien.
Ma will visit three more temples on Saturday and attend Lunar New Year's events in Taichung City and Kaohsiung City. He will also visit senior presidential adviser Lin Yang-kang (林洋港) in Taichung City and attend the opening ceremony of Kaohsiung City's Lantern Festival.
Comments will be moderated. Keep comments relevant to the article. Remarks containing abusive and obscene language, personal attacks of any kind or promotion will be removed and the user banned. Final decision will be at the discretion of the Taipei Times.