Diane Lee still a US citizen: DPP
NATIONALITY PROBE DPP Legislator Chai Trong-rong showed a copy of a US letter about its investigation. Lee said she was on the US list, but the results were `not final'
Democratic Progressive Party (DPP) lawmakers said yesterday that the results of the US' investigation into the nationality status of legislators showed that Chinese Nationalist Party (KMT) Legislator Diane Lee (李慶安) is a US citizen and that she has not lost her US citizenship as she claims.
"The result shows that, according to US State Department records, Lee holds a US passport. She is a US citizen and there is no record showing Lee has lost her US nationality," DPP Legislator Chai Trong-rong (蔡同榮) told the Judiciary, Organic Laws and Statutes Committee meeting. "Lee should immediately face criminal investigation."
The Procedure Committee decided last Thursday to give each member a confidential letter containing the results of the US' investigation into the nationality status of lawmakers and to allow its plenary session to deal with the probe's results.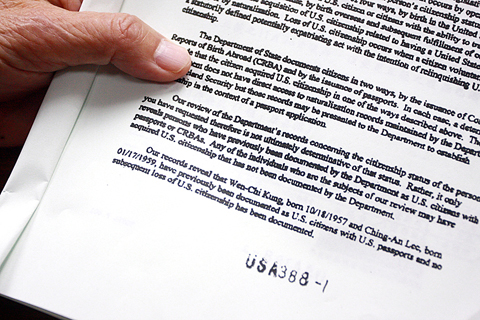 Democratic Progressive Party Legislator Chai Trong-rong shows a document indicating that Chinese Nationalist Party (KMT) Legislator Diane Lee holds US citizenship yesterday in the legislature.
PHOTO: WANG YI-SUNG, TAIPEI TIMES
Chai displayed the US document at the question-and-answer session, which drew protests from his KMT collegues.
KMT Legislator Chu Fong-chi (朱鳳芝) warned Chai not to display a document listed as confidential, but Chai told her to "shut up."
The incident triggered a quarrel between DPP and KMT legislators.
"It is too much that such information be made confidential. This should be available to the public," DPP caucus whip William Lai (賴清德) said.
Lai also told a press conference that Legislative Speaker Wang Jin-pyng (王金平), who ordered the KMT caucus mark the document as confidential, had no moral courage.
"A legislator who has dual nationality is violating the Nationality Act [國籍法] and such information does not come under constitutional protection," Lai said. "Wang's decision trampled on the legislature."
Lai said Diane Lee and KMT Legislator Mark Li (李明星), who is believed to have taken up his seat before giving up his US citizenship, should be suspended immediately and referred to prosecutors for investigation.
The legislature decided on May 23 to investigate the citizenship of all members in response to DPP caucus allegations that Lee was a US citizen.
The Nationality Act stipulates that elected public officials must give up their foreign citizenship within a year of taking the oath of office and obtain official documentation to prove their foreign citizenship has been renounced.
If the allegations prove to be true, Lee would have to give up the seat she has held since 1998 and repay the salary she has earned since then.
Under the Criminal Code she may have also have committed forgery and fraud.
Lee admitted yesterday that she was on the US list, but insisted that the results were not final.
Lee restated her argument that she lost her citizenship when she took an oath to become a public official in Taiwan.
"[US law stipulates that] a US citizen loses his or her citizenship when he or she intends to give up US citizenship and voluntarily takes actions as stipulated in US law to renounce his or her citizenship," Lee said. "The real situation is that, as shown by the document I received on Dec. 4 from the US State Department's highest-ranking official in charge of citizenship affairs [Edward Betancourt], the document proving the nullification of my citizenship remains under review. This is the truth."
Lee urged the public to be patient and wait for the results of the review.
Meanwhile, Li said he had received a document from the US in October proving that he was no longer a US citizen.
Li told reporters that he had lost his citizenship when he took the oath to become a lawmaker on Feb. 1.
"I also gave related documents to them [the American Institute in Taiwan] when they interviewed me in April and then they issued a document to me in October saying that I had completed the procedure [of renouncing my citizenship]," Li said.
Wang, who is scheduled to preside over tomorrow's plenary session, was unavailable for comment.
KMT Spokesman Lee Chien-jung (李建榮) downplayed the controversy, saying that his party would respect the final decision of the legislature.
"The Ministry of Foreign Affairs has been handling the matter," Lee Chien-jung said. "We do not have any information from the US government, because the document has been handed over to the legislature."
He said that things would be clearer once the legislature makes its position known.
He said the party would respect the decision of the legislature regarding whether Diane Lee should have forfeited her foreign citizenship when she was first elected.
When asked whether the party would ask her to offer a clear account of when Washington confirmed her US citizenship, the KMT spokesman said it was a hypothetical question and he could not answer it.
ADDITIONAL REPORTING BY KO SHU-LING AND JENNY W. HSU
Publication Notes
Development of the dual-nationality controversy
March 12: Next Magazine alleges that KMT Legislator Diane Lee (李慶安) still owns a valid US passport. Lee says she received a US green card some 20 years ago when her husband was working in the US and that she obtained permanent residency in 1985 and US citizenship in 1991. Lee says she gave up her US citizenship after returning to Taiwan to serve as a government official.
March 18: DPP caucus whip William Lai files a forgery and fraud lawsuit against Lee on behalf of the DPP caucus.
April 1: DPP caucus files a proposal to probe the citizenship status of all lawmakers.
April 2: KMT caucus asks for all government officials to be probed, while Lee urges the DPP not to "take revenge on" the KMT by targeting her. She says she relinquished her US citizenship when she began serving as a government official 14 years ago.
April 8: DPP Taipei City councilors say they will probe all top-level city government officials over the citizenship matter.
May 21: Next Magazine claims that the Ministry of Foreign Affairs (MOFA) have obtained the US' confirmation that Lee remains a US citizen. Lee threatens to sue the magazine, with her lawyer, Chang Yuan-hsiao (張元宵), citing Section 349(A)(4) of the US Immigration and Nationality Act.
May 22: Legislative Speaker Wang Jin-pyng (王金平) denies shielding KMT members while the DPP's and the KMT's nationality probe proposals were in cross-party negotiation. Lee was absent from legislative meetings.
May 23: The legislature approves a nationality probe of all lawmakers and government officials. Lee declines to comment on the matter.
June 2: KMT proposes an amendment to the Nationality Act (國籍法) to ban government officials from having foreign permanent residency.
June 27: The Central Election Commission says it does not have the authority to deal with legislators who hold dual citizenship and remains undecided how to deal with former lawmakers who have dual nationality in the wake of the revelation that former Taiwan Solidarity Union legislator George Liu (劉寬平), whose term ended in January, did not apply to relinquish his US citizenship until the end of last year.
Aug. 15: MOFA confirms it did not receive the legislature's probe request until late July.
Oct. 30: The legislature says all but one legislator has signed letters of authorization for the probe.
Dec. 8: Vice Minister of Foreign Affairs Andrew Hsia (夏立言) tells the legislature that MOFA has received the US' reply to the probe.
Dec. 9: Minister of Foreign Affairs Francisco Ou (歐鴻鍊) says the US' letter is not specific enough. Lee denies media speculation that she gave up her US citizenship in a third country. She says she applied in May for the document to prove the nullification of her US citizenship, but received a letter from the US State Department on Dec. 4 saying that the document was still under review.
Dec. 10: DPP legislators sue Ou for concealing the US' reply. Wang confirms that the reply showed that two lawmakers might have been found to have valid US citizenship.
Dec. 16: The legislature decides to ask MOFA to submit a reply on the issue to the legislature by Dec 17. KMT Legislator Kung Wen-chi is found to have been wrongly identified as a US citizen.
Dec. 22: Wang confirms that the legislature has received the US' reply.
Dec. 23: The legislature's Procedure Committee decides to send copies of the reply to each lawmaker as a confidential document.
Dec. 24: DPP legislators publicize the document with Lee's name on it. Lee later admits she was on the list, but argues that the results are not final and restates that the State Department is still reviewing the nullification of her citizenship.COMPILed by Flora Wang
Comments will be moderated. Keep comments relevant to the article. Remarks containing abusive and obscene language, personal attacks of any kind or promotion will be removed and the user banned. Final decision will be at the discretion of the Taipei Times.