Hoax 'NYT' announces end of Iraq war
A group of pranksters handed out more than 1.2 million fake New York Times newspapers mainly in New York City and Los Angeles on Wednesday with a front page story declaring "Iraq War Ends" and another on the indictment of US President George W. Bush on treason charges
The elaborate 14-page spoof, dated July 4, next year, had stories on a raft of other US liberal fantasies: Secretary of State Condoleezza Rice apologizes that the fuss about Iraq's weapons of mass destruction was invented and Americans are finally getting national health insurance. Its front-page motto read: "All the news we hope to print" — a play on the Times' famous "All the news that's fit to print."
There was also a full page fake ad on page three from Exxon Mobil saying the firm applauded the end of the Iraq war and that peace was "an idea the world can profit from."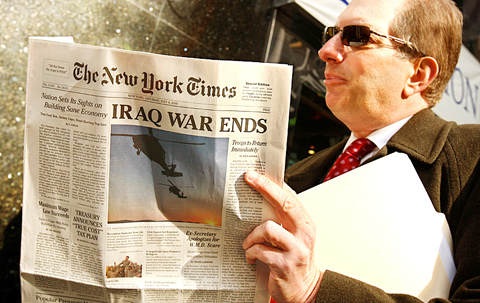 A man reads a spoof copy of the New York Times with the headline that the Iraq war has ended in New York on Wednesday.
PHOTO: AP
"It is fake and we are looking into it," Times spokeswoman Catherine Mathis said.
There is also an equally realistic looking New York Times Web site (www.nytimes-se.com), including fake ads for De Beers and GM.
A statement sent from the fake edition's Web site said creating the newspaper took six months and that it was printed at six different presses and then given to thousands of volunteers to distribute.
Web site www.gawker.com has identified the pranksters behind the stunt as The Yes Men, a liberal group famous for practical jokes. Gawker.com said The Yes Men also sent e-mails to spread the word.
The Yes Men have pulled off pranks including posing as Exxon Mobil and National Petroleum Council representatives to deliver a speech at a Canadian oil conference and masquerading as WTO officials announcing they were disbanding the body.
They have also posed as federal housing officials at a New Orleans event with the city's mayor and the governor of Louisiana. Their exploits are detailed on the group's Web site (www.theyesmen.org).
TAIPEI CONNECTION)
Some examples of The Yes Men's work are now on display at the Taipei Fine Arts Museum as part of the 2008 Taipei Biennial. One video installation shows how BBC World was duped in an interview by a member of the group posing as a Dow Chemical Co representative apologizing for the 1984 Bhopal disaster in India.
Another video shows "The SurvivaBall" supposedly made by Halliburton as a response to the problems posed by "global warning."
Comments will be moderated. Keep comments relevant to the article. Remarks containing abusive and obscene language, personal attacks of any kind or promotion will be removed and the user banned. Final decision will be at the discretion of the Taipei Times.