Tensions mount in the capital
DIRTY TRICK? Protesters were incensed when the Presidential Office brought the meeting between Ma and Chen forward to 11am to avoid the opposition rally
Tens of thousands of people took to the streets close to the Presidential Office in Taipei yesterday to protest against the meeting between President Ma Ying-jeou (馬英九) and China's Association for Relations Across the Taiwan Strait Chairman Chen Yunlin (陳雲林), before later moving on to the Grand Hotel where they continued the protests through the evening.
The "Yellow Ribbon Siege" organized by the Democratic Progressive Party (DPP) was scheduled to begin at 1pm, with protesters walking to the Taipei Guest House on Ketagalan Boulevard and besieging the Boai District (博愛), where Chen was set to meet Ma at 4:30 pm.
But when news filtered through that the government had brought the meeting forward to 11am, DPP legislators and protesters rushed to gather on Zhongshan S Road (中山南路) in front of Jingfumen (景福門), where a wall of police stood waiting to block the protest.
A family walks past a group of police in downtown Taipei after elementary school got out at noon yesterday.
PHOTO: LIN CHENG-KUNG, TAIPEI TIMES
DPP legislators Chang Hua-kuan (張花冠), Wong Chin-chu (翁金珠) Yu Tien (余天), Hsieh Ling (薛凌) and other protesters clashed with police as they tried to advance toward the Taipei Guest House, where the meeting was being held.
In the resulting scuffles, Wong and Hsieh were injured. Wong was sent to the nearby National Taiwan University Hospital for medical treatment, where she later told reporters she had a fractured left arm, which had required surgery.
DPP Chairwoman Tsai Ing-wen (蔡英文), former vice president Annette Lu (呂秀蓮), former premiers Su Tseng-chang (蘇貞昌) and Yu Shyi-kun and other DPP legislators arrived and sat in front of the police blockade, waiting for the public to arrive at the rally.
A family walks past a group of police in downtown Taipei after elementary school got out at noon yesterday.
PHOTO: LIN CHENG-KUNG, TAIPEI TIMES
At 12:40pm, Tsai, Lu and the DPP legislators led the public in a series of chants, including "Taiwan, China, one country on each side," "Ma Ying-jeou, step down," "Ma Ying-jeou, stop selling out Taiwan" and "Taiwan is our country."
The protesters walked down Xuzhou Road, Linsen S Road and Renai Road to join the protest at Jingfumen, where DPP politicians made speeches to the crowd.
Former premier Su Tseng-chang (蘇貞昌) told the crowd: "Ma has said that Taiwan is a sovereign state and that he and his party agree on 'one China, with each side having its own interpretation.' So why didn't he mention this today in his meeting with Chen?"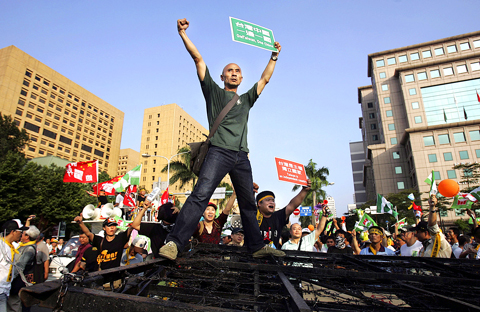 A demonstrator stands on top of police barricades and shouts slogans in protest at the visit of Association for Relations Across the Taiwan Strait Chairman Chen Yunlin in Taipei yesterday.
PHOTO: WALLY SANTANA, AP
Ma did not dare to confront China, so he belittled his own country, Su said.
Tsai said Ma was ignoring the voice of the people and that Ma's move meant the DPP had scored a victory.
Tsai called for the demonstrators to act peacefully and reasonably "because we still a have long way to go."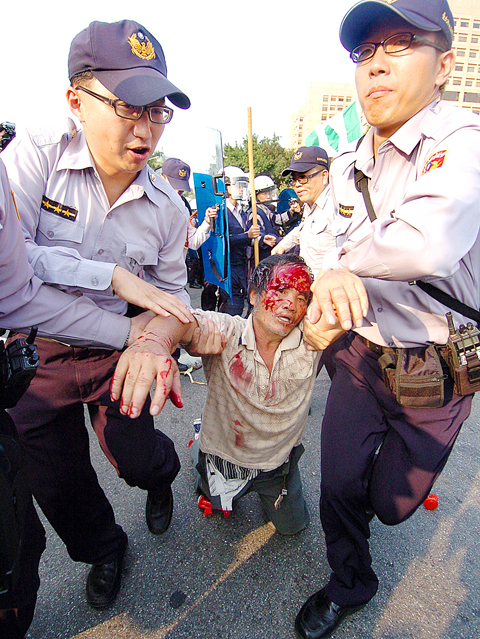 Two police officers remove an injured protester from a street demonstration after protesters broke through a police blockade in Taipei yesterday.
PHOTO: LIAO CHEN-HUEI, TAIPEI TIMES
Lu said the protests showed that Beijing had miscalculated the political situation and underestimated the will of the Taiwanese.
"Ma has made big concessions to China and for Chen's visit he has ordered the police to stop Chen from hearing the real voice of the people. Then he said the opposition party leader should take responsibility for the incident at the Grand Formosa Regent Taipei and other clashes that have occurred during today's rally," Tsai said.
"Is he fit to be our president?" Tsai asked.
"Ma must take full responsibility for the incidents," Tsai said, adding that "an authoritarian government that uses violence against its own people" must take responsibility.
"It is the government that has forced people to take to the streets," she said. "This is only the beginning and we will see each other on the streets again soon."
Violence erupted while Tsai was delivering her speech.
"The enemies are in town and we're still talking about being peaceful," a man in the crowd said, others around him nodding in agreement.
"What you get is all our tax money and look who you're protecting," an elderly man who climbed onto the barriers shouted at police.
"Cover me," said another man, while lighting a firecracker with his cigarette.
The firecracker was thrown over the barrier, exploding in front of the police as the crowd cheered and applauded.
"Stay calm, stay calm. Sit down please. Those who are creating chaos are not our people, they're spies from the other side," DPP officials urged, but an escalation seemed inevitable.
At around 1:30pm a group of protesters used pliers to clip through the barbed wire barricades, penetrating the line that police had set up.
Soon, other demonstrators started pushing down the barriers, advancing to the other side to confront police. Excited by the development, more and more people followed suit and the break in the police line grew larger and larger.
Shouting slogans and waving flags, some members of the crowd started attacking the police, throwing plastic bottles, dirt and stones, wounding not only officers, but also many reporters on the scene, as officers wearing riot gear appeared.
The DPP leadership continued to urge the crowd to stay calm and refrain from attacking the police, trying to lead the crowd away from the scene, but all attempts failed.
A few protesters were pulled from the crowd and beaten by officers behind the police line. Outnumbered by the crowd, the police advance stopped and was pushed back several times by the protesters until reinforcements arrived.
"I just can't take it anymore — Ma has refused to listen to us and I feel obliged to stand up and take to the streets," said Lee Chen-chen (李蓁蓁), a 29-year-old woman who skipped work to join the demonstration.
Before leaving home she sent a text message to her boss, saying: "My country is in danger, I have to fight for it."
"We're not looters, we know very well the history and politics of the country, that's why we came out," she said. "It's like my mother is being raped — how can you ask me to remain calm?"
Protesters wore T-shirts or held banners that bore slogans such as "Taiwan does not equal China," "Taiwan's future should be decided by its 23 million citizens" and "Ma Ying-jeou step down."
At around 3pm a group of protesters standing outside the Taipei Guest House were allegedly pushed, beaten with sticks and kicked by police.
"I was standing on the sidewalk outside [the Guest House] in front of three rows of police, the first row armed with shields, when I heard the police shout: 'Push, Push,'" Taipei resident Tung Sung-yang (董嵩仰) said in National Taiwan University Hospital's emergency room.
Tung sustained several blows to the head from police armed with wooden sticks as long as 150cm, he said, adding that he then fell on the ground and was kicked.
"I told the police that I would go to the emergency room to have my injuries examined and have them reported, to which they replied: 'If you want to sue us, then go ahead and tell [the judge] who hit and kicked you.' But I was on the ground, God knows who kicked me?" Tung said.
Asked why he joined the rally, Tung said: "I detest the Chinese Communists. I have a relative who is a high ranking Chinese official, but that doesn't stop me from disliking them."
"Our president does not even dare to protect our national dignity. He says he loves Taiwan, but when [Chen] visits, Ma doesn't even dare call himself president … Such a person does not deserve to be president, he should step down," Tung said.
At around 3:15pm a brief commotion broke out when a fire truck attempted to break a line of red tape on Zhongshan S Road. It was met by angry protesters shouting: "Get off the road or we will flip your truck."
The firemen were apparently going to spray water to attempt to break up the crowd.
At around four, a woman surnamed Chen was hit by a falling metal barbed wire barricade, sustained back injuries and was sent to a hospital.
The violent scenes continued until around 7pm, when most of the crowd began to move on to the Grand Hotel where Chen Yunlin was staying.
Away from the protests, Chen Yunlin was forced to end his meeting with Dharma Master Cheng Yen (證嚴法師) about 20 minutes earlier than scheduled when the protesters started heading toward the Grand Hotel.
"I just received a note and I am very sorry. There seems to be some special situation and the police want us to end the meeting early," he said.
After Chen left at 3pm, the police blocked all roads leading to the Grand Hotel.
At Yuanshan MRT Station, all cars were asked to make detours. Police with shields stood at the corner of every block in the vicinity with barricades in place.
The sudden move to block the roads came as a surprise to drivers, reporters and even the hotel workers, as they struggled to make their way to the hotel.
Two hotel workers, who had planned to take the hotel's shuttle bus to work, were forced to walk instead.
"I have no idea why the police blocked the roads. I am late for work and I don't understand why the police won't let the hotel shuttle bus go through. We are not going there to protest," one worker told the Taipei Times.
Many reporters were also forced to return to the hotel on foot.
The police later expanded the cordoned-off area to Minquan E Road. ARATS also canceled a press conference that was originally scheduled for 6pm.
Hundreds of protesters gathered on Jiuquan Street (酒泉街) near Yuanshan MRT Station at about 6pm as the roads ahead were blocked by thousands of riot police with shields.
Police closed Zhongshan N Road between Jiantan Road and Minzu W Road and part of Beian Road and north of Xinsheng Overpass at around 6pm.
A group of protesters then occupied the Taipei Fine Arts Museum, trying to tear down barricades and throwing bottles, rocks and other objects at riot police.
Reacting to the protests, Chinese Nationalist Party (KMT) caucus Secretary-General Lo Shu-lei (羅淑蕾) questioned the legitimacy of the protest.
"I don't understand why the DPP staged the protest. The four cross-strait agreements were in the interests of Taiwan," Lo said. "No matter whether police or protesters are injured, they are all our fellow Taiwanese ... What will the world think when it sees footage of these clashes?"
Lo said the conflict showed the DPP was afraid that the agreements would help boost the economy — something Lo said the DPP had failed to achieve over the past eight years.
Executive Yuan Spokeswoman Vanessa Shih (史亞平) asked Tsai to take responsibility for the clashes.
Tsai had refused to speak with Minister of the Interior Liao Liou-yi (廖了以) on how to cooperate with police to maintain order during the protest, Shih said.
Liao, however, had to talk to DPP Secretary-General Wang Tuoh (王拓) via telephone.
ADDITIONAL REPORTING BY SHIH HSIU-CHUAN,FLORA WANG AND MO YAN-CHIH
Comments will be moderated. Keep comments relevant to the article. Remarks containing abusive and obscene language, personal attacks of any kind or promotion will be removed and the user banned. Final decision will be at the discretion of the Taipei Times.