Protesters say measures recall the martial law era
A heavy police presence and strong protests against Association for Relations Across the Taiwan Strait (ARATS) Chairman Chen Yunlin (陳雲林) clouded the top Chinese negotiator's first visit to Taiwan yesterday.
Police stationed themselves along the route between the Taiwan Taoyuan International Airport and the Grand Hotel in Taipei, setting up a number of checkpoints. Vehicles heading to the airport were stopped by police who checked driver and passenger IDs and asked why they were heading to the airport. Several vehicles decorated with Republic of China (ROC) flags, anti-Chen or anti-China banners were not allowed to enter the airport.
The measures disrupted traffic in Taoyuan City, Dayuan Township (大園) and Bade Township (八德) during rush hour yesterday morning.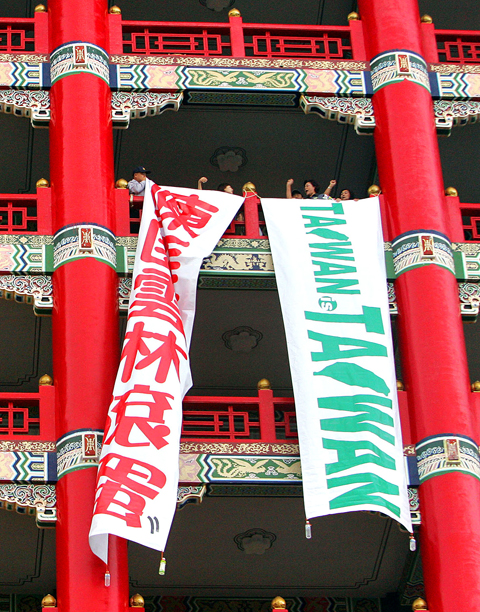 Taipei City councilors of the Democratic Progressive Party protest against Association for Relations Across the Taiwan Strait Chairman Chen Yunlin's visit yesterday by hanging banners that read ''Get out, Bandit Chen Yunlin,'' and ''Taiwan is Taiwan'' from the Grand Hotel's sixth floor.
PHOTO: CNA
Aviation Police Office Chief Diao Chien-sheng (刁建生) told reporters that because of security concerns, people who could not prove they were taking flights or failed to prove they were picking up somebody from the airport were not allowed to enter.
Holding colorful flags, some 70 Tibetans boarded a coach in Taipei with plans to "welcome" Chen at the airport, but were stopped by police who detained those not carrying IDs.
When former Democratic Progressive Party (DPP) Taoyuan County councilor Wu Pao-yu (吳寶玉) entered the arrival hall at 8:50am waving an ROC flag, police officers immediately asked Wu to put the flag in her bag.
A policeman grabs a Tibetan flag from demonstrators as they protest against the visit of Chen Yunlin in Taipei yesterday.
PHOTO: AFP
"The national flag is our county's flag. Please tell me why I can't carry a national flag in my country. Give me a reason," Wu said.
Police officers later removed her from the arrival hall.
Around 11am, former independent Taoyuan County councilor Huang Te-long (黃德隆), who was sitting in a chair in the arrival hall, was asked by police officers why he was there.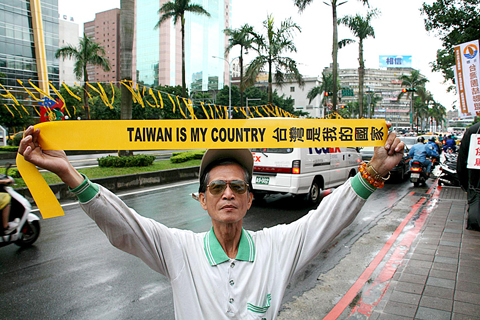 A man displays a yellow ribbon reading "Taiwan Is My Country" in Taipei yesterday to protest the visit by China's top cross-strait negotiator, Association for Relations Across the Taiwan Strait Chairman Chen Yunlin.
PHOTO: DAVID CHANG, EPA
Huang said he was picking somebody up, but because he failed to come up with a flight number, police asked him to leave. He then shouted "Taiwan must become an independent country! Taiwan is not part of China!" before he was carried out of the arrival hall.
Some 2,000 police officers were dispatched to escort Chen and members of his delegation from the airport to the Grand Hotel.
Several people waving national flags on a bridge above the freeway in Linkou (林口), Taipei County, when Chen's motorcade passed the area were robbed of their flags by police officers.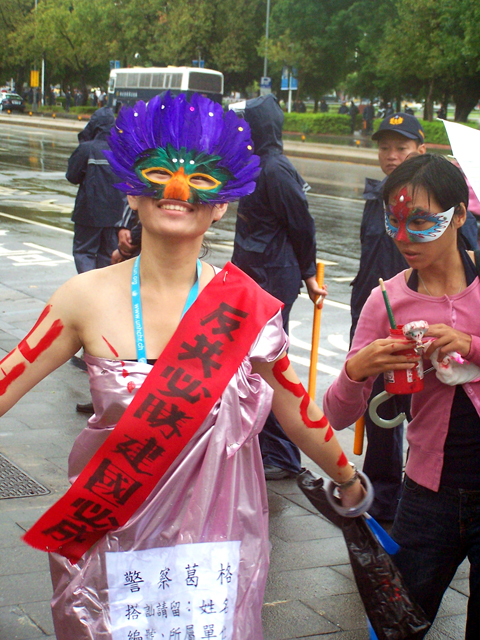 Police officers look on as a woman paints words on her friend during a demonstration in Taipei against visiting Association for Relations Across the Taiwan Strait Chairman Chen Yunlin yesterday. Both women were later arrested, with the woman on the right alleging the police broke her finger when they tried to take away a Tibetan flag she was carrying.
PHOTO: J MICHAEL COLE, TAIPEI TIMES
"I don't know if it's good luck or bad, but I happened to have two clients this morning — one who went to the airport, and one to the Grand Hotel," said Sun Chun-chien (孫俊建), a taxi driver in Taipei. "The government has stooped extremely low. It was as if the martial law had been reimposed. When we were on [Freeway No. 2], my passenger was asked to produce his passport and booking receipt to prove that he was traveling today, and when I drove my other passenger to the hotel, he was asked to show the police his room key card."
Barbed wire was installed around the hotel to ward off trespassers, Sun said.
"Many grandpas and grandmas go exercise on the hill where the Grand Hotel is, who's this Chen Yunlin?" Sun asked. "Even the US president doesn't get such treatment."
He said that although taxicabs bearing the Taiwanese flag on their taxi lights on the roof usually line up in front of the Jiantan MRT station — in close proximity to the Grand Hotel — yesterday police asked them to leave.
With the Taipei Fine Arts Museum and the Grand Hotel as a backdrop, a few dozen demonstrators gathered at about 11am under the watchful eyes of the hundreds of police officers who had lined up on both sides of the road.
Nearby, approximately 100 pro-unification demonstrators carrying red banners and the Chinese flag also gathered, engaging in a shouting match with a lone woman on her motorcycle who heckled them from the other side of the street, making the "thumbs down" sign. A handful of yellow ribbons bearing the words "Taiwan is my country" were tied to the motorcycle handles.
One young woman carrying a UN flag was initially stopped by a police officer who asked her to remove a red banner she wore across her shoulder that read "Anti-China; we will definitely win; Taiwan will become an independent country." The woman refused, however, and the police officer let her continue on her way.
Four DPP Taipei City councilors and some 50 supporters tried to set free colorful balloons printed with the words "tainted products" — representing melamine-contaminated food products from China — and broke into physical clashes with the police.
"What is happening here? Are we under curfew right now? You can't just steal my stuff," DPP Taipei City Councilor Chuang Ruei-hsiung (莊瑞雄) shouted at police who seized boxes of balloons and pumps.
Chuang and the other three councilors — Huang Hsiang-chun (黃向群), Wang Hsiao-wei (王孝維) and Liu Yao-ren (劉耀仁) — later tried to enter the hotel from a small path, but were blocked by dozens of police officers.
During the ensuing scuffle, Wang ended up on the ground and accused the police of pushing him over, pledging to file a lawsuit against them.
Chuang said they had informed the Taipei City Government about their plan to "inspect" the traffic situation today and accused the police of violating local councilors' rights to inspect problems in the city.
Before Chen's arrival at the hotel, four DPP Taichung City councilors led another demonstration and unfurled two banners reading "Taiwan is Taiwan" and "Get out, Bandit Chen Yunlin" from the hotel's sixth floor.
Within a few minutes, police confiscated the banners, sparking another round of clashes as the councilors protested against police using forced entry to get into the room.
The four councilors were later led by hotel staffers to the basement as Chen Yunlin arrived at the lobby. Among various protests against Chen Yunlin, a small group of Chinese spouses waved red ribbons in front of Taipei Fine Arts Museum to welcome the Chinese official's visit.
"Taiwan is our home, but China is where we are from. We want to see the two sides reconcile as soon as possible," a woman said.
Around 2:30pm, a human rights activist was arrested and injured by the police, who allegedly dislocated her right middle finger and detained her for almost two hours without access to medical attention.
The woman, who identified herself as the blogger "Lina," was walking in front of the Taiwan Cement Corp (TCC) building near the Grand Hotel carrying a Tibetan flag. "Lina" and two other young women – holding ROC, UN and Tibetan flags — were allegedly pushed by police who were securing the area.
"I was holding the Tibetan flag up on my back with the fabric wrapped around my middle fingers on both hands," said Lina, who was decorated in body paint reading "liberty," "peace" and "freedom."
Saying she had not violated the Assembly and Parade Law (集會遊行法) because she was merely passing by, Lina added that she was originally walking on the road with a friend when they saw the third woman, who was also wearing flags, so they decided to walk together.
"A group of police began to gather and push us … More and more police came and my flag was ripped from my hands and my finger was pulled," she said. "Like protesters in the US, we had body painting and elaborate masks on … We want to voice our concern for Taiwan's already diminishing freedom of speech, as well as China's neglect of human rights — our pursuit is for peace."
After they were arrested, Lina used her cellphone to get on real-time online journal Plurk.com to ask for help, spurring fellow bloggers to summon a lawyer who came to her rescue.
"This is the first time that a protester has been injured by the police for activities like this. It is not illegal in Taiwan for one to wave flags … The police completely refused to offer any explanation as to what crime my client had committed," said Vincent Lin (林育辰), Lina's lawyer.
"[What's more], the police kept following them and saying that they were there to 'protect' the women … Soon we will have no right to privacy," a blogger named "Hans" said on Plurk.com.
DPP caucus deputy whip Pan Meng-an (潘孟安) said yesterday that it was unreasonable for the government to spend NT$ 700 million (US$21.2 million) on security measures for Chen. It had turned Taiwan into a police state and returned it to the period of martial law, he said.
KMT caucus deputy secretary-general Lo Shu-lei (羅淑蕾) said the government had no choice but to tighten security measures to protect Chen because of the DPP's planned protest.
KMT Legislator Lin Yu-fang (林郁方), head of the legislature's Foreign and National Defense Committee, also defended the government's measures.
"If Chen were attacked or assaulted in Taipei, Taiwan would make international headlines as a violent country. To prevent Taiwan from losing face, we had no choice but to raise security levels for him," Lin said.
Presidential Office Spokesman Wang Yu-chi (王郁琦) said yesterday that the government was duty bound to respect and protect legal assemblies, but that such activities must be conducted in a peaceful and legal manner.
ADDITIONAL REPORTING BY FLORA WANG, KO SHU-LING AND AGENCIES
Also See: EDITORIAL:Fear and loathing in Taipei
Comments will be moderated. Keep comments relevant to the article. Remarks containing abusive and obscene language, personal attacks of any kind or promotion will be removed and the user banned. Final decision will be at the discretion of the Taipei Times.