ARATS man jostled, jeered at in Tainan
CRUTCH ATTACK Pro-Taiwan activists took exception to Zhang Mingqing's tour of a local temple and he ended up on the ground, while his vehicle was stomped on
Association for Relations Across the Taiwan Strait (ARATS) Vice Chairman Zhang Mingqing (張銘清) was jostled and jeered by pro-Taiwan politicians and activists yesterday morning during a private visit to the Confucius Temple in Tainan City, ending up on the ground before he was hustled into his car and his car attacked by protesters.
Zhang announced last night that he would leave for home this morning, two days ahead of schedule.
TV footage showed Tainan City Councilor Wang Ding-yu (王定宇) of the Democratic Progressive Party (DPP) shouting "Taiwan wants independence" and "Taiwan is not part of China" during a shoving match with Zhang, who fell to the ground, losing his glasses. But it was not clear if Zhang tripped or was pushed down.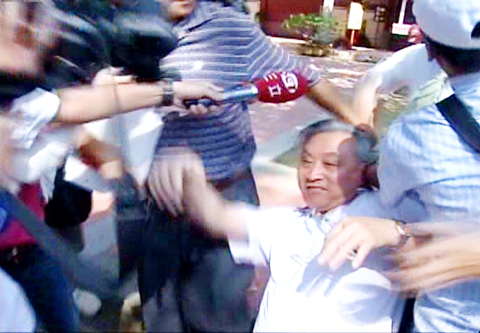 Association for Relations Across the Taiwan Strait Vice Chairman Zhang Mingqing loses his glasses and falls as he is jostled during a scuffle with pro-Taiwan protesters during a visit to the Confucius Temple in Tainan yesterday.
PHOTO: CNA
A protester wearing a green headband and black T-shirt with green letters and characters reading "Taiwan Team" and "Save Taiwan" then climbed onto the roof of the car Zhang was in and began jumping up and down. He then dropped to the hood of the car and began banging on it.
Two more protesters followed his assault while an older woman tried to smash the windshield with her crutch as another man looked on, clapping his hands.
The Presidential Office, Premier Liu Chao-shiuan (劉兆玄), Mainland Affairs Council (MAC) Chairwoman Lai Shin-yuan (賴幸媛) and Straits Exchange Foundation (SEF) Chairman Chiang Pin-kung (江丙坤) all expressed regret over the incident at the temple and condemned the harassment and violent behavior.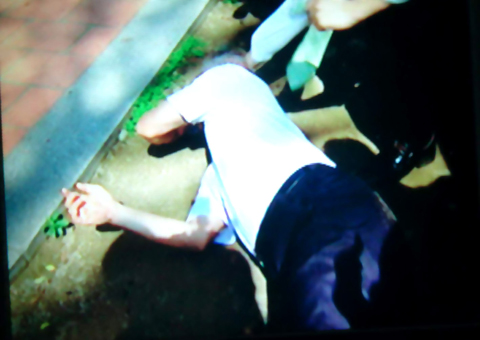 Association for Relations Across the Taiwan Strait Vice Chairman Zhang Mingqing lies on the ground after falling during a confrontation with pro-Taiwan protesters at the Confucius Temple in Tainan yesterday.
PHOTO: HUANG WEN-HUANG, TAIPEI TIMES
Zhang arrived in Taipei on Sunday at the head of a 21-member academic delegation to attend a forum in Tainan. After protests at the forum on Monday, Zhang's scheduled public appearances yesterday and today were canceled. He was on a private tour of the temple when the brouhaha erupted.
He had been targeted earlier at another historical site in Tainan by protesters led by DPP City Councilor Lee Wen-cheng (李文正).
Zhang later told reporters: "Those who commit violence do not get what they want, but instead drop a rock on their own feet."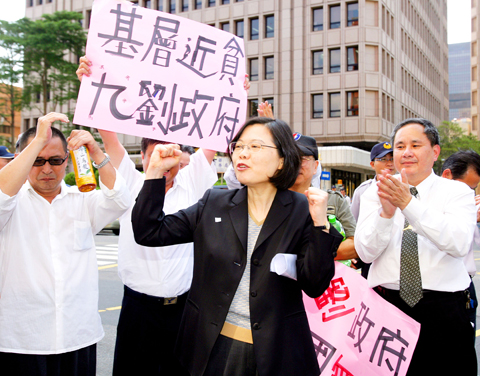 Democratic Progressive Party Chairwoman Tsai Ing-wen, center, joins taxi drivers protesting against falling government subsidies outside the legislature in Taipei yesterday. Tsai urged the drivers to join a major anti-government demonstration scheduled for this Saturday.
PHOTO: CNA
"Such violent behavior not only infringes on human rights but also runs against the wish of the peoples on both sides of the Taiwan Strait. Only uncivilized people do such a thing. A civilized society governed by the rule of law would never allow such violence to happen again."
Zhang said the incident might scare off some potential Chinese tourists, but he would encourage Chinese to visit Taiwan, including ARATS Chairman Chen Yunlin (陳雲林), because they might be better protected.
"Then my sacrifice would be worth it," he said.
When asked to comment on President Ma Ying-jeou's (馬英九) comment that there would not be a war in the Taiwan Strait in the next four years, Zhang said there will never be war in the Strait if there is no Taiwan independence.
Zhang filed assault charges with Tainan police over the incident.
Wang Ding-wu, who was summoned for questioning after the charges were filed, said that Zhang fell because he stumbled over a tree trunk.
Presidential Office Spokesman Wang Yu-chi (王郁琦) denounced the "violent behavior of a few individuals" but declined to comment on whether the incident would affect a planned trip to Taiwan by Chen.
"We should demonstrate the democratic bearing of the Taiwanese people and treat our guests with peace and sanity," Wang Yu-chi said. "It is not our way to treat guests with violence, nor does it conform to the core values of the Taiwanese."
Describing the incident as an isolated case, Wang said that he did not think it "would affect the development of cross-strait relations."
He said the government would ensure Chen's safety during his visit, which will reportedly take place at the end of this month or early next month.
"It is our responsibility," Wang said. "We will not let it happen again."
However, he said that there was no plan to ask the National Security Bureau (NSB) to protect Chen during his trip.
Although some people have demanded that Zhang apologize for China's tainted milk powder scandal, Wang said it was "unbelievable to demand that Zhang apologize under such circumstances" and that "the public will be the final judge of the matter."
Meanwhile, the premier said that "any use of violence should be condemned" during a question-and-answer exchange with DPP Legislator Hsueh Ling (薛凌) at the legislature.
"Civilized Taiwanese should not treat guests this way," Liu said.
"Zhang came to Taiwan to participate in professional exchanges. [His visit] should not be politicized," he said.
In response to Hsueh's demand that the government rethink the planned meeting between Chiang and Chen, Liu said the government would pay extra attention to Chen's safety.
"We hope the Chiang-Chen meeting will be smooth and successful," he said, adding that the meeting would be arranged with reciprocity and dignity.
Chiang also said that the temple incident would not affect Chen's trip and that Chen told him that the incident would not sway the effort by the SEF and the ARATS to advance cross-strait peace.
Chiang sent Tseng Chun-liang (曾淳良), director of the foundation's Planning and Information Service Department, to visit Zhang.
The MAC also urged the public to treat guests with respect and promised to strengthen protection for Chen.
The National Police Agency (NPA) also promised to boost security for Zhang.
"It will be carried out immediately," NPA Deputy Director-General I Yung-jen (伊永仁) told a press conference, although he did not provide details.
He said there had been a leak in security arrangements for Zhang and that the police agency would investigate.
He said that there were three plainclothes officers at the temple.
"Apparently they [the plainclothes detail] did not ask for back-up from local police. They did not react properly. We will figure out why they did not try to protect Zhang," he said.
He said the police would ask prosecutors to summon those who allegedly attacked Zhang and damaged his vehicle.
Tainan City Police Department Chief Chen Fu-hsiang (陳富祥) also offered his apologies.
"I am so sorry for what happened and can promise the same mistakes will not be repeated," he said.
Chen Fu-hsiang said that the man who jumped on Zhang's vehicle and damaged it would be the first person brought in.
"We have identified him and will summon him soon," he said.
The police chief was later demoted to highway patrol deputy.
Meanwhile, Chinese Nationalist Party (KMT) Legislator Chang Hsien-yao (張顯耀) said NSB Director Tsai Chao-ming (蔡朝明) promised to dispatch personnel to protect Zhang.
"This is an important lesson the NSB can learn from to ensure the safety of Chen Yunlin," Chang said.
KMT caucus whip Lin Yi-shih (林益世) accused the DPP of resorting to violence in an attempt to incite cross-strait conflict or war.
Lin said the DPP was trying to legitimize the incident by portraying Zhang as an enemy.
He urged DPP Chairwoman Tsai Ing-wen (蔡英文) to apologize for the incident, saying that the DPP had become a "party of gangsters."
When asked for comment, KMT Legislator Hung Hsiu-chu (洪秀柱) described the protesters as "ridiculous" and "impolite."
"We call ourselves a society of manners, but we resorted to violence," Hung said, adding the incident would hurt Taiwan's image.
Tsai said that she felt sorry about what had happened to Zhang.
"I do not know what actually happened," she said when approached for comment at a seminar. "But I would urge DPP members to follow certain rules when protesting in the future."
Tsai said it was up to the government to protect Chen Yunlin during his visit to Taiwan, but the Chinese official might want to reconsider his plans.
"Is his coming going to create more chaos? I think he should really think about it," Tsai said.
DPP Legislator Yeh Yi-ching (葉宜津) said she was not surprised by the incident.
Yeh said the Chinese had hurt Taiwanese with the toxic milk powder and Taiwanese felt threatened by the missiles Beijing has aimed at Taiwan. Under the circumstances, it was understandable that Zhang would be humiliated or attacked when he came to Taiwan, she said.
"No one could tolerate seeing their enemy," Yeh said.
But DPP Legislator Tsai Huang-liang (蔡煌瑯) expressed concern that such violent behavior would damage the DPP's image and urged members of the party to keep calm.
"I am sorry for what happened to Zhang but I would still ask him to apologize to Taiwanese people for the toxic milk powder," he said.
Comments will be moderated. Keep comments relevant to the article. Remarks containing abusive and obscene language, personal attacks of any kind or promotion will be removed and the user banned. Final decision will be at the discretion of the Taipei Times.