Health minister resigns over milk crisis
RESIGNATION The minister assumed responsibility for delayed and inconsistent decisions in response to the spiraling crisis on contaminated Chinese milk powder
Minister of Health Lin Fang-yue (林芳郁) stepped down yesterday over panic caused by the discovery of contaminated Chinese dairy ingredients and what critics said were belated and inconsistent measures to protect the public and ensure consumer confidence.
"The Department of Health's [DOH] decision, made for efficiency's sake, caused misunderstandings and shattered consumer confidence. I should take responsibility," Lin said at a press conference yesterday morning after attending the weekly Cabinet meeting, during which he tendered his resignation to Premier Liu Chao-shiuan (劉兆玄).
Lin's resignation was approved later yesterday, making him the first official in President Ma Ying-jeou's (馬英九) administration to step down. The DOH was first blamed for its slow reaction to and mismanagement of the crisis involving Chinese dairy products tainted with the chemical melamine, and then for its inconsistent decisions.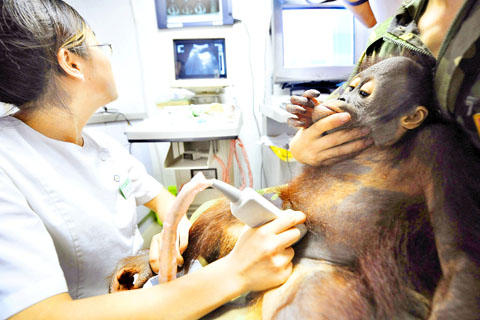 A young orangutan is checked for kidney stones at an animal hospital in Hangzhou, in China's Zhejiang Province, yesterday. A lion cub and two baby orangutans from the Hangzhou Safari Park were found to have kidney stones after zoo workers fed them Sanlu brand milk powder for more than a year.
PHOTO: AP
Deputy ministers of health Sung Yen-jen (宋晏仁) and Cheng Shou-hsia (鄭守夏) tendered resignation letters together with Lin.
Liu also approved the resignation of Bureau of Food Safety (BFS) Director Hsiao Tung-ming (蕭東銘).
Late last night, Presidential Office Deputy Secretary-General Yeh Ching-chuan (葉金川), a public health expert, was named as the next health minister.
Critics said the department should have banned dairy imports from China, checked with importers to see if imported products were tainted, and ordered an inspection or sampling of Chinese imports that had reached Taiwan.
Lin's resignation comes as many consumers and businessmen express frustration over the DOH's "loose" food inspection standards.
Late on Wednesday night, Sung told a press conference that the DOH had decided to loosen the food safety standard for melamine from 0 parts per million (ppm) to 2.5ppm, meaning that products containing up to 2.5ppm of the chemical could still enter the Taiwanese market.
Based on the new standard, the products of two food companies, which tested positive for melamine under the stricter standard, were allowed to go back on sale, sparking consumer anger.
The DOH said the revised standard was applied after taking into consideration instrument sensitivity and standards in other countries.
Executive Yuan Spokeswoman Vanessa Shih (史亞平) told a press conference yesterday that Liu met with Lin in the afternoon and expressed the hope that Lin would remain in his post.
"But Minister Lin insisted on resigning," Shih said.
Liu praised Lin for his handling of the controversy, saying the DOH had taken accurate and forthright action from the beginning of the incident to impose bans on imports, to locate the whereabouts of tainted raw materials and to require questionable foodstuffs to be pulled from shelves, Shih said.
Liu had also expressed his admiration over Lin taking political responsibility for the late change in testing standards for the concentration of melamine that caused the unrest, and thanked him for his contributions over the past four months, Shih said.
Later yesterday afternoon, Lin was questioned by Control Yuan member Cheng Jen-hung (程仁宏), who has launched a probe to determine if there were any irregularities or instances of negligence in the government's handling of the case.
Comments will be moderated. Keep comments relevant to the article. Remarks containing abusive and obscene language, personal attacks of any kind or promotion will be removed and the user banned. Final decision will be at the discretion of the Taipei Times.