Rice meets Qaddafi in historic visit
The US and Libya sealed a historic turnaround after decades of terrorist killings, US retaliation, suspicion and insults with US Secretary of State Condoleezza Rice's peacemaking visit with Muammar Qaddafi, Libya's mercurial strongman.
"The relationship has been moving in a good direction for a number of years now and I think tonight does mark a new phase," Rice said on Friday after a traditional Ramadan dinner — the evening meal that breaks the day's fast during the Muslim holy month — at Qaddafi's official Bab el-Azizia residence. It is the same compound hit by US airstrikes in 1986 in retaliation for a deadly Libyan-linked terrorist attack in Germany. The attack killed Qaddafi's baby daughter.
"We did talk about learning from the lessons of the past," Rice said. "We talked about the importance of moving forward. The United States, I've said many times, doesn't have any permanent enemies."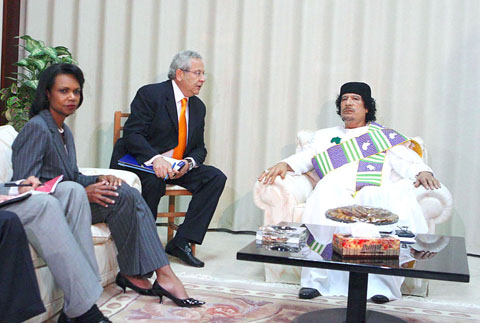 US Secretary of State Condoleezza Rice, left, is welcomed by Libyan leader Muammar Qaddafi, right, in Tripoli on Friday.
PHOTO: EPA
Rice is the highest-ranking US official to visit Libya in a half-century. The US considers Qaddafi rehabilitated since the days when former US President Ronald Reagan called him the "mad dog of the Middle East," because of the Libyan's surprise decision in 2003 to renounce terrorism and give up weapons of mass destruction. His government has also agreed to resolve legal claims from the bombing of Pan Am Flight 103 and other alleged terror attacks that bore Libyan fingerprints.
"Libya has changed, America has changed, the world has changed," Foreign Minister Abdel-Rahman Shalgam said after a meeting with Rice. "Forget the past."
Qaddafi welcomed Rice in a room redolent of incense. Wearing flowing white robes, his trademark fez and a green pin of Africa, Qaddafi bowed slightly and put his right hand over his heart in a traditional Arab greeting. The two did not shake hands, but Qaddafi did shake the hands of Rice's male aides.
"We're off to a good start," Rice said later. "It is only a start, but I think, after many, many years, it's a very good thing that the United States and Libya are establishing a way forward."
The US withdrew its ambassador from Libya in 1972 after Qaddafi renounced agreements with the West and vilified the US in speeches and public statements. Washington cut off diplomatic relations with Libya after a mob sacked and burned the US embassy in 1979.
Qaddafi is known for often unpredictable behavior and has cultivated images as both an Arab potentate and African monarch since taking power in a 1969 coup. In a televised address to the nation this week he said he considers the US neither a friend nor an enemy.
Rice is the first US secretary of state to visit Libya since John Foster Dulles in 1953 and the highest-ranking US official to visit since then-US vice president Richard Nixon in 1957.
Libya has agreed to pay compensation to the families of victims of the 1988 Pan Am bombing over Lockerbie, Scotland, and those of a 1986 attack on a disco in Berlin. The disco attack killed two US servicemen and drew Reagan's order to attack Libyan targets, including Qaddafi 's residence.
Rice was spending only a few hours in Tripoli, an ancient city fronting the Mediterranean Sea and backing to the North African desert, but took time to visit the offices that serve as the US embassy in Libya.
Plans to send a full-fledged ambassador and build a new embassy are hung up in US congress over concern that Libya has not fulfilled its promises to compensate terror victims.
Comments will be moderated. Keep comments relevant to the article. Remarks containing abusive and obscene language, personal attacks of any kind or promotion will be removed and the user banned. Final decision will be at the discretion of the Taipei Times.