Rally targets Ma on 100th day in office
MEET IN THE MIDDLE Tens of thousands of protesters began their walk at around 2:30pm from two points in Taipei, eventually converging on the Presidential Office
Wearing orange wristbands and headbands, tens of thousands of protesters took to the streets of Taipei yesterday to express their dissatisfaction with the government, demanding a stronger economy, a transparent judiciary and better protection of national sovereignty.
The protest was arranged on President Ma Ying-jeou's (馬英九) 100th day in office.
Protesters chanted slogans such as "I want to survive" and "Ma Ying-jeou is selling out Taiwan" and waved banners in English and Mandarin saying "Show me the money," "We want jobs" and "It's not okay to bash Taiwan."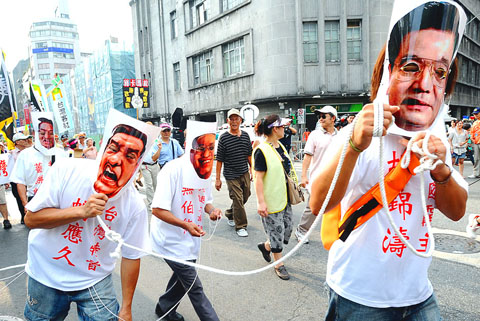 A participant in yesterday's rally wears a mask of Chinese President Hu Jintao, right, followed by demonstrators wearing masks of President Ma Ying-jeou, front left, Chinese Nationalist Party (KMT) Chairman Wu Poh-hsiung, center, and Premier Liu Chao-shiuan, rear left.
PHOTO: LIN CHENG-KUNG, TAIPEI TIMES
Braving the afternoon heat, the protesters began their walk at around 2:30pm from two points — Longshan Temple (龍山寺) and Zhongxiao E Road — meeting up on Ketagalan Boulevard in front of the Presidential Office.
The Taiwan Society, which organized the rally, estimated that 300,000 people attended, while Taipei police said they would not provide an estimate.
Demonstrators said Ma might be opening up to China too quickly, with potentially disastrous ramifications for national sovereignty.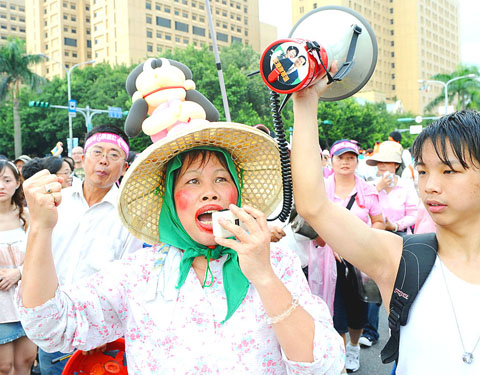 A participant shouts slogans into a megaphone yesterday during a demonstration in Taipei against President Ma Ying-jeou and his administration organized by the Taiwan Society.
PHOTO: CNA
"Ma's unconditional embrace of the Chinese market is not good for the Taiwanese," said protester Kuo Wen-hung, 38.
"If we are overly dependent on China economically, eventually we will be forced to unite with China politically," Kuo said.
Hundreds of senior citizens gathered in 228 Peace Memorial Park under oak trees to voice their dissatisfaction with the government.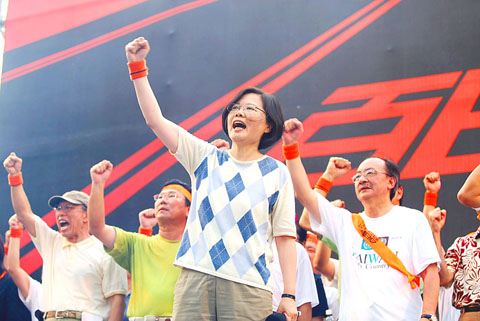 Democratic Progressive Party Chairwoman Tsai Ing-wen, center, shouts slogans after delivering a speech on Ketagalan Boulevard during yesterday's demonstration against President Ma Ying-jeou and his administration on Ma's 100th day in office.
PHOTO: CNA
"I voted for Ma, but I feel cheated," said Chen Chao-cheng (陳昭誠) from Linkou (林口), Taipei County.
"In his presidential campaign, he said he would boost the TAIEX to 20,000 points ... After I lost NT$2 million [US$63,000] on it, he said he was just kidding — but I blame myself too for believing him," Chen said.
Chung Yi-jen (鍾逸人), 88, a retired factory worker from Changhua County, said: "In the past 100 days, many things Mr Ma has done have demonstrated that he is going to sell out Taiwan: from changing 'Taiwan Post' back to 'Republic of China,' to agreeing to attend the Olympics under the name 'Chinese Taipei.' Ma is selling out Taiwan by playing word games, but does he think that we are all idiots who can't see through this?"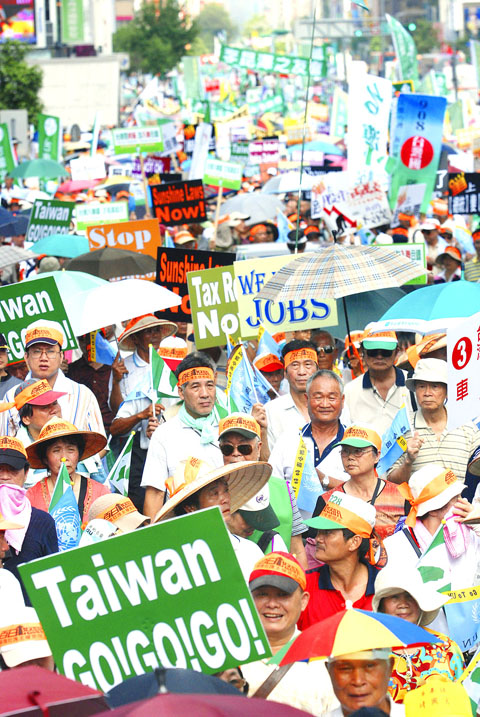 Protesters shout slogans during a rally criticizing President Ma Ying-jeou and the policies of the Chinese Nationalist Party (KMT) administration in Taipei yesterday.
PHOTO: CHIANG YING-YING, AP
A group of bloggers gathered behind the rally stage, holding a banner that said "We blog for Taiwan."
"We came because the event matches the missions of our blogs very closely," said Billy Pan (潘建志), a blogger who has been posting his analyses of political developments online for more than a year and who has linked together a network of more than 1,000 pro-Taiwan bloggers.
"Ma needs to make drastic changes in his policies to realize his campaign promises — he said that 3,000 Chinese tourists would come [per day], but in reality, about 37 visit each day," he said.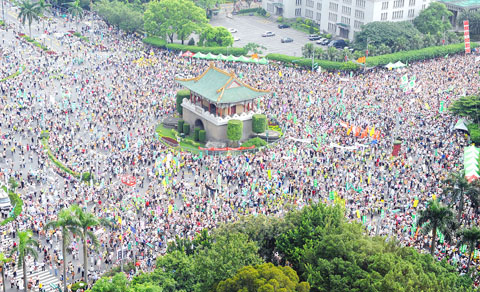 Demonstrators protesting the performance of President Ma Ying-jeou's government crowd Ketagalan Boulevard in Taipei City yesterday. The parade was organized by the Taiwan Society to mark the 100th day of Ma's presidency.
PHOTO: CNA
"Ma's reason for not refunding taxes is also ridiculous ... As long as Ma fails to meet his 6-3-3 promise, we will continue to remind him how ugly politicians are when they fail to cash their political checks," Pan said.
Ma's 6-3-3 campaign pledge was to achieve 6 percent annual GDP growth, 3 percent unemployment and an average annual income of US$30,000.
Rally participants included Democratic Progressive Party (DPP) legislators, local officials and busloads of protesters from central and southern Taiwan.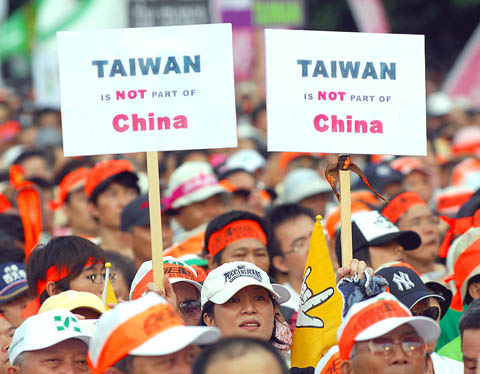 Protesters hold up placards in front of the Presidential Office yesterday.
PHOTO: SAM YEH, AFP
The National Police Agency mobilized 2,000 police officers to maintain order along the route and prevent any clashes between demonstrators and Ma supporters.
The rally reached a climax at 5:30pm when DPP Chairwoman Tsai Ing-wen (蔡英文) addressed the crowd.
Blasting Ma for sacrificing national sovereignty in favor of closer ties with China and for failing to revitalize the economy, Tsai said that what the Chinese Nationalist Party (KMT) cannot deliver, the DPP can.
"We promise to give Taiwanese a better DPP, to improve the economy and to create a more democratic Taiwan," she said.
"We are here to tell the government we care about Taiwan's sovereignty and economy and passing sunshine bills," she said, leading the crowd in chanting "Go Taiwan."
Taiwan Society president Wu Shu-ming (吳樹民), former presidential adviser Koo Kuang-min (辜寬敏) and former Government Information Office (GIO) minister Shieh Jhy-wey (謝志偉) also addressed the crowd.
Former DPP vice presidential candidate Su Tseng-chang (蘇貞昌) was out of the country, and former DPP presidential candidate Frank Hsieh (謝長廷) issued a statement on Friday saying he would not attend the rally because he did not want his appearance to distract from its efforts.
Former vice president Annette Lu (呂秀蓮) was also absent.
While addressing an annual meeting of the Taipei chapter of Taiwan Heart, an organization she founded in 2001 to promote Taiwanese identity, Lu yesterday called on Ma to admit his policy mistakes, which she said would only lead to a dead end.
Lu said it might take some time for Ma to learn how to govern the nation effectively, adding that she would like to hear Ma tell Taiwan whether he intends to stand up for its sovereignty.
Lu said Ma's defense policy had put the country in peril when he designated Songshan Airport as one of the destinations for direct cross-strait charter flights.
Commenting on the rally yesterday, KMT Chairman Wu Poh-hsiung (吳伯雄) accused the DPP of failing to reflect upon its poor performance over the past eight years.
Yesterday's rally was merely an attempt to shift the focus from the corruption allegations surrounding the former first family, he said.
Wu praised the Ma administration, saying it had worked to alleviate the economic hardship caused by the former DPP government, adding that the rally would not change the public's disapproval of the DPP administration.
"Shifting the focus will not change the reality concerning corruption and money-laundering [allegations against former president Chen Shui-bian (陳水扁)]. Shifting the focus will not change the fact that Taiwanese have suffered for the past eight years," Wu said yesterday.
"We believe Taiwanese have already made their judgment after going through years of hardship," he said.
Additional reporting by Ko Shu-ling, Mo Yan-chih and agencies
Comments will be moderated. Keep comments relevant to the article. Remarks containing abusive and obscene language, personal attacks of any kind or promotion will be removed and the user banned. Final decision will be at the discretion of the Taipei Times.