China stun Taiwan with 8-7 win in extra innings
China, playing in their first Olympic baseball competition, upstaged Taiwan 8-7 yesterday in a game that went into extra innings and stopped work in Taipei as incredulous fans watched events unfold on television.
After the game, Taiwanese coach Hung Yi-chung (洪一中) attended the press conference alone, saying that the coaching team would take full responsibility.


"Loss is loss," Hung said, adding that most players had performed well, but that the relief pitcher had been too cautious.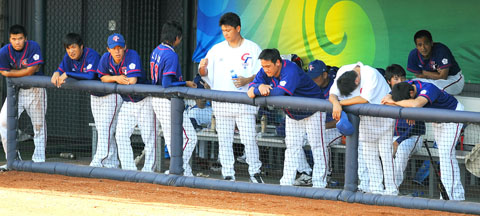 Members of Taiwan's Olympic baseball team react after their defeat by China yesterday.
PHOTO: WANG YI-SUNG, TAIPEI TIMES
With the overtime in the game against Japan, Hung had been worried that the team wouldn't get enough rest before the game against China. He asked to have the match against China postponed, but the request was rejected.


One of the players, Shih Chih-wei (石志偉), said the team had not had enough rest after Thursday night's game, but that it was not an excuse for the defeat.


As for the new system of installing runners on the first and second bases in the 11th inning, Hung said that teams were unaccustomed to it and it is somewhat unfair to the teams that bat first.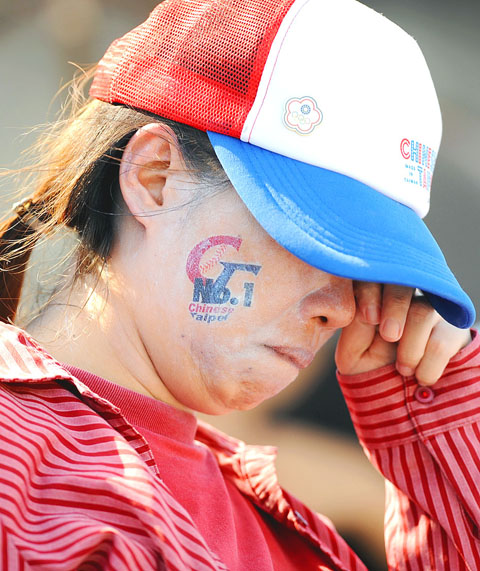 An upset member of Taiwan's cheer squad cries yesterday in Beijing after Taiwan's baseball team lost to China.
PHOTO: WANG YI-SUNG, TAIPEI TIMES
"It's just like in history," said Mao Ai-fen, a government employee in Keelung. "Last night we lost to [former colonial power] Japan and today we lost to the communist bandits."


A man surnamed Huang, 50, said as he watched the action on television in Taipei: "They should all go jump in the sea. This is the end for the Taiwan team."


In Beijing, fans from both sides waved plastic batons and cheered their teams from different pockets of the crowd. They behaved respectfully, even cheering for one another when catchable foul balls went into the stands.


The coach of China's team, Jim Lefebvre, also attended the press conference with three Chinese players, saying it was a significant victory for Chinese baseball.


Separately, former Taiwanese coach Lin Hua-wei (林華韋) said he had once predicted China would eventually beat Taiwan in baseball, "but I didn't really expect it to happen right here, right now."


Also See: Olympic STORIES
Comments will be moderated. Keep comments relevant to the article. Remarks containing abusive and obscene language, personal attacks of any kind or promotion will be removed and the user banned. Final decision will be at the discretion of the Taipei Times.