DPP condemns Wu's comments
TITLE TATTLE The DPP legislative caucus took umbrage at KMT Chairman Wu Poh-hsiung calling President Ma Ying-jeou simply 'Mr' at a banquet on Monday night
The Democratic Progressive Party (DPP) yesterday urged the Chinese Nationalist Party (KMT) to stop flattering China by sacrificing Taiwan's sovereignty and the legal rights of its people.
"KMT Chairman Wu Poh-hsiung (吳伯雄) addressed President Ma Ying-jeou (馬英九) as 'Mr. Ma' during a banquet with Chinese Communist Party [CCP] officials on Monday night. This kind of behavior has me worried that he may have forgotten about Taiwan and its 23 million people," Legislative Whip William Lai (賴清德) told a press conference.
He said the DPP was opposed to the KMT-CCP's party-to-party communications because the rights of Taiwanese could easily be sacrificed.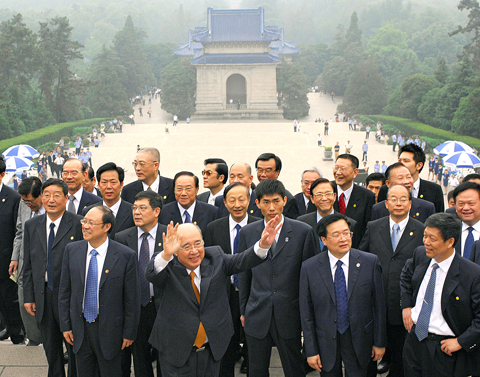 Chinese Nationalist Party (KMT) Chairman Wu Poh-hsiung waves to residents as he leads a 16-member delegation on a visit of the mausoleum of KMT founder Sun Yat-sen in Nanjing yesterday.
PHOTO: AFP
"Any decision-making that concerns a country and its people must be supervised by the public," the caucus whip said.
Lai's comments were echoed by DPP Legislator Chai Trong-rong (蔡同榮), who said the US would never assign a party chairman to negotiate with a foreign country on behalf of the government, because a political party's concerns could never reflect all US citizens' concerns.
Meanwhile, Kaohsiung Mayor Chen Chu (陳菊), another a DPP member, voiced her concern about Wu's trip, saying he had made a "hasty" decision to visit China before the new government had had the opportunity to fully assess public opinion. She urged the KMT to insist on Taiwan's sovereignty while protecting people's interests during the KMT delegation's trip.
However, Deputy KMT caucus Secretary-General Wu Yu-sheng (吳育昇) downplayed the implication of Wu Poh-hsiung referring to Ma as "Mr" on Monday night.
Wu Yu-sheng said the KMT chairman's comments reflected his intention to "put aside controversies and ensure mutual respect" for both sides of the Taiwan Strait.
Wu Poh-hsiung paid homage at Sun Yat-sen's (孫逸仙) Mausoleum in Nanjing yesterday, saying both the "mainland" and Taiwan belong to the Chinese nation and are "closely tied by blood," which no one could obliterate. He said the KMT has promised to make the welfare and interests of the people of Taiwan its top priority because the people gave the KMT its election victories.
Wu Poh-hsiung said his delegation chose Nanjing as their first destination in China because it was the former seat of the KMT government and therefore had unique significance to the KMT historically and emotionally.
Noting that Sun was respected on both sides of the Taiwan Strait, the KMT chief said that every KMT delegation visiting China goes to Sun's mausoleum.
He said that he had gone there when he visited as KMT vice chairman after the party lost power to the DPP in 2000.
"I felt really ashamed in front of Sun [then]," he said.
Sun's soul should be comforted by the KMT's return to power, he said.
He said it would be easier for KMT members to visit Nanjing in the future, hinting that they would be able to take direct flights from Taipei.
Wu Poh-hsiung invited Nanjing residents to travel to Taiwan after his visit to Sun's mausoleum attracted a lot of local attention — and shouts of "Go" and "Peaceful unification."
He laid a floral wreath next to the statue of Sun and observed a minute of silence.
Later in the day Wu flew to Beijing, where he is scheduled to meet Chinese President Hu Jintao (胡錦濤) today.
Wu said yesterday he hoped the vision shared by former KMT chairman Lien Chan (連戰) and Hu during their meeting in 2005 could become reality.
The two planned to facilitate the resumption of bilateral negotiations, end the state of hostility, sign a peace accord and establish a mechanism for economic cooperation.
Wu said it was his party's responsibility to the peoples on both sides of the Taiwan Strait to materialize these five wishes.
He made the remarks while meeting Jia Qinglin (賈慶林), head of the People's Political Consultative Conference, in Beijing yesterday evening.
He thanked Jia for attending the past three cross-strait economic forums and making an effort to push the peaceful development of cross-strait ties.
ADDITIONAL REPORTING BY FLORA WANG
Comments will be moderated. Keep comments relevant to the article. Remarks containing abusive and obscene language, personal attacks of any kind or promotion will be removed and the user banned. Final decision will be at the discretion of the Taipei Times.