Decisive victory for Ma Ying-jeou
FIRST ON THE AGENDA Ma, who has promised to strike a peace deal in a bid to end decades of cross-strait tension, called on China to dismantle its missiles aimed at Taiwan before the two sides can engage in peace talks
Chinese Nationalist Party (KMT) candidate Ma Ying-jeou (馬英九) and his running mate Vincent Siew(蕭萬長)scored an overwhelming victory in yesterday's fourth direct election for president, taking nearly 60 percent of the vote to defeat Democratic Progressive Party (DPP) candidate Frank Hsieh(謝長廷) and his vice presidential candidate Su Tseng-chang(蘇貞昌).
The result saw the KMT sweep back into power after eight years in opposition.
Voting, which took place between 8am and 4pm, was peaceful, with no reports of clashes at the 14,401 polling stations across the nation.
Chinese Nationalist Party (KMT) presidential candidate Ma Ying-jeou, center, running mate Vincent Siew, second right, and Ma's wife Chow Mei-ching, second left, celebrate in Taipei after winning the election yesterday.
PHOTO: AP
A total of 13,221,609 people voted in the election, a turnout of 76.33 percent of the 17,321,622 registered voters. There were 117,646 invalid votes.
The KMT ticket won 7,658,724 votes, or 58.45 percent of the ballots, with the DPP pair garnering 5,445,239 votes, or 41.55 percent.
The KMT enjoyed a swing of more than 10 percent of the vote in Taichung, Miaoli and Nantou counties, with northern counties and cities -- traditional bases of support for the KMT -- tending to have higher swings than the southern electoral districts. Taipei County and Taoyuan County -- key electorates because of their large populations -- punished the DPP with swings of 7.99 percent and 9.32 percent respectively.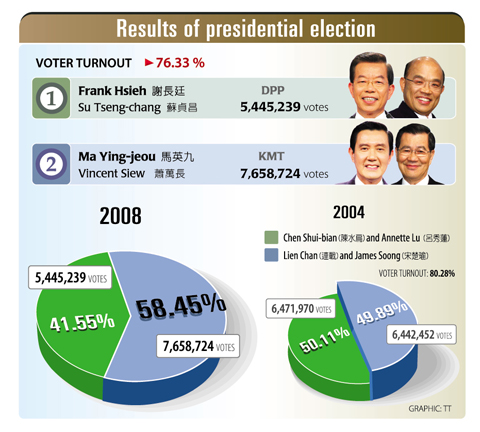 The two referendums on entry to the UN -- the DPP's on entering the UN under the name "Taiwan" and the KMT's on returning to the UN using the country's official title, "Republic of China," or any other title that upholds the nation's dignity -- both failed to garner enough votes, falling short of the 50 percent turnout required for their results to be valid.
The CEC announced the official results at 9.30pm.
Speaking to supporters from behind a bulletproof screen following his win, Ma called the results a victory for hope and an expression of the nation's desire for change.
"This is a victory for people who hope for change and openness and reform, to march forward," he said. "This election result is not a personal result, nor a victory for the KMT, it is a victory for all Taiwanese people."
"Your voices are heard. People have the right to demand a better life. Only change can bring hope, only change can provide opportunities," he said.
Party supporters let off firecrackers and fireworks, while DPP supporters shed tears.
Hsieh, meanwhile, talking to supporters across town, said: "We accept defeat. It's my own defeat, it's not the defeat of the Taiwanese people. Please don't cry for me."
"Although we lost the election, we have a more important mission. The torch of democracy should not be extinguished," Hsieh said.
Ma will formally take over on May 20, when President Chen Shui-bian(陳水扁) steps down upon completing his second term in office.
Yesterday's win comes after the KMT clinched a more than two-thirds majority in legislative elections in January, giving it a clear mandate to push ahead with its policies to bolster an economy that has lagged behind some of its Asian peers.
Jeff Lin (林建甫), associate dean of the Institute for Advanced Studies in Humanities and Social Sciences at National Taiwan University, said: "Ma's victory is a sign that the people of Taiwan want to see change in the economy and in government administration. Voters hope that Ma will help cross-strait relations return to normal and that both sides can see a win-win solution. But this will be his biggest challenge, because cross-strait relations require a lot of negotiations and Taiwan will not have people capable of doing that, so we could be at a disadvantage."
At a post-election press conference, Ma said he will seek to visit as many countries as possible before his inauguration on May 20, but added that he had no immediate plans to visit China.
Ma acknowledged there were obstacles in cross-strait relations, but vowed to begin normalizing economic relations immediately after his inauguration.
"Measures like direct air links and allowing mainland tourists to visit Taiwan will be my priorities, as some of the content is already negotiated and consensus has been reached," he said at his campaign office.
The "cross-strait common market" concept, Ma said, will be a relatively long-term goal.
Ma also promised to negotiate a peace agreement and the issue of international space with China, on the condition that China first removes the missiles it has targeting Taiwan.
On relations with Washington, Ma promised to make Taiwan a "responsible stakeholder" and a "peacemaker" in the region, and strengthen the nation's defense relations with the US by maintaining the defense budget at no less than 3 percent of the GDP and keeping up arms purchases with the US.
When asked to comment on his Cabinet, Ma said he will demand personal integrity from future members, and promised to seek cooperation from other parties.
Ma also promised to consider non-KMT members when appointing ministers for the Control Yuan, Examination Yuan and Judicial Yuan.
Ma said he had spoken with Hsieh after the election result, lauding his rival for his grace in defeat.
"I am touched that he asked his supporters not to make a stand against the election result. I thank him for his statesmanship," he said.
The failure of yesterday's referendums, meanwhile, means that out of six referendums held since 2004, none have managed to reach the threshold to be considered valid.
The DPP's referendum attracted 35.82 percent of voters, or 6,201,677 votes, with 5,529,230 affirmative votes, 352,359 negative votes and 320,088 invalid ballots cast, while the KMT's version garnered a total of 6,187,118 votes or 35.74 voter turnout. It received 5,686,369 positive votes and 724,060 negative ballots, while another 500,749 were invalid ballots.
The US, Russia and Britain were all sharply critical of the DPP's referendum ahead of the polls, calling it needlessly provocative and an attempt to alter the cross-strait "status quo."
Reflecting on the failure of the referendums, Government Information Office Minister Shieh Jhy-wey (謝志偉) said yesterday failures would not impede Taiwan's determination to join the world body, as more than 80 percent of people in a recent survey agreed that Taiwan should apply for UN membership.
Shieh said that the threshold for eligible results and the KMT's effective boycott of the referendums were to blame for the failure.
"Setting such a high turnout threshold for a referendum to be valid is irrational. For example, even if 7 million voters cast `yes' votes, the referendum would still be considered invalid," Shieh said.
Shieh said the government regretted that the KMT had boycotted the referendums just because they were to be held in tandem with the presidential election.
"It's common in the world to hold referendums in conjunction with national elections," Shieh said.
Casting his ballot in Taipei City yesterday morning, Chen told reporters he hoped to see the people elect a national leader who would protect national sovereignty.
"I hope the new leader does not turn Taiwan into a second Hong Kong or Tibet," he said. "Nor do I want to see him turn Taiwan into a special administrative region of China or a place where China stages violent crackdowns."
With the election of a new leader, Chen said he hoped the person would lead the country on the right course and that infighting between those supporting and opposing him would end with the end of his term.
Chen also urged the public to support the referendums regardless of their political affiliation.
Former president Lee Teng-hui(李登輝), who cast his ballot in Taoyuan County, said that he expected the new leader to improve the economy, lower unemployment and cut tuition fees.
Lee did not pick up referendum ballots, which he said was because he forgot to bring his referendum slip.
Comments will be moderated. Keep comments relevant to the article. Remarks containing abusive and obscene language, personal attacks of any kind or promotion will be removed and the user banned. Final decision will be at the discretion of the Taipei Times.