Hsieh, Ma go head to head in debate
FIGHTING TALK The presidential wannabes accused each other of corruption in a television showdown yesterday and both stressed their Taiwanese identities
Democratic Progressive Party (DPP) and Chinese Nationalist Party (KMT) presidential candidates Frank Hsieh (謝長廷) and Ma Ying-jeou (馬英九) went head to head in their first pre-election televised debate yesterday. They discussed issues ranging from national identity and cross-strait affairs to the economy, environment and social welfare.
Both saw eye to eye in seeking direct transportation links with China, with Hsieh and Ma pledging to negotiate and implement weekend direct charter flight services within three months of being elected president. Ma added that he would push for daily flights within six months.
On national identity, Ma, a Mainlander born in Hong Kong, stressed his Taiwanese identity promising to prioritize the nation's future and people's needs if elected.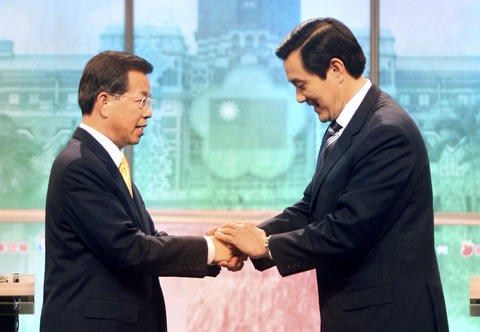 Democratic Progressive Party presidential candidate Frank Hsieh, left, and Chinese Nationalist Party (KMT) candidate Ma Ying-jeou shake hands as they prepare for their first televised presidential debate in Taipei yesterday.
PHOTO: REUTERS
"I am Taiwanese. I am a Taiwanese who grew up in Wanhua. I am a Taiwanese who grew up eating Taiwanese rice and drinking Taiwanese water," he said.
"I want to act as an upright Taiwanese, and I will be buried in this land. I gave up my job in the US and I gave up my [US] green card. Nothing will change my love for Taiwan," Ma said.
Hsieh said he has never hesitated to call himself Taiwanese and that he has educated his children to think likewise.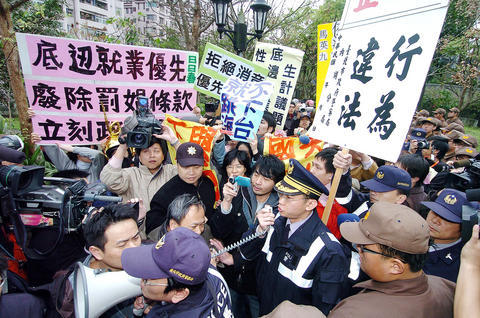 Members of organizations representing disadvantaged groups protest outside the Public Television Service building yesterday, the venue for the first televised debate between the two presidential candidates.
PHOTO: CHEN TSE-MING, TAIPEI TIMES
Hsieh criticized Ma for being inconsistent in defining his identity as a decade ago he had called himself a "new Taiwanese," changing it to "Taiwanese and Chinese" five years ago and then yesterday calling himself a "genuine Taiwanese."
Pressing on allegations that Ma holds permanent US residency -- an issue the Hsieh camp has hinted indicates a lack of confidence in Taiwan's future -- Hsieh yesterday questioned whether Ma was willing to promise that he and his wife had never possessed US or Hong Kong citizenship.
Hsieh also asked whether Ma would apologize to the public if evidence proved that he possessed US permanent residency before Jan. 27 this year.
"National identity is not a lip service issue," he said. "When Vice President Annette Lu (呂秀蓮) was studying at Harvard some 30 years ago, she did not apply for a green card or permanent residency."
Ma responded that he had explained twice last month that he and his wife Chow Mei-ching (周美青) both gave up their green cards some 20 years ago.
"My wife and I did not obtain permanent residency or nationality from the US or other countries," he said. "We did once have green cards, but we gave up residency 20 years ago."
The two also crossed swords on the issue of integrity, accusing each other of corruption.
Hsieh became emotional when Ma questioned the integrity of Hsieh's aides involved in various corruption charges, while querying Hsieh's role.
Ma, while pledging to put his and his wife's stocks into a trust and vowing to prevent his family members from serving as government officials if elected, condemned Hsieh over Kaohsiung City Government officials' alleged involvement in corruption cases under his administration.
"Shouldn't you be responsible for government officials' corruption cases as a former premier and Kaohsiung mayor? Should people tolerate such a government for four more years?" Ma said.
In response, Hsieh, noting Ma's graft charges over his mayoral allowance case during his stint as Taipei mayor, criticized Ma for double standards.
Hsieh also dismissed Ma's claim that none of his aides were indicted for corruption and berated Ma for requesting that the prosecutor handling his corruption case be removed.
In response, Ma insisted that he was found not guilty in two trials, urging Hsieh to take responsibility for the corruption cases in Kaohsiung.
On foreign affairs, Hsieh said one way to resolve problems was to develop closer relations with non-governmental organizations.
Using money for diplomatic purposes was not "dollar diplomacy," Hsieh said, because the US once provided Taiwan with financial assistance. Taiwan in turn must help others now it is better off, he said.
Vowing to maintain peace across Taiwan Strait and not to address the issue of unification with China if elected, Ma said he would demand that China stop marginalizing Taiwan on the international stage and call for a ceasefire with Beijing on the diplomatic battlefield.
In response to Ma's proposal of a "diplomatic truce" with China, Hsieh said nobody would oppose the idea, but the question was what price the country would have to pay.
"Foreign affairs must transcend party lines. Political parties must cooperate and the people must unite or it will give Beijing an opportunity to take advantage of us," he said.
"We will not have many bargaining chips on the negotiation table if political parties see their rival's failure as their achievement," he said.
In order to have a better visual effect for the audience, organizers prepared a platform for Hsieh to stand on so he could appear to be the same height as Ma. Hsieh is 165cm tall and Ma is 178cm.
The first segment of the debate yesterday had Hsieh and Ma respond to 20 videotaped questions selected by the organizers from among 456 questions contributed to PeoPo, a Web site specially set up for the general public to express their concerns on the Internet over the candidates, their policies and the future of Taiwan.
The 20 people chosen were then given the opportunity to question both candidates directly at the debate, based on the candidates' answers to the videotaped questions, which included issues such as Taiwan's national identity, Taiwan's participation in the Kyoto Protocol, same-sex marriage, the promotion of aboriginal culture, social welfare and economic development.
Hsieh and Ma then challenged each other with three questions in the second section of the debate, with responses to be made within a time limit of one minute.
At the end of the debate, Hsieh and Ma were each given three minutes to make concluding remarks.
In his concluding remarks and at a post-debate press conference, Hsieh questioned Ma's ability, saying the KMT candidate makes many promises but hardly ever delivers.
"His promises are like a restaurant menu. The question is whether he can cook those dishes and whether they are edible," he said. "He tends to say one thing in the morning but change it in the evening. How can he expect the people to trust him?"
He also questioned Ma's honesty.
Hsieh said Ma had not answered his question about the green card issue but had only reiterated that his green card was already invalid.
Outside the Public Television Service building in Neihu, where the debate took place, several interest groups staged protests before the start of the debate.
Members of the Collective of Sex Workers and Supporters made a plea for the decriminalization of prostitution. They also asked the two candidates to present detailed policy regarding how to assist the disadvantaged.
A coalition of labor groups requested the two candidates make good on their promises or step down or "jump into the sea."
Yesterday's debate was the first of two televised debates organized by the Central News Agency, the Liberty Times (the Taipei Times' sister newspaper), the China Times, the United Daily News, the Apple Daily and the Public Television Service.
The second debate has been scheduled for March 9.
ADDITIONAL REPORTING BY CNA
Comments will be moderated. Keep comments relevant to the article. Remarks containing abusive and obscene language, personal attacks of any kind or promotion will be removed and the user banned. Final decision will be at the discretion of the Taipei Times.