KMT wins two-thirds majority
Out of the uncertainty of a new electoral system came a stunning rout of the Democratic Progressive Party and the near elimination of small parties. Chen Shui-bian resigned as DPP chairman, and party supporters licked their wounds even in traditional strongholds
The Chinese Nationalist Party (KMT) scored a resounding victory over the Democratic Progressive Party (DPP) in yesterday's seventh legislative elections, winning 81 seats, including 61 district legislator seats, to secure a two-thirds majority that gives it extra legislative powers.
The DPP, despite winning 38.17 percent of the total vote, garnered just 13 district legislator seats.
The Non-Partisan Solidarity Union (NPSU) came in third, with three seats, the People First Party (PFP) claimed one of the six Aboriginal seats and an independent candidate secured victory in Kinmen County.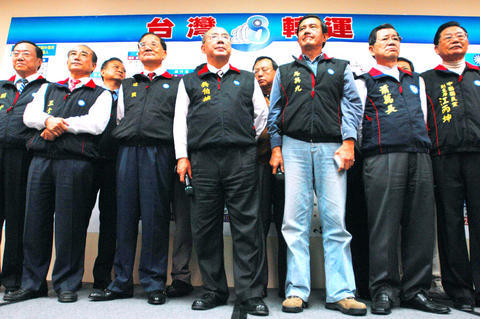 Chinese Nationalist Party (KMT) Chairman Wu Po-hsiung, center, is joined by Legislative Speaker Wang Jin-pyng, second left, former party chairman Lien Chan, third left, and the party's presidential candidate Ma Ying-jeou, third right, and his running mate, Vincent Siew, second right, at a press conference yesterday.
PHOTO: CNA
The other parties -- including the Taiwan Solidarity Union (TSU) and the New Party -- faired poorly, with none of them reaching the 5 percent threshold required to win legislator-at-large seats.
As a result, the 34 legislator-at-large seats were split between the two main parties, with the KMT receiving 20 seats and the DPP 14.
The Central Election Commission (CEC) said overall turnout for the district legislative poll was 58.50 percent, or 10,050,619 voters.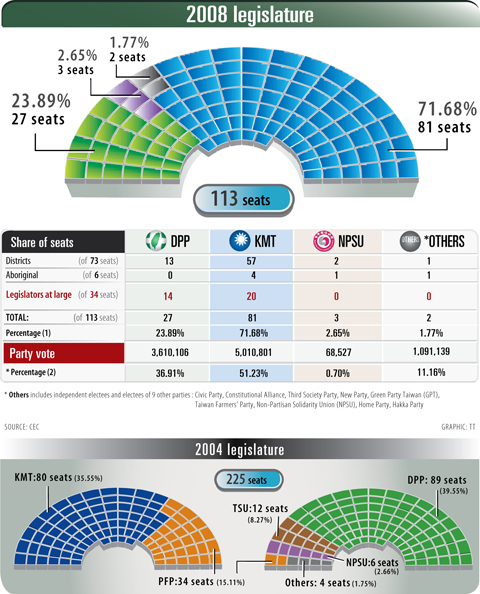 Both referendums held in conjunction with yesterday's vote failed to attain the 50 percent turnout required for them to pass.
The DPP's plebiscite on recovering the KMT's stolen assets attracted 26.34 percent of voters, or 4,550,881 votes. It received a total of 3,891,179 affirmative votes.
The KMT-initiated referendum on empowering the legislature to investigate corruption involving high-level government officials had a 26.08 percent turnout, with 2,304,136 affirmative votes and 1,656,890 negative votes out of a total of 4,505,927 ballots cast.
In response to the results, President Chen Shui-bian (陳水扁) stepped down as DPP chairman.
Chen, calling the election loss the "worst setback" in the history of the party, told a press conference: "I should and I am willing to shoulder all of the responsibility."
"I resign as chairman, effective immediately. I feel very sorry and I feel shamed by this election result," he said.
KMT Chairman Wu Poh-hsiung (吳伯雄) told a press conference at party headquarters:"We offer our deepest appreciation for today's election result."
Wu, with other party leaders at his side, including presidential candidate Ma Ying-jeou (馬英九), said: "We understand that you have put your faith in us, but our joy should last for only one night. Starting tomorrow, we will have more responsibilities to undertake."
"I promise we will not abuse the power of the majority but we will use it to stabilize society and unite people, and we will respect the minority in parliament," Wu said.
The KMT's two-thirds majority would allow the party to impeach the president in its own right. In addition, with support from four other legislators, the KMT would have a three-quarters majority and could put constitutional amendments to a referendum.
"It is clear that people are yearning for change after eight years of suffering," Ma said.
He said "a more difficult task" lies ahead -- securing the presidency.
The KMT swept all eight seats in Taipei City, a goal it had dubbed "Sending Eight Immortals Across the Ocean" (八仙過海).
It marked only the second time since 1983 that all of the party's candidates for Taipei City had been elected, the city's Election Commission said.
The DPP had hoped legislative candidates Tuan Yi-kang (段宜康) and Wang Shih-Cheng (王世堅), in particular, could upset their KMT opponents.
Tuan declared defeat at about 6:48pm after trailing KMT opponent Lin Yu-fang (林郁方) by more than 23,000 ballots.
"I will move on after reflecting deeply. What is more disappointing was the defeat of the DPP overall. There may be a lot of reasons for our defeat, but we will shoulder the responsibility together," Tuan said at his campaign headquarters.
The KMT also won all six seats in Taoyuan County, with all its candidates declaring victory before the official results were announced.
In Taipei County, the KMT won 10 of 12 seats, though DPP candidate and singer/actor Yu Tian (余天) won for the DPP in Sanchong (三重) -- a pan-green stronghold -- defeating his KMT opponent Chu Chun-hsiao (朱俊曉) by just 2,000 votes.
Both Yu and Chu Chun-hsiao declared victory before the Sanchong City Office announced Yu's victory, sparking concern over the result.
Police were dispatched to prevent conflict as supporters of candidates converged on the area.
As expected, KMT Legislator Wu Yu-sheng (吳育昇), a close aide of KMT presidential candidate Ma Ying-jeou (馬英九), defeated DPP Legislator Lee Sen-zong (李顯榮), a former KMT member who switched allegiance to the DPP after he failed to win the KMT's nomination.
The KMT won 19 of the 21 legislative seats in Miaoli County, Taichung County, Taichung City, Changhua County, Nantou County, Yunlin County, Chiayi County and Chiayi City, losing only Taichung County's second constituency and the second constituency of Chiayi County.
In Changhua County, the KMT took all four seats, with Cheng Ju-fen (鄭汝芬) taking advantage of her grassroots support to defeat the DPP's Lin Chung-mo (林重謨).
In Chiayi City, the KMT's Chiang Yi-hsiung (江義雄) defeated DPP Legislator Sandy Yen (莊和子) because of a split in the vote between Yen and the TSU's Ling Tzu-chu (凌子楚).
In southern Taiwan, a DPP stronghold, the party lost its dominance in two of the five cities and counties.
The KMT prevailed in three of five districts in Kaohsiung City, with incumbent DPP Legislator Kuan Bi-ling (管碧玲) and DPP candidate Kuo Wen-cheng (郭玟成) triumphing by small margins.
The KMT also won three out of the four seats in Kaohsiung County, with only DPP Legislator Chen Chi-yu (陳啟昱) winning a close victory over his KMT rival, Wu Kuang-hsun (吳光訓).
Three-term KMT Legislator Lin Yi-shih (林益世) surprised many by beating former Kaohsiung County commissioner Yu Cheng-hsien (余政憲) by 12.66 percent, even though Yu's family is influential in the area.
The KMT's performance in Kaohsiung County was extraordinary, as in the legislative poll in 2004, the pan-green camp garnered 55.73 percent of the vote in Kaohsiung County while the pan-blue camp won only 39.76 percent of ballots.
The DPP managed to win two seats in Tainan City by narrow margins and two out of the three seats in Pingtung County.
Comments will be moderated. Keep comments relevant to the article. Remarks containing abusive and obscene language, personal attacks of any kind or promotion will be removed and the user banned. Final decision will be at the discretion of the Taipei Times.