Krosa leaves few dead, heavy flooding
CASUALTIES Strong winds brought by the typhoon also caused several injuries , power interruptions, landslides and flooding in low-lying areas such as Beitou and Shilin
Typhoon Krosa pounded the nation with powerful winds and torrential rains yesterday, causing a small number of deaths and injuries, precipitating flooding in low-lying areas and cutting power to nearly half a million homes.
The storm turned south before pirouetting off the coast of Hualien City and heading northwest at between 11kph and 14kph toward Ilan and Taipei counties. At 9pm the center of the storm was located over the ocean, 70km northeast of Hualien City. It was packing sustained winds of 162kph and gusts of just under 200kph. The area of the storm was unchanged, with a 300km radius.
The storm was downgraded from a super typhoon around the time that it headed south. Central Weather Bureau (CWB) official Tsai Fu-dien (蔡甫甸) said that the eye of Krosa could no longer be seen by satellite.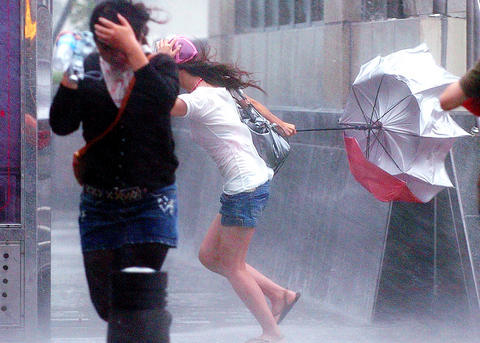 Taipei residents run for cover amid heavy rain brought by Typhoon Krosa yesterday.
PHOTO: LO PEI-DER, TAIPEI TIMES
In Taipei, violent winds uprooted trees and damaged billboards and ripped signs off the sides of buildings. Shops and offices were mostly closed and most residents stayed home.
Eight people were stuck on Hsin-an Road in Yangmingshan (陽明山) after a small landslide hit a house. Although all occupants were later rescued by police, one died on the way to hospital.
Late yesterday afternoon in Hsinchu City, a man in his 70s fell to his death after attempting to fix a leaking roof in the driving rain.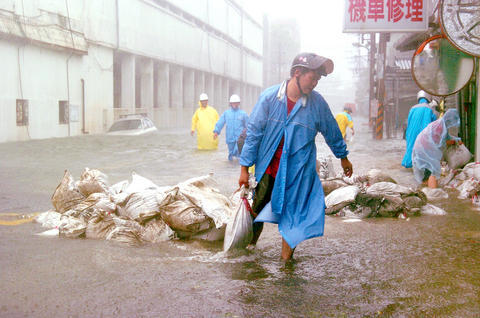 A resident on Zhongyang S Road in Taipei's Beitou District tries to diminish the damage from flooding caused by Typhoon Krosa yesterday.
PHOTO: LU CHUN-WEI, TAIPEI TIMES
A man was missing and presumed trapped by mud and debris in an employee dormitory at a hot spring resort in Chienshih Township (尖石), Hsinchu County.
Meanwhile, an Ilan County woman was hit by falling glass that cut into a neck artery when she was watching the typhoon from her balcony. She was in stable condition after treatment.
The Cabinet's emergency response center said a 66-year-old woman in Taipei City suffered cuts to her head, arms and legs when a glass window at her home broke and hit her. A 50-year-old woman injured her elbow when she was knocked to the ground by heavy winds while riding her motorcycle.
Low-lying areas in Taipei, including Beitou (北投) and Shilin (士林) districts, suffered serious flooding.
Nangang District (南港) experienced a 20-minute blackout as strong winds knocked telephone poles to the ground.
Beitou borough chief Lee Mei-li (李美麗) said the city government had sent 11 pumps to pump out water but still failed to prevent flooding owing to heavy rains.
Taipei City Government later called on residents in low-lying areas, including Hsiushan (秀山) and Datun (大屯) boroughs, to evacuate to higher places to avoid possible floods and landslides.
In Taipei County, officials warned drivers to avoid using the Gongliao (貢寮) section of the West Coast Highway because of sea water encroachment.
Residents near Sindian River (新店溪) were also evacuated.
Heavy rains also caused flooding in Sanchong City (三重) and Wanli Township (萬里).
In Taichung a woman was injured by a falling sheet of iron while riding on a scooter.
A man sitting in a hut in a parking lot in the city was slightly injured when a tree fell on top of the hut. Another woman and her daughter were slightly injured when a dislodged commercial sign fell and hit their car.
SETV reported a number of people told the station that they felt dizzy staying in tall buildings because of the swaying.
TV cable news channels showed a number of motorcycles blown over by the strong wind. A bridge in Miaoli County was destroyed by the raging river.
"The wind is tremendous here, and we've lost power," said Chuang Min-hsiang of Taitung. "We're all at home trying to protect ourselves from the typhoon."
Power was temporarily disrupted in more than 600,000 households nationwide around 3pm yesterday, with Keelung City bearing the brunt of the storm as a massive blackout cut off electricity to 84,000 households in Keelung and 52,000 households in Ilan, Taiwan Power Company officials said.
In Taipei, 35,000 households in the northern district and 17,000 households in the western district were affected, they said.
Also affected were 15,000 households in Taoyuan, 8,000 in Hsinchu, 22,000 in Nantou, 19,000 in Miaoli and 24,000 in Taichung, they said.
Power had been restored to 340,000 of the households as of press time, the officials said.
Nearly 5,000 fishermen sought shelter at ports. Residents in low-lying areas were warned about possible mudslides and floods.
Typhoon Krosa also affected tourism in popular sites, such as Sun Moon Lake (日月潭) and Tungpu Township (東埔) in Nantou County.
Hot spring hotel managers in Tungpu said most guests had canceled reservations for the weekend, while Sun Moon Lake hotel operators reported a 70 percent cancelation rate.
The weather bureau advised people to avoid any trips to mountainous areas or riversides, which are prone to landslides, falling rocks, mudflows and floods.
Forty-seven rivers are at high risk of experiencing mudflows owing to heavy rains caused by the typhoon, officials at the Council of Agriculture's Soil and Water Conservation Bureau said yesterday.
The affected areas include 21 villages in five townships in Taipei, Ilan and Hsinchu counties, where residents have been evacuated to safe areas, the officials said.
Another 831 rivers are listed as at moderate risk, affecting 80 townships in Ilan, Taipei, Taoyuan, Hsinchu, Miaoli, Taichung, Nantou and Chiayi counties and Taipei and Taichung cities, they said, adding that residents in these areas had been advised to prepare for evacuation.
With rain and wind in the northern and northeastern regions intensifying, some areas have seen heavy rainfall of more than 50mm per hour, particularly in the mountainous areas, CWB forecasters said.
CWB tallies show that between early Friday and 5pm yesterday, accumulated rainfall reached 933mm in Ilan County's Taipingshan (太平山).
It was followed by 863mm in Hsinchu County's Niaotsuishan (鳥嘴山) and 647mm in Miaoli County's Taian Township (泰安).
Kaoyi Township (高義) in Taoyuan County had received 638mm of rain, Alishan (阿里山) in Chiayi 609mm, Ssutu (四堵) in Taipei County 550mm and Anbu (鞍部) in Taipei City 473mm.
The strongest wind was reported in Keelung, Ilan and Hualien areas, with the most powerful reaching level 14 on the Beauford scale.
Many weekend outdoor events, including rehearsals for the annual National Day celebrations, were postponed.
Despite attempts to bring her to a hospital, a woman surnamed Hong (洪) from Fuxing Township (復興) in Taoyuan County had a miscarriage yesterday.
An ambulance was called after she started bleeding profusely, but the bad road conditions along the Northern Cross-Island Highway, where rocks had fallen and a bridge collapsed, only allowed passage to a basic medical clinic.
As of press time, Hong was no longer in critical condition.
Meanwhile, in China, officials in Fujian Province ordered tourists away from coastal islands and seaside scenic spots by 6pm yesterday.
Neighboring Zhejiang Province had issued a similar order late on Friday, with 2,500 people being evacuated from an island off the city of Wenzhou, Xinhua news agency said.
More than 138,000 people were relocated to safer ground and 27,000 fishing boats were recalled to port in the two provinces, the national flood control office said in a notice on its Web site.
Krosa was forecast to strike southern Zhejiang and northern Fujian late today, the notices said.
Additional reporting by Rich Chang and staff writer
Comments will be moderated. Keep comments relevant to the article. Remarks containing abusive and obscene language, personal attacks of any kind or promotion will be removed and the user banned. Final decision will be at the discretion of the Taipei Times.