Days of rainfall exact a massive toll
DEATH AND DESTRUCTION Three people were killed, four injured and many more stranded as the downpour caused landslides, heavy flooding and flight cancelations
Heavy rainfall in the past few days claimed at least three lives, in addition to causing damage to roads and massive agricultural and property losses across the country.
In Keelung, falling rocks triggered by the downpour hit two cars and a scooter, killing two children and an adult and injuring four others yesterday morning, a Central News Agency (CNA) report said.
In Taichung, two anglers were reported missing yesterday in a remote mountain village, while a bridge connecting the community to the outside world was destroyed by flood water.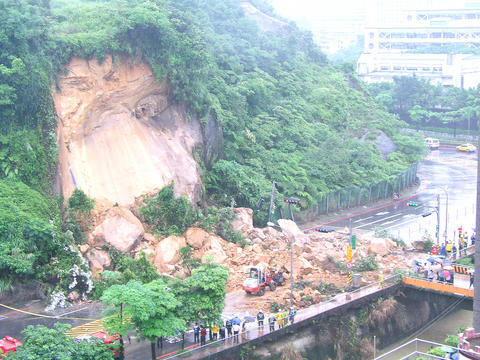 Maiming Road in Keelung is blocked by rocks following a landslide yesterday after heavy rainfall which has caused severe damage across the nation.
PHOTO: LIN CHIA-TUNG, TAIPEI TIMES
Meanwhile, about 100m of the wall surrounding Chingchuankang (清泉崗) Air Force Base in Taichung collapsed yesterday because of heavy rainfall. No casualties were reported as of press time, but 11 cars were damaged.
rescued
Local TV channels, including TTV and CTS, reported that five fruit growers in Shihkang Township (石崗), Taichung County, were trapped inside an orchard yesterday as their way home was blocked by soaring river water.
All five farmers were later rescued by local firefighters.
ETTV also warned travelers against taking the road connecting Chiayi and Alishan (阿里山), as it was completely blocked because of falling rocks.
Roads connecting the Sun Moon Lake and Mingtan Reservoir (明潭水庫) in Nantou County and the Southern Cross-Island Highway were all blocked yesterday owing to falling rocks or collapsed roadbeds, a news release by the Directorate General of Highways said.
airport closed
Eight flights between Kinmen and Taichung were canceled, while Matsu Airport was closed all day yesterday because of heavy rains.
The Directorate General of Highways yesterday organized an emergency response team to handle road damage caused by the storm.
Three days after torrential rainfall flooded Taipei City's Shezi Island (社子島), Taipei Mayor Hau Lung-bin (郝龍斌) visited the community to inspect the damage yesterday.
Complaining about the damage from the flood, some residents blasted Hau's visit, saying it was a political show with city government staffers, the media and city councilors crowding the roads for more than an hour.
Hau promised the residents that the city government would provide subsidies in accordance with the Disaster Prevention and Protection Act (災害防救法), and dig water-collecting wells next month as a temporary solution.
Fuzhou borough chief Hung Chih-sai (洪志賽) and Democratic Progressive Party Taipei City Councilor Chen Bi-feng (陳碧峰), however, said the wells would not be helpful as the community is located in a low-lying area, and water would not flow into the wells.
Chen further condemned the city government for its slow response to the flooding.
After being flooded on Tuesday night, Zhongyang S Road in Beitou District (北投) was flooded again yesterday morning, and residents spent hours pumping the water out.
The Taipei European School's (TES) elementary school campus on Wenlin Road was also hit by flooding, causing extensive damage. Classes have been canceled since Tuesday but would resume on Monday, along with the usual bus services, school chief executive officer John Nixon said in a statement yesterday.
"Some teaching resources have been damaged or destroyed by the flood water, and these have been removed and will be inspected by our insurer," Nixon said.
"The remaining materials are fine, and the furniture and floors of the classrooms have been thoroughly cleaned and disinfected. We will continue to dry and dehumidify the rooms over the weekend," he said.
The school scrambled to dig an extra drainage channel on the campus and install a pump after flood water from heavy rains seeped through cracks and under doors into classrooms, a school press release said.
The new school facilities on the Wenlin Road campus -- scheduled to open at the start of the new school year in August -- were not damaged because of their higher elevation, the statement said.
The Central Weather Bureau warned that more wet weather was on the way.
Heavy rains would continue until Wednesday, said Daniel Wu (吳德榮), director of the bureau's Weather Forecast Center.
A Council of Agriculture official said yesterday that agricultural losses caused by the downpours had reached an estimated NT$21.87 million (US$662,200) as of Thursday night.
The two counties that have been most seriously affected are Changhua County, with losses amounting to NT$12.9 million, and Miaoli County, with losses totaling NT$ 8.95 million, the official said.
The official added that 25 percent of 571 hectares of farmland around the country has been damaged by heavy rains, with the most affected crops being watermelon, musk melon, green onion, cabbage and wax gourd.
Additional reporting by Max Hirsch and CNA
Also see stories:
Refunds galore as rain hits fast train
Comments will be moderated. Keep comments relevant to the article. Remarks containing abusive and obscene language, personal attacks of any kind or promotion will be removed and the user banned. Final decision will be at the discretion of the Taipei Times.