Wang turns down joint ticket with Ma
REBUFFED The legislative speaker said the KMT had damaged his relationship with Ma Ying-jeou by spreading rumors that he had been making deals with the party chairman
Legislative Speaker Wang Jin-pyng (王金平) ended months of speculation yesterday when he turned down Chinese Nationalist Party (KMT) presidential candidate Ma Ying-jeou's (馬英九) invitation to be his running mate.
"I was hoping for `Ma-Wang cooperation' before seeking a `Ma-Wang ticket,' but [former] chairman Ma wanted an answer immediately. I thanked him for his invitation, but it's been very busy in the legislature, so I had to decline," Wang said after a closed-door meeting with Ma at Wang's home.
Although there will be no "Ma-Wang ticket," Wang said he would cooperate with Ma in pushing for KMT victory in both the legislative and presidential elections.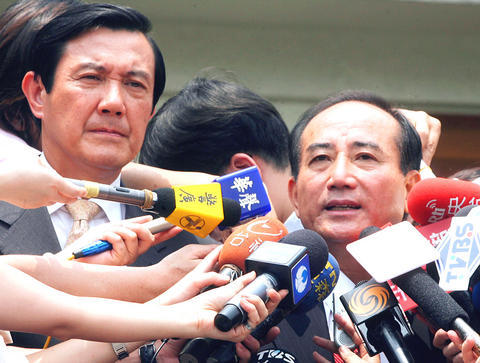 Chinese Nationalist Party (KMT) presidential candidate Ma Ying-jeou, left, listens yesterday as Legislative Speaker Wang Jin-pyng tells the media that he will not join up with Ma for next year's presidential election.
PHOTO: WANG YI-SUNG, TAIPEI TIMES
Wang said that he and Ma were still divided on many issues, including campaign platforms, future policies and goals, as well as the KMT's assets problem.
"Without reaching a consensus on these issues, the problems will not disappear merely as a result of our pairing up," he said.
Refusing to comment on whether he would join Ma's campaign team, Wang said that he would focus on his work in the Legislative Yuan for now.
Standing next to Wang, Ma said he was disappointed by Wang's decision, but added that he would start searching for another running mate.
"I haven't put any effort into searching for other possible vice presidential candidates, so I will have to start the search now," Ma said.
Ma declined to comment on who he might consider as running mate, but said he hoped to find someone who would complement him and help win the presidential election.
The KMT is expected to formally nominate a presidential and vice presidential candidate during its party congress on June 24, which leaves Ma less than three weeks to find a running mate.
Wang yesterday accused the KMT of damaging his relationship with Ma by spreading rumors that he had negotiated with KMT Chairman Wu Poh-hsiung (吳伯雄) on Wednesday about what his powers would be if he were to become vice president.
The Chinese-language China Times and United Daily News reported Wu had promised Wang that he would be in charge of domestic policies as vice president, while Ma would focus on national defense and international relations.
"Chairman Wu brought up the issue, but I asked him to stop talking about power distribution. The newspapers, however, claimed that I had been the one to raise the topic. Ridiculous!" Wang said.
He urged the KMT not to spread any rumors that would jeopardize the trusting relationship between him and Ma.
Wang also denied having delayed his reply to Ma's invitation.
"I informed chairman Ma of my decision a long time ago. The public has been misinformed," he said.
Ma acknowledged that Wang had turned down his offer in April at a meeting with former KMT secretary-general Chan Chun-po (詹春柏), but said he thought Wang was just being polite.
Ma said he would support Wang's decision to stay in the legislature, and called for party unity.
The former Taipei mayor said that they had informed former KMT chairman Lien Chan (連戰) about Wang's decision by telephone just after the meeting.
Ma said that he and Wang would not reconsider.
Ma formally offered Wang the vice presidential ticket on May 9.
Wang had said last Saturday that he would rather speak of "Ma-Wang cooperation" than a "Ma-Wang ticket."
Wu has previously denied talking to the media about his meeting with Wang and dismissed reports that he had asked Wang to reserve a certain amount of power for him as vice president if he accepted Ma's offer.
Wu said in a statement that he had urged Wang to pair up with Ma to increase the party's odds in the presidential election and had not addressed the power issue.
Also see story:
Editorial: Where are Taiwan's real leaders?
Comments will be moderated. Keep comments relevant to the article. Remarks containing abusive and obscene language, personal attacks of any kind or promotion will be removed and the user banned. Final decision will be at the discretion of the Taipei Times.