Researchers find 80 new species off Taiwan's coast
BIODIVERSITY Even seasoned marine biologists were astonished by the hitherto unknown fish, shrimp and crabs that were discovered at depths of up to 4,455m
Eighty previously unknown species of crustaceans and other marine life were discovered off Taiwan's eastern seaboard and in the South China Sea near Taiwan by researchers from local universities and research organizations, with assistance from France's Musee national d'Histoire naturelle and Japanese researchers.
Starting in 2001, with funding from the National Science Council, researchers from the National Taiwan Ocean University, Academia Sinica, National Chung Hsing University, the National Museum of Natural Science and other domestic and foreign institutions plumbed the depths of the Pacific Ocean near Taiwan with the help of a steel cable, nets and other collecting devices.
What they found astonished even seasoned marine biologists.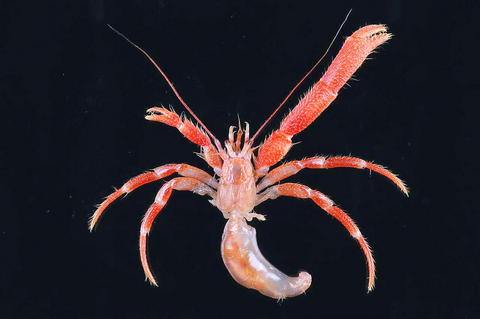 A combination picture shows four previously undiscovered species of marine life found in Taiwanese waters over the past six years. At the top are tow new species of crustacean discovered near Turtle Mountain Island off the coast of Ilan County, a hot spring coral-banded shrimp, left, and the first species of hot spring-dwelling hermit crab ever discovered, right. Below left is a shrimp that sprays a cloud consisting of a blue enzyme to scare off enemies, and at right is a deep-sea lobster that was discovered 4,455m beneath the surface off the coast of Hualien County.
PHOTOS: COURTESY OFO CHEN TIEN-JEN
"Taiwan is surrounded on all sides by water rich in marine resources," National Taiwan Ocean University professor Chen Tien-jen (陳天任), a participant in the six-year project, told a press conference yesterday. "Because of limits in our netting technology, initially marine research could only be carried out at depths of up to 500 or 600m. Beyond that, everything went blank."
Not anymore. Thanks to sophisticated new devices, the six-year exploration project was able to reach depths of 4,455m, allowing researchers to haul up from the cold, black waters rarely seen or previously unknown species, Chen said.
In all, 603 types of rare shrimp, fish and other crustaceans hitherto unseen in waters off Taiwan were discovered.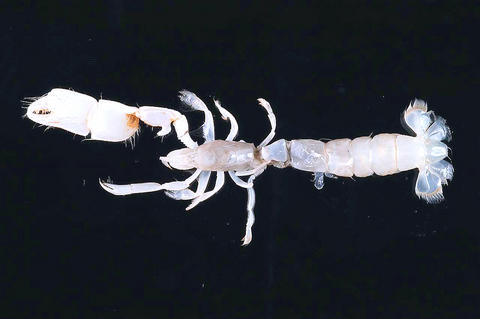 Named after Taiwan
Of that figure, 80 species were previously unknown. Five of the new species, including fish, shrimp and crabs, were given official names with the word "Taiwan" in them.
With 71 sub-species, Taiwan boasts the greatest variety of "grenadier," a prehistoric-looking deep-sea fish with razor-sharp teeth, of which there are 350 sub-species worldwide.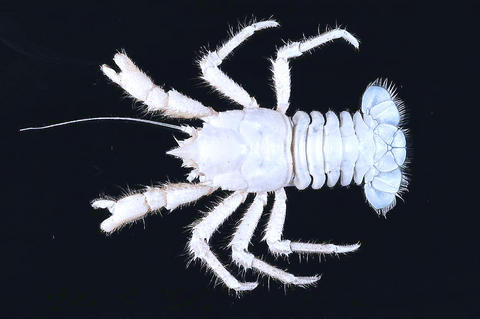 Taiwan also boasts the greatest variety of "squat lobsters," with 31 sub-species out of the 218 identified worldwide making their home deep in the waters off the country's east coast, he said.
While most countries shun Taiwan at the political level, its newly discovered marine biodiversity is attracting research organizations in droves, with plans to include the nation in other research projects, Chen said.
"Taiwan's rare biodiversity is something Taiwanese should be proud of and cherish," he said.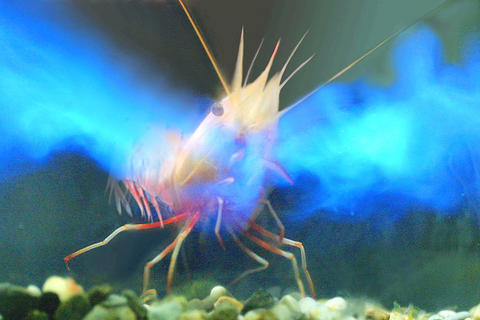 Comments will be moderated. Keep comments relevant to the article. Remarks containing abusive and obscene language, personal attacks of any kind or promotion will be removed and the user banned. Final decision will be at the discretion of the Taipei Times.