TSU reverses stand on new recall vote
The Taiwan Solidarity Union (TSU) yesterday withdrew its support for the pan-blue camp's plan to propose a third recall motion against President Chen Shui-bian (陳水扁).
TSU caucus whip Liao Pen-yen (廖本煙) told a press conference that the caucus would respect the president's promise that he would step down if first lady Wu Shu-jen (吳淑珍) were found guilty.
Liao said the TSU would only support the new recall motion on the condition that "concrete evidence concerning corruption is presented," but he did not say if Taipei District Prosecutor Eric Chen's (陳瑞仁) indictment would be considered "concrete evidence."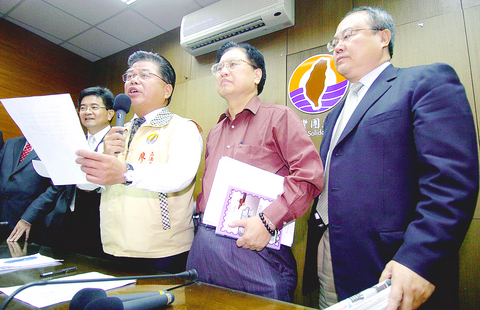 The Taiwan Solidarity Union (TSU) legislative caucus relays the party's decision to ``stop, listen and watch'' before announcing how the party's lawmakers will vote on a third recall bill aimed at ousting President Chen Shui-bian.
PHOTO: LO PEI-DER, TAIPEI TIMES
He said the caucus would suggest that TSU headquarters "wait, listen and see" what the public response was before deciding the caucus' stance on the recall motion.
The decision was agreed upon unanimously after yesterday morning's caucus meeting, Liao said, but TSU Legislator Lai Shin-yuan (賴幸媛) left the meeting before it ended.
She did not talk to reporters after leaving the meeting.
TSU Chairman Shu Chin-chiang (蘇進強) told a separate press conference that the party's headquarters agreed with the caucus' resolution. Shu said that former president Lee Teng-hui (李登輝) had been informed of the resolution and respected it.
However, yesterday afternoon TSU Taipei mayoral candidate Clara Chou (周玉蔻) held a joint press conference with Lai and voiced support for the recall motion.
Chou said that judging from Lee's recent remarks that "justice, morality, conscience and the concept of right or wrong were the best remedies for the Democratic Progressive Party [DPP] and were the hope for Taiwan's society," the former president is actually in favor of the recall motion.
Chou urged DPP legislators to vote for the recall motion in the legislature and let the people decide whether Chen should resign. She announced that one of her campaign themes would be that she is "pro-recall motion."
Chou said TSU legislators Huang Chung-yung (黃宗源), David Huang (黃適卓) and Liao were the only three TSU caucus members who were "pro-Chen" instead of being "pro-Lee."
In response to Chou's comments, Shu said: "She is not a legislator or a member of the TSU's Central Executive Committee. Although she has her own campaign strategy, she cannot stand for the TSU's headquarters or Lee."
Comments will be moderated. Keep comments relevant to the article. Remarks containing abusive and obscene language, personal attacks of any kind or promotion will be removed and the user banned. Final decision will be at the discretion of the Taipei Times.