Rain dampens enthusiasm for protest
NUMBERS VARY Campaign organizers and the police differ on how many people have taken part in the sit-in, while the plan to recreate a `Nazca lines' image fizzled
Rain continued to dampen the enthusiasm of demonstrators yesterday as the around-the-clock sit-in staged to oust President Chen Shui-bian (陳水扁) entered its second day.
Despite the fact that there were visibly smaller crowds than on Saturday, the organizers claimed that even more people had shown up than on the first day of the protest.
They said that 500,000 protesters had shown up on Ketagalan Boulevard yesterday, after saying 300,000 had taken part on Saturday.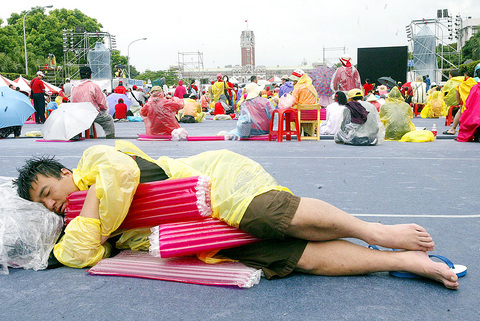 A participant in the Million Voices Against Corruption demonstration against President Chen Shui-bian sleeps in his raincoat on Taipei's Ketagalan Boulevard yesterday after having spent the night at the rally.
PHOTO: CNA
Taipei City Police Department's Zhongzheng First Police District estimated the crowd at 10,000 people yesterday, and around 100,000 on Saturday.
A plan for demonstrators to form imitation "Nazca lines" at 3pm was suspended due to heavy rain and lack of people.
Former Democratic Progressive Party (DPP) chairman Shih Ming-teh (施明德), however, made an appearance at 5pm to lead the crowd after demonstrators spontaneously tried to form the line -- which was supposed to be a representation of a writing compass -- anyway.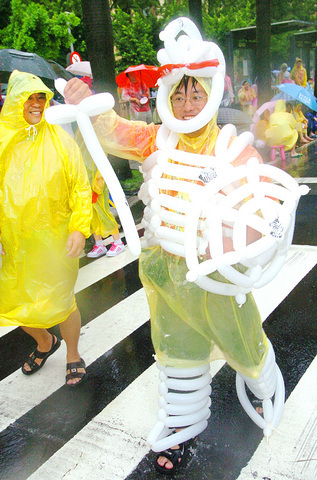 A protesters participating in the anti-Chen sit-in sporting a warrior costume made out of balloons, brandishes his inflated sword and shield during the second day of the anti-Chen rally in Taipei yesterday.
PHOTO: CHEN TSE-MING, TAIPEI TIMES
The Central Weather Bureau has warned of more rain to come over the next couple of days, but Shih called on supporters to come out and not to miss the historic event.
"I realize the protest is a long battle, so I will be with them until the day we triumph," he told a press conference held yesterday morning at the Mayor's Salon, an art gallery near Ketagalan Boulevard.
Some protesters, however, complained that Shih did not stay with them all night and that he had slept in an air-conditioned trailer while they slept on the street.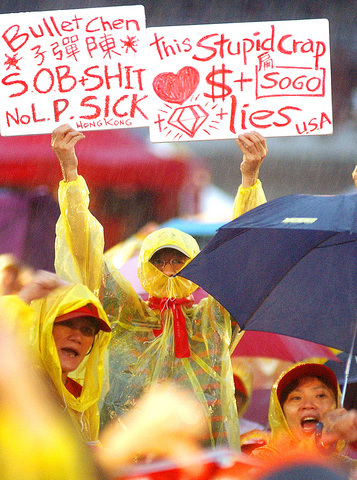 Other demonstrators hold up protest signs.
PHOTO: PATRICK LIN, AFP
Shih, claiming that he was diagnosed with liver cancer about two months ago, asked supporters to give him time to rest because he was, after all, just a human being.
He also proposed that demonstrators take shifts staging the sit-in.
When asked whether he had received any medical attention as claimed by Chang Fu-chung (張富忠), a campaign spokesman, the 65-year-old Shih refused to confirm or deny the claim, saying only "a warrior cannot use his age or health as an excuse."
Chen said in Hualien yesterday that he was worried about Shih's health and hoped that Shih and demonstrators watched their health and that they did not get sick.
"We are mortal and we are fragile. We must be humble in front of God and reflect on the mistakes we make," Chen said.
"A-bian has experienced many frustrations and difficulties, but no matter how serious they are, I was never defeated. That is why I had the opportunity to become the president," he said.
Chen said that he knew many people were not happy with him and his administration, but said that it was a democratic norm to express different opinions.
"We listen to the criticism with an open mind and we respect the way people voice their grievances in any form," he said.
Shih said that he was satisfied with the demonstration because every protester participated voluntarily and did not abandon the cause because of the rain.
When asked whether any improvements needed to be made in the rally, Shih said speakers should be more careful in choosing their words.
He was referring to a slip of tongue by Wang Lie-ping (王麗萍), a campaign spokeswoman.
Wang was booed off of the podium on Saturday when she said that "we, the people of the Republic of Taiwan" were not afraid of the rain -- a remark that angered the multitude of pan-blue supporters who believe Taiwan should be called the "Republic of China."
Shih dismissed a pledge Chen made in Tainan Country on Saturday -- to dedicate himself to three tasks during the remainder of his term -- as a "fraud."
"He shouldn't try to deceive the public with something that he cannot deliver," Shih said. "He should have told the people of Taiwan truthfully that it will take tremendous amount of time and effort to join the UN."
Chen pledged in his hometown in Tainan County that in the remaining 20 months of his term, he would work to strengthen the country's bid to joint the UN under the name "Taiwan," promote a new constitution and hold a referendum on the Chinese Nationalist Party's (KMT) stolen assets.
Regarding the KMT's assets, Shih said that he was in favor of the move but wondered why the administration did not act earlier.
"I proposed to President Chen that he could form a task force similar to South Africa's truth reconciliation committee to deal with the KMT's party assets and I told him that I could help if he needed me, but nothing happened," Shih said.
"Now he brings up the issue again. It is to me nothing but a political tool aimed at tricking the public and saving his career," Shih said.
He urged political leaders, including the DPP, to sit down and talk about the country's future in the "post-A-bian era."
He said former president Lee Teng-hui (李登輝) and Legislative Speaker Wang Jin-pyng (王金平) would be two of the best candidates to take part in such a meeting.
He also dismissed the speculation that the anti-Chen protest was aimed at seizing power, saying the DPP would still be power since Vice President Annette Lu (呂秀蓮) would take over if Chen stepped down.
Writer Lung Ying-tai (龍應台) showed up at the protest to give Shih a bouquet of red roses. But Lung ended up distributing the flowers to demonstrators because Shih was taking a rest in his trailer. Lung said she did not contribute to Shih's NT$100 campaign.
Meanwhile, Shih's headquarter agreed late last night to a police proposal to reopen several lanes of Ketagalan Boulevard to regular traffic starting at 10pm last night.
Demonstrators will now only be allowed to use three lanes and the sidewalks on the boulevard, as well as the area in front of the Taipei Guest House.
The police may also remove some of the barricades in front of the Presidential Office if the protests continue as they have, the report said.
Additional reporting by Flora Wang
also see story:

Editorial: FSC might be trying too hard
Comments will be moderated. Keep comments relevant to the article. Remarks containing abusive and obscene language, personal attacks of any kind or promotion will be removed and the user banned. Final decision will be at the discretion of the Taipei Times.