Snipers target Shiite pilgrims in Iraq
PANIC BUTTON An Interior Ministry spokesman said 17 pilgrims were killed and 253 injured, although most of the injuries came from falls while running in panic
Snipers firing from rooftops and a cemetery killed at least 17 people in a series of attacks yesterday on a Shiite procession in Baghdad attended by hundreds of thousands of pilgrims, officials said.
They said four gunmen were also killed and at least 253 people injured, most of them slightly when they fell while fleeing the gunfire.
The "terrorist assaults" took place when the pilgrims were walking through Sunni areas on their way to the shrine of Imam Moussa Kadhim, an 8th century saint, Health Ministry spokesman Qassim Allawi said.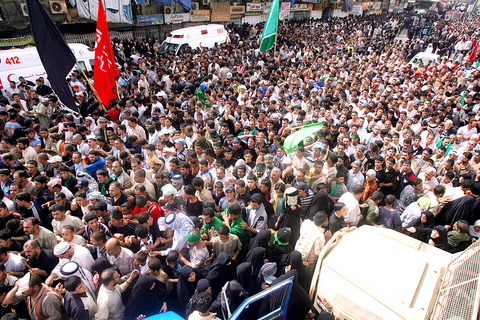 Tens of thousands of Iraqi Shiites Muslims march to the shrine of Imam Moussa Kadhim in Baghdad yesterday. Snipers firing from rooftops and a cemetery killed at least 17 people and injured 253 in a series of attacks on the Shiite pilgrims, officials said.
PHOTO: AP
In one neighborhood, security forces and Shiite militiamen in flak jackets were seen exchanging gunfire with unseen assailants who were firing from houses and buildings. Some of the attackers were firing from behind tombstones in a Sunni cemetery.
The violence was not unexpected given the cycle of tit-for-tat attacks by Shiites and Sunnis in Iraq since the bombing of a Shiite mosque on Feb. 22.
Interior Ministry spokesman Colonel Saddoun Abu al-Ula said 17 pilgrims were killed and 253 injured during the attacks. Only a few of the injured sustained gunshot wounds while the rest suffered injuries in falls while running in panic, he said.
"We are responsible to make this work, despite these challenges," he said.
He said scores of militants were arrested, including some of those who fired on the pilgrims and others who were planning to.
Police said four militants including two snipers were killed.
Reporters saw women in black abaya helping each other as they ran for cover. Many took refuge under an overpass, ducking in fear at the sound of gunshots. A cleric in a dark gray robe and white turban, holding a gun, was seen being pushed away from the scene by a security personnel.
"I was walking and someone got shot in front of me. It wasn't random fire, it was a clear sniper attack," Mohammed Jassim, 32, said.
He said he could hear the faint crack of the shots despite the noise from the procession.
"People panicked and started yelling `it came from here, no from there,"' Jassim said.
Closer to Kazimiyah, Shiite pilgrims, wearing white shrouds to symbolize their willingness to die for Islam, chanted "God bless Muhammad and his descendants," as they converged from all parts of Baghdad on the shrine.
Shiites believe that Kadhim, one of the 12 saints of the Shiite sect who died in 799, was poisoned in prison by a Sunni caliph. He is buried inside the sprawling golden-domed shrine along with his grandson.
"We heed your call, Oh Imam!" the pilgrims sang before entering the compound, beating their chests and flagellating themselves with steel chains in a traditional Shiite expression of grief.
Fadhil al-Sharaa, an aide to Prime Minister Nouri al-Maliki, a Shiite, claimed some 1 million people attended but other officials were more conservative, putting the figure at between 200,000 and 300,000.
The violence occurred despite thousands of troops being deployed and the government imposing ban on private vehicles from Friday night until Monday morning in a bid to prevent car bomb attacks.
About 1,000 people died during the Imam Kadhim commemoration last year when rumors of suicide bombers triggered a mass stampede on a bridge across the Tigris River.
Comments will be moderated. Keep comments relevant to the article. Remarks containing abusive and obscene language, personal attacks of any kind or promotion will be removed and the user banned. Final decision will be at the discretion of the Taipei Times.