More than 10,000 pan-greens protest Chen recall motion
Pouring out their dissatisfaction with the pan-blue camp's recall motion against President Chen Shui-bian (陳水扁), thousands of pan-green supporters yesterday staged a mass rally on Ketagelan Boulevard to defend the president and his government.
The rally, which had been organized by a number of pro-localization groups, also called for stabilization of the country's political situation and steps to boost the economy.
The Democratic Progressive Party (DPP), which originally said that it would not play the role of event organizer, made an about-face on Friday and by yesterday had also mobilized its supporters to take part in the rally.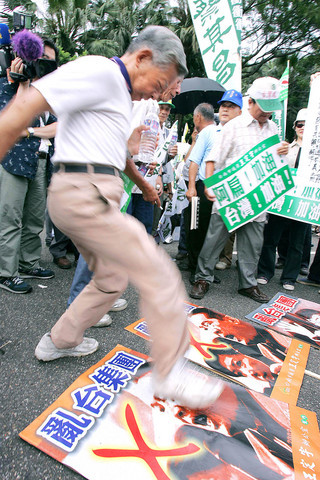 A man kicks a poster of People First Party Chairman James Soong during a rally supporting President Chen Shui-bian in front of the Presidential Office building yesterday. Thousands of people waved flags and blew air horns at a street rally to support the embattled president.
PHOTO: WALLY SANTANA, AP
In a speech at the rally, DPP Chairman Yu Shyi-Kun lashed out at Chinese Nationalist Party (KMT) Chairman Ma Ying-jeou (馬英九) for indulging pan-blue supporters by trying to influence the judicial investigations with mobilization tactics and by promoting the recall motion.
"Ma is a former justice minister, but he tried to interfere with the judicial investigations by means of street protests ... He should respect the independence of the investigation and not damage the democracy which all Taiwanese worked hard to achieve," he said.
Calling the recall motion and a series of anti-Chen events initiated by the pan-blue camp an attempt to seize power, Yu said that the opposition's plan to oust Chen could not be justified, because the president was not personally implicated in any wrongdoings.
Pro-Taiwan independence leaders including Taiwan Hand-in-Hand Alliance leader Ng Chiau-tong (黃昭堂) and former senior adviser to the President Koo Kuan-min (辜寬敏) also attended the rally.
Koo criticized Ma's recent remark that Chen would "die a horrible death" if he did not step down voluntarily, saying that provocative comments like these would make it "impossible for Ma to govern Taiwan in 2008."
Enduring the summer heat, protesters waved green flags all along the boulevard, shouting slogans like "Love Taiwan," "Protect Taiwan," and "Defend local political power," as they packed the street in front of the Presidential Office.
Some supporters even brought A-bian (阿扁) dolls, as well as other A-bian products, to show their support for Chen.
Saying that they were tired of watching the opposition parties demonstrate in front of the Presidential Office the past two weekends, protesters yesterday said that they wanted their voices to be heard.
One protester, Tsai Shui-mu (蔡水木), who had traveled from Tao-yuan County to join the rally, urged the opposition parties to focus their efforts on livelihood issues, such as passing the flood-prevention budget in the legislature, rather than causing political conflict.
"I still have strong faith in Taiwan ... But the DPP government must stay away from corruption and identify those who are corrupt," he said.
Another protester, Yiu Tai-chi (游泰極), said that he came to support the president, and, more importantly, Taiwan.
"I am not against exposing corruption, but they can't spread rumors without evidence," he said.
"I came here today to demand a politically stable society, so that my children can continue to live in this beautiful country we all love deeply," Yiu said.
Some pan-blue supporters showed up at the rally, accusing the DPP of being corrupt and sparking disputes with the pan-green supporters, one of whom even threatened to commit suicide to show his support of Chen.
Local TV news channel TVBS, which is viewed as a pro-China media outlet by pan-green supporters, became one of the targets at yesterday's rally.
Some protesters shouted at the TV station's reporters and refused to be interviewed.
Police were on standby, but no violent incidents were reported.
According to the Zhongzheng First Police Precinct, the estimated turnout at the rally was more than 10,000 people.
Smaller rallies were held in Changhua County and Kaohsiung City yesterday, where high-spirited protesters burned pictures of Ma and KMT Legislator Chiu Yi (邱毅) to vent their disapproval.
In response to the pan-green camp's impassioned rally, Ma yesterday lambasted the event as a move that went against the mainstream public opinion.
"None of the DPP's top officials have made any denials after the members of the first family and their in-laws became embroiled in the scandals. Instead, they hold events that go against mainstream public opinion to please the president," Ma said.
He said that the DPP's counter-moves reflected the party's lack of introspection.
The KMT chairman yesterday confirmed that he had met with former DPP chairman Lin I-hsiung (林義雄) on Friday, but declined to comment on the details of their meeting.
Despite DPP members' protests against the KMT and People First Party's rally scheduled to be held in Changhua today, Ma said that he would attend the rally, regardless of the alleged assassination threat against him.
Comments will be moderated. Keep comments relevant to the article. Remarks containing abusive and obscene language, personal attacks of any kind or promotion will be removed and the user banned. Final decision will be at the discretion of the Taipei Times.