Bush defends spying on Americans
US President George W. Bush denied on Thursday that the government was "trolling through" Americans' personal lives, despite a report that a domestic spy agency was collecting phone records of tens of millions of citizens.
Defending his administration's espionage program, Bush said intelligence activities he had authorized were lawful and the government was not eavesdropping on domestic calls without court approval.
But Democrats and Republicans alike demanded an explanation after USA Today reported the National Security Agency was secretly amassing phone records from phone companies to analyze calling patterns in an effort to detect terrorist plots.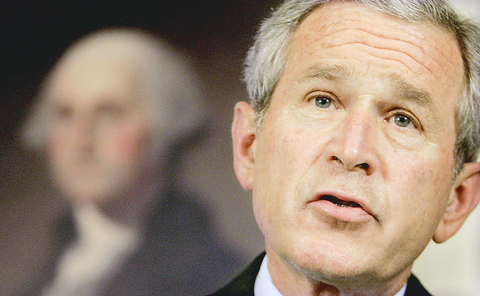 US President George W. Bush speaks from the Diplomatic Reception Room in front of a portrait of George Washington on Thursday.
PHOTO: AP
"The privacy of ordinary Americans is fiercely protected in all our activities," Bush told reporters at a hastily called session aimed at damage control. "We're not mining or trolling through the personal lives of millions of innocent Americans."
Some senators suggested, however, the disclosure could complicate confirmation of Air Force General Michael Hayden, who was nominated by Bush on Monday as director of the CIA.
USA Today said Hayden, who headed the NSA from 1999 to 2005, would have overseen the call-tracking program.
"Everything that NSA does is lawful," Hayden insisted after meeting Senator Mitch McConnell, a Republican from Kentucky, as he pressed ahead with visits to senators who will consider his appointment. "The appropriate members of the Congress -- the House and Senate -- are briefed on all NSA activities."
The controversy could compound Bush's political problems as he struggles to lift public approval ratings that have fallen to new lows, putting his Republican Party's control of Congress at risk in November's elections.
Revelations late last year that the NSA was eavesdropping inside the US without warrants on international calls and e-mails of terrorism suspects sparked an uproar. But the USA Today report, if confirmed, means the agency's domestic program has been on a far wider scale.
Before leaving for Biloxi, Mississippi, a stern-faced Bush said: "Our efforts are focused on links to al Qaeda and their known affiliates" to prevent future attacks in the US. But he did not confirm or deny the USA Today story.
Senator Arlen Specter, chairman of the Judiciary Committee, said he would ask phone companies whether they were providing Americans' records to the NSA. "We've got to ... figure out what is going on," the Pennsylvania Republican said.
Meanwhile, the White House on Thursday was standing by Hayden as its nominee for CIA director.
"We're full steam ahead on his nomination," White House spokeswoman Dana Perino said.
Comments will be moderated. Keep comments relevant to the article. Remarks containing abusive and obscene language, personal attacks of any kind or promotion will be removed and the user banned. Final decision will be at the discretion of the Taipei Times.