Lee says China dare not attack
GET ON THE BUS Likening Taiwan's security policy to a bus ride, the former president declared that it was `impossible' for China to take military action to achieve unification
Former President Lee Teng-hui (李登輝) said yesterday that China would not dare to attack Taiwan, because the US has deployed eight nuclear submarines in the Pacific Ocean carrying about 2,000 nuclear warheads targeted at China, preventing Beijing from taking military action against its democratic neighbor.
Implying that Taiwan is under the protection of the US, Lee said it was necessary to procure arms from the US.
"You can't take a bus without paying for it," he said.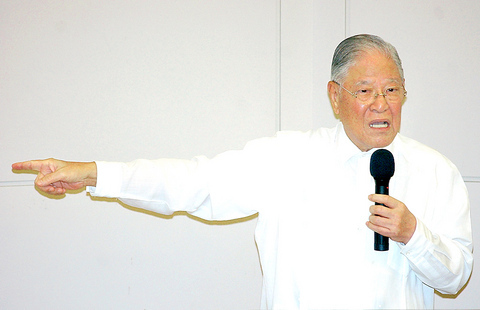 Former president Lee Teng-hui yesterday gestures at a seminar for members of the ``Friends of Lee Teng-hui Association.'' Lee expressed his opinion about the current international situation and said that China would not dare to attack Taiwan.
PHOTO: LIU HSIN-DE, TAIPEI TIMES
Lee made the remarks yesterday while expressing his opinion about the current international situation to the members of the "Friends of Lee Teng-hui Association," a non-profit organization created to support Lee Teng-hui and his localization policies.
However, a senior US military official told the Taipei Times that it had been standing policy for the US to maintain a "nuclear deterrent," most of which is kept aboard a number of nuclear missile subs that are constantly on patrol worldwide.
The patrols were not specifically directed at China, and the missiles would only be given specific targeting instructions on the order of the US president, the source said.
Still, Lee encouraged the Taiwanese people to remain confident and not to be afraid of China, saying as it is "impossible" for China to attack Taiwan.
"Given the US nuclear submarines patrolling in the Pacific Ocean and all of their equipped nuclear warheads, China can't move at all. It would take at least an army of ten divisions for China to attack Taiwan, which is an impossible mission," Lee told the members.
It is unclear how Lee arrived at his conclusion, given that the People's Liberation Army is usually estimated to have at least 20 infantry divisions, 10 armor divisions, and five mechanized infantry divisions, not including its air, naval and special forces.
Lee said that Beijing was restrained by the US' military deployments, so the best measure China could exert to influence the Taiwanese people was to arrange visits by opposition leaders, Lee said.
These "pro-China" people went to Beijing to shake hands with the Communist leaders and to bow to the Chinese authorities because they couldn't accept the fact that Chen Shui-bian (陳水扁) was elected president, Lee said.
"They should be blamed for their anti-democratic attitude. Actually, they are considered by many people in China as `fools,' but they don't know that. Ironically, they even tried to scare the Taiwanese people, because they wanted the people to listen to them," Lee said.
Lee reiterated that China is nothing to be afraid of. Instead, Taiwan should be cautious about these "pro-China" people who have tried to cheat Taiwanese people time and again, Lee said.
Despite his confidence about cross-strait security, Lee said that Taiwan can't pretend it cares nothing about arms procurement if it wishes to maintain relations with the US.
A special arms procurement budget bill worth NT$480 billion (US$15 billion) has been stuck in the legislature because of opposition from the pan-blue alliance.
"The new development of Chinese Nationalist Party (KMT) chairman-elect Ma Ying-jeou (馬英九) being invited to visit Washington means that the US wants to preach to him the importance of the arms procurement package," Lee said.
In his wide-ranging comments, Lee also leveled criticism at the government's cross-strait policies.
"If the Executive Yuan decides to include Penghu into the scope of the small three links, I will stage a march against the government. I will oppose this policy to the end," Lee said.
The "small three links" refer to cargo, passenger and postal links between Kinmen and Xiamen, and Matsu and Mawei.
Lee's criticism came in the wake of the report by a Chinese-language newspaper last week that Penghu County could be approved to serve as another transit port between the two sides of the Strait, just like Kinmen and Matsu under the small three links policy, which took effect in 2001.
The government, however, has already responded to the report, saying that it is not true.
"Penghu will still be subject to special regulations under the renewed small three links scheme, which means that only special cases approved by the government can be allowed to travel from Taiwan via Penghu to China," Johnnason Liu (劉德勳), vice chairman of the Mainland Affairs Council was quoted as saying.
Liu said that the government might allow a commercial group to leave for China via Penghu in this September, but that the government was not prepared to let Penghu take on the general transit role.
Additional reporting by Mac William Bishop
Comments will be moderated. Keep comments relevant to the article. Remarks containing abusive and obscene language, personal attacks of any kind or promotion will be removed and the user banned. Final decision will be at the discretion of the Taipei Times.