President praises Dalai Lama as the `world's greatest'
President Chen Shui-bian (陳水扁) yesterday joined dignitaries and celebrities from around the world in sending a birthday greeting to the Dalai Lama, who turned 70 yesterday.
Chen praised the Tibetan spiritual leader as "the world's greatest religious leader" and expressed hope that the Buddhist icon would make a third visit to Taiwan to "allow an opportunity for believers in Taiwan to be showered in his wisdom and cheerful presence."
Noting Taiwan and Tibet's similar predicaments, in which both have suffered due to Chinese military expansionism, the president said "Taiwan can identify with Tibet's experience, and is willing to step up efforts enhancing exchanges and cooperation between Taiwan and Tibet."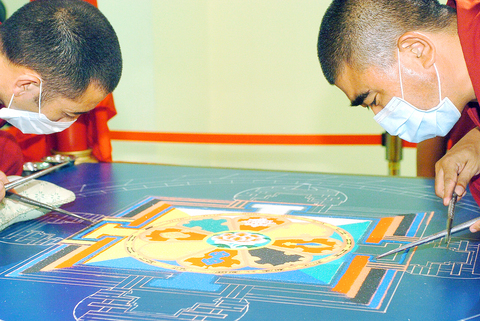 Two Tibetan monks from Gyutod Tantric Monastery in Dharamsala create a sand mandala yesterday at an exhibition featuring photos of the Dalai Lama and other exhibits presenting Tibetan culture. The exhibition was sponsored by the Tibetan Religious Foundation of His Holiness the Dalai Lama and is a part of events celebrating the 70th birthday of the 14th Dalai Lama.
PHOTO: LU CHUN-WEI, TAIPEI TIMES
Chen made the remarks when touring an exhibition yesterday which featured many rarely seen photos, hand-written letters and documents relating to the Dalai Lama, as well as other presentations that showcased Tibetan culture.
The exhibition, staged as part of the events celebrating the 14th Dalai Lama's 70th birthday, was sponsored by the Tibetan Religious Foundation of His Holiness the Dalai Lama (達賴喇嘛西藏宗教基金會). The foundation is the de facto representative office of the Dalai Lama in Taiwan and was set up six months after his historic visit here in March 1997.
Recalling the Tibetan leader's second visit to Taiwan in March 2001 during which Chen met the lama in the Presidential Office, the president said "the Dalai Lama's blithesome laughter and profound sayings" had left a strong impression on him.
Chen continued, saying that the Tibet issue has also over the years gained increasing international attention and support under the leadership of the Dalai Lama, who the president lauded as having led the Tibetan government-in-exile "with wisdom and compassion."
Opposed to the demands of hardline Tibetans for the use of violence to achieve independence from Chinese rule, the Dalai Lama called for greater autonomy for his homeland, and fled in 1959 after Beijing crushed an anti-Chinese uprising in the landlocked country.
He was awarded the Nobel Peace Prize in 1989 for his non-violent struggle for freedom.
The Tibetan "god-king" and the Tibetan government-in-exile are currently seated in the Indian city of Dharamsala.
Comments will be moderated. Keep comments relevant to the article. Remarks containing abusive and obscene language, personal attacks of any kind or promotion will be removed and the user banned. Final decision will be at the discretion of the Taipei Times.