Nauru switches its allegiance back to Taiwan from China
Following the Republic of Nauru's defection to Beijing just three years ago, Taiwan and the tiny South Pacific state once again restored formal diplomatic ties yesterday, with Nauru's leader saying that "talks about financial assistance may come at a later stage."
The re-establishment of ties was cemented with a joint communique between Minister of Foreign Affairs Mark Chen (陳唐山) and Nauruan President Ludwig Scotty at 10am in Taipei yesterday morning and was announced just minutes later at a press conference. Taipei plans to dispatch personnel to Nauru to activate Taiwan's embassy to Nauru immediately.
"Nauru actively contacted us on re-establishing ties. This proves that Taiwan's democratic achievement and economic development have been highly recognized by the international community," Chen said.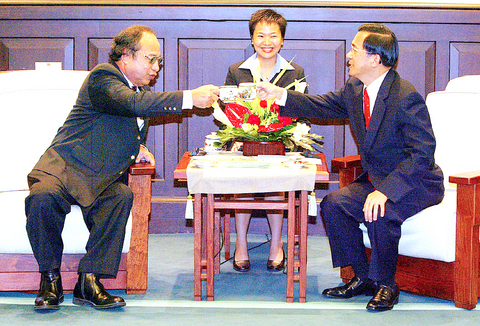 President Chen Shui-bian, right, yesterday proposes a toast to Nauruan President Ludwig Scotty at the Presidential Office to celebrate the resumption of the diplomatic ties between Taiwan and Nauru.
PHOTO: CNA
Taiwan terminated ties with Nauru, the world's smallest independent republic, in July 2002 after it established ties with Beijing in May of that year, under the leadership of then president Rene Harris. Taiwan and Nauru had been allies for 22 years. Ties with Beijing were said to have been sealed around promises of financial assistance.
While Scotty assured reporters yesterday that he had consolidated power back home, Nauru is known for its frequent changes of leadership. The island saw six presidencies in 2003, before Scotty took power in June last year. Harris has been elected on four separate occasions, and Scotty also served a brief two-month term in 2003 before being deposed by a vote of no confidence.
The Republic of Nauru had once been rich in phosphate derived from guano and depended primarily on the export of this mineral. Ninety years of mining effectively exhausted the nation's resources however, leaving the financially-strapped nation largely dependent on foreign aid. Following the depletion of its primary industry, the nation faced an unemployment rate of 90 percent last year, according to the CIA's World Factbook. The same source put the nation's external debts at US$33.3 million in 2002.
The island, with an area of just 21.3km2 and a population of 12,800, is a member to various international organizations, including the UN, the World Health Organization and the Asian Development Bank. Chen said yesterday that Scotty had vowed to support Taiwan's efforts at increased international participation.
Asked yesterday if his nation was seeking or expecting a pledge of economic aid from Taiwan, Scotty told reporters that "these things happen. Everyone knows in bilateral relations there are mutual benefits that can be achieved."
Explaining that Nauru had successfully sought and received assistance from international bodies, Scotty nevertheless said that his country might still need financial help from Taiwan in coming days.
"These assistances that we are looking for elsewhere ... even from your country, the beautiful country of Taiwan, we may need some. This will come at a later stage, resulting from further negotiations between our two governments," Scotty said, saying he felt Taiwan was a "worthwhile" friend.
The addition of Nauru to Taiwan's short list of diplomatic allies brings the total to 26 nations. It is expected that Beijing will cut ties with Nauru following the island's re-establishment of links with Taipei, but Taiwan's recent experience with former ally Vanuatu could suggest otherwise.
Vanuatu was at the center of a diplomatic row between Taiwan and China after it switched allegiance to Taipei last November. Vanuatu's diplomatic relationship with Taiwan was short-lived however, as the nation restored ties with Beijing just one month later, deposing the leader who had cemented ties with Taiwan.
Following the announcement of the two nations' renewed ties yesterday, President Chen Shui-bian (陳水扁) received Scotty at the Presidential Office.
Chen told his guest that he had the feeling that Taiwan and Nauru would restore their diplomatic ties before too long.
Additional reporting by Huang Tai-lin
Comments will be moderated. Keep comments relevant to the article. Remarks containing abusive and obscene language, personal attacks of any kind or promotion will be removed and the user banned. Final decision will be at the discretion of the Taipei Times.