319 shooter found, police say
IDENTIFIED The man who police believe shot and wounded the president on March 19 last year killed himself almost a year ago, and the authorities dogged investigation has finally pieced together the puzzle
Police said yesterday that they believed a man named Chen Yi-hsiung (陳義雄) shot President Chen Shui-bian (陳水扁) and Vice President Annette Lu (呂秀蓮) on March 19, but that he committed suicide shortly after his failed assassination attempt.
Criminal Investigation Bureau (CIB) Commissioner Hou You-yi (侯友宜) said that although he was not announcing that the investigation was closed, they were confident that Chen Yi-hsiung was the man who shot the president and vice president during a press conference called by the Supreme Prosecutors' Office.
"While Chen [Yi-hsiung] was dead on March 29 and we were still looking for the pistol and bullets he used in the assassination attempt, his family had a letter he left before his death in which he admitted he committed the assassination attempt," Hou said.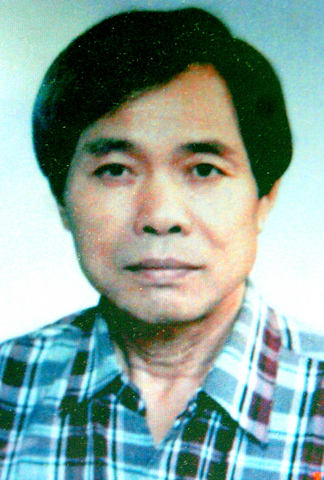 The Criminal Investigation Bureau (CIB) yesterday displays a photo of Chen Yi-hsiung, a suspect in the March 19 shooting. The alleged shooter is dead.
PHOTO: CIB, RETAKEN BY SEAN CHAO, TAIPEI TIMES
However, Hou said that Chen's wife said she never saw her husband's pistol and bullets, and that Chen possibly had thrown out the weapon.
Upset
Hou said Chen, a 50 year-old retired construction worker, was very unsatisfied with the political situation and with Chen's government. This was his motive in the assassination attempt.
"Chen said in an note before March 19 that he hated the fact Chen would likely be re-elected," Hou added.
Hou said that a security camera near the site of the attempted assassination in Tainan City filmed a middle-aged, partially bald male and in a yellow jacket walking quickly and nervously away from the site of the shooting immediately after it occurred.
On March 26, police publicized the man's picture and asked him to report to police, but he never appeared, Hou said.
On March 29, Chen Yi-hsiung's drowned corpse was found at the An-Ping port in Tainan City. Police noted that he looked very similar to the man in the picture.
He said since his body had no wounds, prosecutors had believed that it was purely a suicide case.
"At the time, we suspected that he was the man in the picture, but we had no evidence that connected him to the 319 assassination attempt," Hou said.
He said that on Sept. 13, police identified Tang Shou-yi (唐守義) as the maker of the arms used in the shooting on March 19. Police then looked for people who had bought armaments from Tang, who admitted he made over 58 pistols and over 1,000 bullets for his clients.
"Several days ago, we were very excited after we discovered that Chen Yi-hsiung bought a pistol and bullets from Tang," Hou said.
Bullets and a gun
He said that in February last year Chen told his friend, Chen Bo-chang (陳柏璋), that he wanted to buy a pistol and bullets. Chen Bo-chang introduced him to a man named Wu Ming-chin (吳旻璟), and Wu sold a pistol and 20 bullets to Chen Yi-hsiung.
Wu admitted to the investigators that the pistol and bullets were bought from Tang, according to the police.
Hou said the 20 bullets were made of copper and lead, which matched the two bullets, one made of copper and another made of lead, used in the 319 shooting.
"This breakthrough made us consider Chen [Yi-hsiung] as a suspect, and we began to question his family -- his wife and four children," Hou said.
In the beginning, Chen Yi-hsiung's family denied that he was the shooter, but after three days of questioning, they finally admitted that it was very likely he had committed the assassination attempt, Hou said.
Chen's wife told investigators that her husband was out when the shooting occurred, Hou added.
"When he came home in that evening, he was quiet and seemed lost in thought," Hou said she told investigators.
Hou added that Chen Yi-hsiung's wife said that "when the police published the picture of a baldheaded man with a yellow coat, I watched it on TV and asked my husband `Is that you?' and `Did you do that?'"
Chen Yi-hsiung responded that "it was his own business and that he would handle this," the wife told investigators.
She was quoted by the police as saying that her husband had burned the yellow coat in his house the very day police published the picture.
Chen's wife told investigators that his husband left a letter before his death, which expressed his anger and disappointment with Chen's government.
The letter said that Taiwan's economy was getting worse, and therefore he could not sell his house and repay debts for his relatives, according to Chen's wife.
Chen Yi-hsiung hated that President Chen had a good chance of being re-elected, she told investigators.
Hou said Chen's wife had destroyed the letter in order to evade the investigation.
In addition to the letter, investigators found notes in Chen Yi-hsiung house that expressed the similar sentiments.
Hou showed these notes to reporters in the press conference.
Hou said that although Chen's family admitted that Chen was the shooter, the investigators will continue to gather more evidence and details before they announced a close of the assassination probe.
also see stories:

Pan-blue camp dismisses breakthrough in 319 case

Presidential Office lauds 319 task force for its work

Friends, neighbors remember suspected shooter as a normal, sports-loving man

Editorial: Living with uncertainty
Publication Notes
Uncovering the truth
* March 19, 2004: President Chen and Vice President Lu were shot while leading a motorcade in Tainan City.
* March 26, 2004: Investigators published several suspects' pictures including Chen Yi-hsiung.
* March 29, 2004: Chen Yi-hsiung allegedly committed suicide.
* Dec. 13, 2004: Investigators identified 319 pistol and bullet-maker Tang Shou-yi.
* Feb. 17: Tang was indicted for illegally made pistols and bullets.
* March 7: Investigators identified the shooter Chen Yi-hsiung.
Source: TT
Comments will be moderated. Keep comments relevant to the article. Remarks containing abusive and obscene language, personal attacks of any kind or promotion will be removed and the user banned. Final decision will be at the discretion of the Taipei Times.