Expect aftershocks, officials warn
The government warned the public of the possibility of aftershocks after two strong -- and nearly simultaneous -- earthquakes measuring 5.9 on the Richter scale rocked Taiwan early yesterday morning, injuring two people.
According to the Central Weather Bureau's Seismology Center, the first quake, which struck at 3:06am yesterday, with its epicenter 6.2km north of Suao, Ilan County, and was 8.5km underground. One minute later, the second quake occurred, measured at the same magnitude.
As the two quakes nearly overlapped, seismologists initially reported it as a single quake. A smaller temblor, with a magnitude of 4.2, struck seven minutes before the two major earthquakes.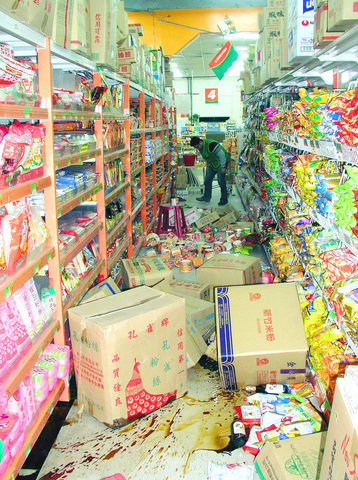 Boxes and food lie strewn across the aisle of a supermarket in Ilan County after two magnitude-5.9 earthquakes struck early yesterday morning.
PHOTO: CHIANG CHIH-MING, TAIPEI TIMES
According to the National Fire Agency, two terrified people in Ilan were injured when they fled their homes.
A series of earthquakes followed the major ones early yesterday morning, waking up people around the nation. Residents in Ilan, a northeastern county, as well as northern Taiwan were most affected.
Seismologists at the center said that these earthquakes could be attributed to both the meeting of the Philippine Plate and Eurasian Plate and the expansion of geological strata in the Ryukyu trench.
According to Lu Pei-ling (呂佩玲), the center's deputy chief, in Taiwan's earthquake history, it was unusual for two major quakes of equal magnitude to hit the same area in such a short period of time.
"Since the center's database was established in 1970, we have not recorded this kind of phenomenon." Lu said.
By press time, at least 100 aftershocks were reported and seismologists warned of more strong quakes in the next few weeks.
Experts reminded the public that Taiwan, lying near the junction of two tectonic plates, is prone to earthquakes and disaster prevention measures have to be taken into account at all times.
Hongey Chen (陳宏宇), a professor of geology at National Taiwan University (NTU), said during a TV interview that people in residential areas felt the shaking strongly because of the shallow epicenters located under the island.
Chen said that earthquakes occurred near Nieutou Fault, which is located on the border between Taipei and Ilan.
"The fault has not caused any earthquakes. But we have to observe it closely if see if any new fault has been created by the crush of the tectonic plates," Chen said.
Taiwan's most devastating earthquake, measuring 7.6 on the Richter scale, struck on Sept. 21 1999, killing more than 2,400 people.
Comments will be moderated. Keep comments relevant to the article. Remarks containing abusive and obscene language, personal attacks of any kind or promotion will be removed and the user banned. Final decision will be at the discretion of the Taipei Times.