Yu heralds a `balance of terror'
ARMS PROTEST Yu Shyi-kun came out fighting on arms procurements, saying China needed to know that Taiwan would retaliate if it dared to launch its missiles
Taiwan should rely on a Cold War-style "balance of terror" to safeguard national security in the face of intimidation from Beijing, Premier Yu Shyi-kun said yesterday in response to a rally against his proposed arms-procurement package.
"The best scenario will see a `balance of terror' being maintained across the Taiwan Strait so that the national security is safeguarded," Yu said. "If you fire 100 missiles at me, I should be able to fire at least 50 at you. If you launch an attack on ... Kaohsiung, I should be able to launch a counterattack on Shanghai."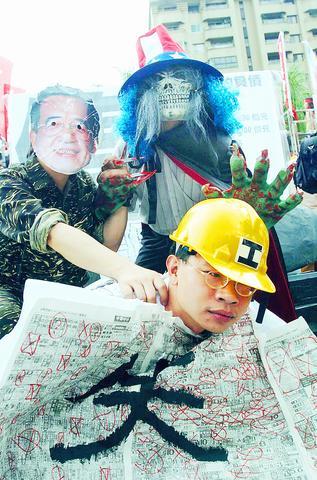 Two protesters dressed as President Chen Shui-bian and Uncle Sam team up to ``oppress'' a third demonstrator dressed as an unemployed Taiwanese worker during a protest against the government's NT$610.8 billion arms procurements package on Ketagalan Boulevard in Taipei yesterday.
PHOTO: CHIANG YING-YING, TAIPEI TIMES
Unfortunately, Yu said, during Chinese Nationalist Party (KMT) rule Taiwan failed to develop a counterattack capability comparable to that of Israel.
"That's why the NT$610.8 billion [US$18 billion] arms-procurement budget we're seeking from the legislature is necessary, because it'll keep us safe for at least 30 years, based on a study by the Ministry of National Defense," Yu said. "It seems like a good deal, because it'll cost an average of only NT$20 billion a year."
Yu said that the main purpose of the procurements was to sustain national development. Without it, he said, the nation may end up like Hong Kong.
"Arms procurement is necessary, otherwise many problems are bound to result, and it is our child-ren who will have to pay the price and shoulder the consequences," he said.
Responding to opposition criticism that the amount being spent was outrageously high, Yu called on the public to understand that US arms dealers were always going to make a profit from the deal.
"The US government is the only country in the world who has the guts to sell us weapons," Yu said. "We have to understand that it's a seller's market and that we have very limited space in which to haggle."
Cabinet Spokesman Chen Chi-mai (陳其邁) said that the government's proposal was necessary as a price has to be paid to maintain national security.
"The weapons-procurement project is necessary because China has racked up double-digit increases to its military budget every year since 1995, while we have been cutting military spending," Chen said.
"We're very worried about the defeatism embraced by certain people. We hope they come to real-ize that there's no such thing as a free lunch: If you want peace and security, you have to pay for it," he said.
KMT Chairman Lien Chan (連戰), however, said that the time was not right for the legislature to handle the request and that the Cabinet should be using the budget for other things.
"The government should be allocating the nation's limited resources to solve urgent social problems such as unemployment, poverty and education to make the country a better place," he told the party's national congress yesterday morning.
Lien said that the amount the Cabinet requested would increase over time because of "maintenance fees."
Also See Story:
Thousands protest against arms deal
Comments will be moderated. Keep comments relevant to the article. Remarks containing abusive and obscene language, personal attacks of any kind or promotion will be removed and the user banned. Final decision will be at the discretion of the Taipei Times.