Lien, Soong hold dramatic rally
PROSTRATION The pan-blue candidates led their supporters in giant rallies across the country yesterday, as the events climaxed when the duo got on their knees
Hundred of thousands of pan-blue supporters yesterday took part in a series of nationwide marches and rallies organized by the opposition Chinese Nationalist Party (KMT)-People First Party (PFP) alliance against President Chen Shui-bian (陳水扁). \nThe event, which took place throughout the nation's 25 cities and counties, climaxed when the alliance's presidential candidate, KMT Chairman Lien Chan (連戰), made a dramatic gesture in Taipei and prostrated himself, kissing the ground alongside his wife Lien Fang Yu (連方瑀) and KMT Secretary-General Lin Fong-cheng (林豐正) in front of the Presidential Office. \nLien said the move was meant to demonstrate his love for Taiwan. \nShortly before Lien's surprise prostration, PFP Chairman James Soong (宋楚瑜) -- who led the march in Taichung City -- also knelt on the ground with his wife, Chen Wan-shui (陳萬水), and kissed the ground. \nLocked in a neck-and-neck race against the incumbent president, the pan-blue camp's marches yesterday were largely interepreted as the final push ahead of next Saturday's election. \nThe event was also regarded as a move to counter the DPP, which had narrowed Lien's lead with a stunning turnout at the 228 Hand-in-Hand Rally. At that rally, 2 million supporters formed a human chain across the nation on Feb. 28 to protest China's threats to Taiwan. \nPrior to his kissing the ground, Lien called on the crowd to support his presidential candidacy in the upcoming presidential election. \n"Today we are gathered here with one appeal, which is to change the president and save Taiwan," the pan-blue presidential hopeful said. "In order to save Taiwan, we must stage a second transfer of power on March 20, the election day." \nLien said that he would not seek a second term in office should he win the upcoming presidential race. \nLien then branded Chen's proposed referendum, which is slated to be held alongside next Saturday's election, as "a mere drug aimed at anesthetizing the people and shifting their attention away from the DPP's poor performance." \nAccusing the DPP administration of pushing the country into economic dire straits during its past four years in office, Lien pledged that his government would assemble a team of experts and professionals to "help lead Taiwan into economic prosperity." \n"In comparison, the DPP administrative team is like a firefly while that of the KMT-PFP alliance is like the moon," Lien said. \nTouching upon the issue on cross-strait affairs, Lien said that "the Republic of China is a sovereign state which we can not, and will not allow to be swallowed, merged or united with the People's Republic of China. \nSaying that Taiwan would never negotiate under the military threats posed by China, Lien called on Beijing to remove its missiles targeted at Taiwan, adding that he wishes to reopen dialogue with China should he be elected on March 20. \nBlue, white and red balloons were released in front of the Presidential Office amid an array of performances, including hip-hop dances, aboriginal performances and other entertaining spectacles of song and dance. \nPeople in the crowd waved ROC flags and Lien-Soong campaign flags while others held up placards that read "Replace Chen Shui-bian" and "The President of Unemployment Must be Unseated." \nParticipants of all ages blew horns and whistles, while others beat pots and pans, shouting "Change the President, Save Taiwan" \nSome pan-blue die-hards had even decorated their pets with ROC flags and Lien-Soong banners, while other pan-blue faithfuls wore red bands on either their head or around their arms with the words "try hard" written on them. \n"We really have not been happy during the past four years of Chen Shui-bian's presidency," said a 40-something pan-blue supporter surnamed Wang, as he stood in the gathering at Ketagalan Boulevard with his wife. \n"The pan-blue camp will surely win [the election] with the force of three parties," said the pan-blue faithful, referring to the KMT and its two splinter groups, the PFP and the New Party. \nWhen the clock hit 3:20pm -- the number that coincided with the presidential election date of March 20, pan-blue supporters fervently waved flags and banners in the air and shouted the slogan "Change the President, Save Taiwan" while others blew horns and whistles, showing their desire to change the president. \nThe pan-blue alliance's spokesman, Alex Tsai (蔡正元), last night claimed that the nationwide marches had drawn over 3 million people, although the exact number of participants was difficult to verify as the police refused to give an estimate. \nFormer premier Sun Yun-shuan (孫運璿), who has long been wheelchair-bound because of a stroke, stood on stage with the help of others, spoke to the crowd in a feeble voice and urged them and their friends to support Lien.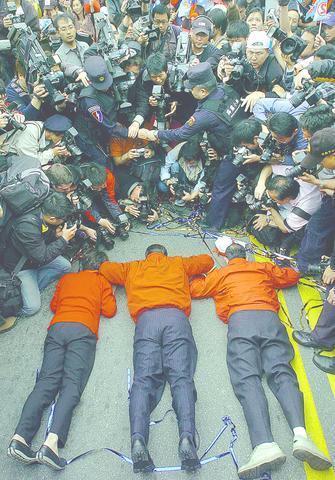 KMT Chairman Lien Chan, center, his wife Lien Fang Yu, and KMT Secretary-General Lin Feng-cheng kiss the land to show their love for Taiwan during a campaign rally held in Taipei City yesterday afternoon.
PHOTO: FANG PIN-CHAO, TAIPEI TIMES
Comments will be moderated. Keep comments relevant to the article. Remarks containing abusive and obscene language, personal attacks of any kind or promotion will be removed and the user banned. Final decision will be at the discretion of the Taipei Times.