Madrid explosions kill at least 173
COMMUTERS TARGETED Just days before general elections, Spaniards were shocked by the carnage created by a series of blasts -- and quick to blame Basque separatists
Ten terrorist bombs exploded in three busy Madrid train stations during the height of morning rush hour yesterday, killing at least 173 commuters and wounding more than 600 in Spain's worst terrorist attack ever. The government blamed the blasts on the armed Basque separatist group ETA.
The Interior Ministry said the explosives used in the blasts were a kind of dynamite that ETA normally uses. A ministry official said Prime Minister Jose Maria Aznar and Interior Minister Angel Acebes had been told this following tests on the explosives.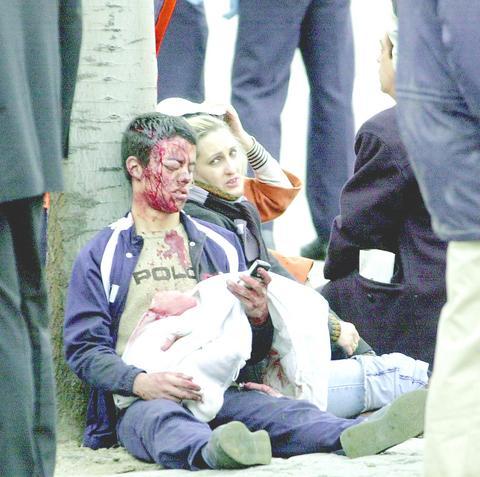 Two people wounded at the train station of Atocha, in central Madrid, sit on the pavement after a series of explosions yesterday.
PHOTO: EPA
The bombings, which occurred three days before general elections, started exploding around 7:30am in a commuter train arriving at Atocha station, a bustling hub for subway, commuter and long-distance trains in Spain's capital. Blasts also rocked trains or platforms at two stations on a commuter line leading to Atocha.
Worst hit was a double-decker train at the El Pozo station, where two bombs killed 70 people, fire department inspector Juan Redondo said.
"This is mass murder," Prime Minister Jose Maria Aznar said, somber after an emergency Cabinet meeting. He vowed to hunt down the attackers and reached out to relatives of the victims.
"I want to tell them I feel their terrible anguish as if it were mine," Aznar said, reading from a statement. He took no questions.
People in tears streamed away from Atocha station as rescue workers carried bodies covered in sheets of gold fabric. People with bloodied faces sat on curbs, using cellphones to tell loved ones they were alive. Hospitals appealed for blood donations. Buses were pressed into service as ambulances.
Police also set off three controlled detonations of suspected bombs.
"ETA had been looking for a massacre in Spain," Interior Minister Angel Acebes said, citing recent thwarted attacks. "Unfortunately, today it achieved its goal."
Acebes said security services blames ETA, which the government had described recently as decimated, because the group attempted a similar attack on Christmas Eve, placing bombs on two trains bound for a Madrid station that was not hit yesterday.
He also noted that on Feb. 29, police intercepted a Madrid-bound van packed with more than 500kg of explosives and blamed ETA.
"Therefore, it is absolutely clear and evident that the terrorist organization ETA was looking to commit a major attack," Acebes said. "The only thing that varies is the train station that was targeted."
The blasts killed at least 173 people and injured more than 600, Acebes said.
Rescue workers were over-whelmed, said Enrique Sanchez, an ambulance driver who went to Santa Eugenia station, about 10km southeast of Atocha.
"There was one carriage totally blown apart. People were scattered all over the platforms. I saw legs and arms. I won't forget this ever. I've seen horror," Sanchez said.
Arnold Otegi, leader of Batasuna, an outlawed Basque party linked to the armed separatist group, denied it was behind the blasts and suggested "Arab resistance" elements were responsible.
Otegi told Radio Popular in San Sebastian that ETA always phones in warnings before it attacks. The interior minister said there was no warning before yesterday's attack.
"The modus operandi, the high number of victims and the way it was carried out make me think, and I have a hypothesis in mind, that yes it may have been an operative cell from the Arab resistance," Otegi said. Otegi noted that Spain's government backed the Iraq war.
The attack traumatized Spain on the eve of an election.
The campaign was largely dominated by separatist tensions in regions like the Basque country, with both the ruling conservative Popular Party and the opposition Socialists ruling out talks with ETA.
But the Socialists came in for withering criticism because a politician linked to the Socialist-run government in the Catalonia region, which also has separatist sentiment, admitted meeting with ETA members in France in January.
Shards of twisted metal were scattered by rails in the Atocha station at the spot where an explosion severed a train in two.
"I saw many things explode in the air, I don't know, it was horrible," said Juani Fernandez, 50, who was on the platform.
"People started to scream and run, some bumping into each other and as we ran there was another explosion. I saw people with blood pouring from them, people on the ground," Fernandez said.
Comments will be moderated. Keep comments relevant to the article. Remarks containing abusive and obscene language, personal attacks of any kind or promotion will be removed and the user banned. Final decision will be at the discretion of the Taipei Times.