Historic Hand-in-Hand Rally to be held today
More than 1 million people are expected to join hands in an island-long human chain today as a peaceful means of protest against China's military threat.
Organizers of the "228 Hand-in-Hand Rally" yesterday encouraged more people to come out in support of the event in the hope that this display of people-power would focus international attention on Taiwan's precarious relations with China, which has 496 missiles aimed at the country.
The event was originally aimed at bringing 1 million people together to form a 500km-long human chain from Keelung County in the north to the southernmost tip of Pingtung County. Due to enormous public interest, more than 1 million people have signed up to take part and the length of the chain has been extended to nearly 600km.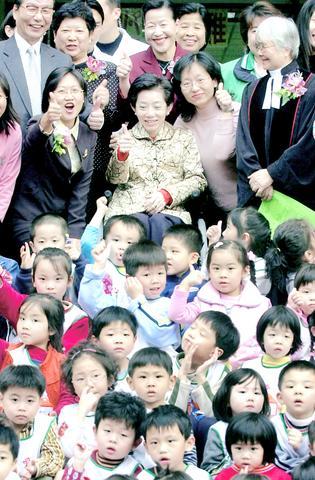 First Lady Wu Shu-chen (center) attends an event at a Christian church in Taipei's Wanhua District yesterday in preparation for today's ``228 Hand-in-Hand Rally.''
PHOTO: SEAN CHAO, TAIPEI TIMES
The chain will primarily run along National Highway No. 1 and partially along Highways No. 3 and No. 5, from Hoping Island near Keelung to Pingtung's Oluanpi.
The participants are expected to join hands at 2:28pm today.
"Our history is about to be written by ourselves. We use the softest approach in the hope of producing the biggest shock to build up our confidence and demonstrate the will of the Taiwanese people in the hope of changing China's attitudes," said Annie Lee (李安妮), daughter of former President Lee Teng-hui (李登輝), the national leader of the massive event.
Chief organizer Ng Chiau-tong (黃昭堂) yesterday called on people who have to work today to leave their offices for a minute and link hands with their colleagues outside. He said motorists should honk their horns to show their support.
Those who haven't yet signed up can just stop at any part of the designated route and join the line, Ng said, urging participants to bring cameras along.
The rally is a collaboration between the Democratic Progressive Party (DPP) and its partner, the Taiwan Solidarity Union (TSU), of which Lee is the founder, and is expected to bolster President Chen Shui-bian's (陳水扁) re-election bid.
Prominent members of the pan-green camp are expected to take part in today's rally. Chen and Lee will join the line in Miaoli County. Vice President Annette Lu (呂秀蓮) will take part in Hsichih in Taipei County, and the first lady, Wu Shu-chen (吳淑珍), and her daughter, son-in-law and grandson will be at Taipei's 228 Peace Memorial Park, together with Taipei County Commissioner Su Tseng-chang (蘇貞昌).
Premier Yu Shyi-kun will join the chain in the middle in Changhua County, and Kaohsiung Mayor Frank Hsieh (謝長廷) will take part in Kaohsiung City.
Also see story:
Comments will be moderated. Keep comments relevant to the article. Remarks containing abusive and obscene language, personal attacks of any kind or promotion will be removed and the user banned. Final decision will be at the discretion of the Taipei Times.