Japan `has no balls,' Lee says
APPEASEMENT The former president said the country's moves to placate Beijing go against traditional samurai values and highlight its weakness
Former president Lee Teng-hui (李登輝) yesterday accused Japan of "having no balls," being weak and appeasing China amid its opposition to Taiwan's democratization and endeavors to gain recognition as an independent state. \nLee was speaking at an event to mark the release of the Chinese-language version of his book Bushido Kaidai (武士道解題), a commentary on the traditional samurai spirit. \nLee said this essential part of Japanese culture has been lost, resulting in Japan's appeasing China at the expense of Taiwan's interests. \n"The old Japanese values of the samurai have long since disappeared and the Japanese have become weak. Whatever China opposes, Japan dare not say something different," Lee said. \n"When China opposes Taiwan's referendum plan, Japan reacts in a fearful way and even allowed a low-ranking official of the Interchange Association [Japan's representative office in Taiwan] to secretly deliver the Japanese government's concerns." \nLashing out at Japan's bowing to pressure from China, Lee said, "The top authority of Japan may not act in an obvious way to make concessions to China, but lower-level government officials will then do something to appease China." \nLee was referring to a representative of the Interchange Association, Katsuhisa Uchida (內田勝久), who visited Presidential Office Secretary-General Chiou I-jen (邱義仁) late last month to express Tokyo's dissatisfaction with the referendum plan. \nLee said Japan will act against Taiwan as compensation for its policies that irritate China. \nHe said Japanese Prime Minister Junichiro Koizumi's visits to the Yasukuni shrine, a symbol of Japanese militarism and a focal point for China's anti-Japanese sentiment, and a recent visit to Taiwan by former prime minister Yoshiro Mori (森喜朗) are the main reasons why Japan is willing to grant China concessions. \nLee urged the Japanese people to restore the samurai value of honesty, adding the weakness and appeasement Japan has shown goes against the samurai spirit. \nHe also criticized Japan's vacillation, saying Japan's Constitution was based on the US Constitution -- the same situation Taiwan faces by using the Republic of China Constitution, which was drafted in China and brought to Taiwan in 1949. \nAt yesterday's book release, Lee urged the people of Taiwan to find their own cultural spirit. He called on people to insist on "Taiwan-centric" beliefs and to further efforts to build a Taiwanese identity. \nThe book was originally written in Japanese by Lee and was first published in Japan in 2002. \nBorn in Taiwan during the Japanese colonial era, the former president received a Japanese education for more than 20 years. His interpretation and observation for the book was inspired by Japanese pundit Nitobe Inazo, who completed Bushido, the Soul of Japan in 1900.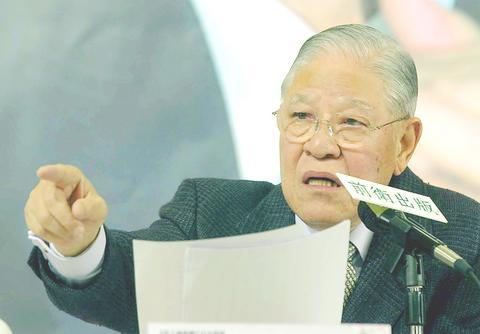 Former president Lee Teng-hui gestures as he speaks during a press conference yesterday announcing the release of a Chinese translation of his book Bushido Kaidai. Lee criticized Japan for appeasing China, saying it goes against the samurai spirit.
PHOTO: CHIANG YING-YING, TAIPEI TIMES
Comments will be moderated. Keep comments relevant to the article. Remarks containing abusive and obscene language, personal attacks of any kind or promotion will be removed and the user banned. Final decision will be at the discretion of the Taipei Times.